Tata Motors joins hands with Jayem Automotives
Mar 31, 2017
Views : 6188
---
To develop faster, sportier versions of Tata Motors' products together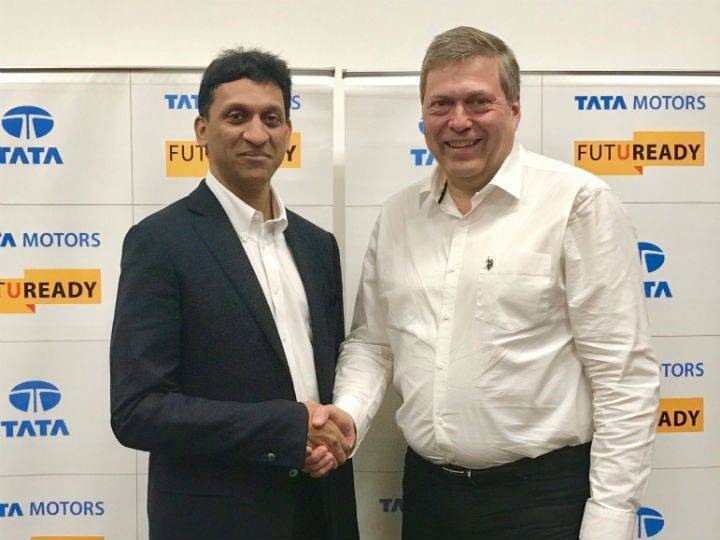 Tata Motors has teamed up with Coimbatore-based Jayem Automotives to create performance versions of Tata Motors' cars. The newly formed entity, JT Special Vehicles Pvt Ltd will be a 50:50 joint venture between Tata Motors and Jayem Automotives, which is headed by J Anand, one of India's most popular race car makers. J Anand needs no introduction to motorsport enthusiasts, having designed and built some of the best race and rally cars in the country, including the MRF Formula 1600 that is currently part of the Indian National Racing Championship and the MRF Formula 2000 that is the most powerful single-seater to be made in India. As part of the new venture, JT Special Vehicles will develop sportier looking and more powerful versions of Tata Motors' cars, and we expect the Tiago and Tigor to undergo the scalpel first. A dedicated facility for the purpose is being explored in Coimbatore, J Anand's hometown, where Anand, an ex-racer himself, has been developing and building performance oriented road cars and race cars for a long time now.
Anand has in fact worked on Tata products in the past as well, having developed the Bolt Sport that was showcased by Tata Motors at the 2016 Auto Expo, and was powered by a 110PS version of the Bolt's existing 1.2-litre, four cylinder petrol engine. The car also sported lowered, stiffer suspension to enhance handling, and we expect similar modifications to other cars in Tata Motors' line-up. Apart from the higher performance, the cars developed by JT Special Vehicles are expected to look sportier and get suitable design changes to the effect. A couple of years ago J Anand had also built a 230PS version of the Nano, replacing the humble 624cc, twin-cylinder engine with the 1.3-litre, four cylinder engine from the Suzuki Hayabusa, dubbed the Super Nano. Together, Tata Motors and Jayem Automotives will be working on a range of performance vehicles for the Indian market, which is currenly seeing a rise in go-faster versions of existing cars. For instance, Volkswagen has the GT TSI and now the GTI versions of its Polo, while Maruti Suzuki has recently launched the Baleno RS, a more powerful version of its Baleno.
Apart from developing race and rally cars, Jayem Automotives also specialises in providing end-to-end automotive solutions and is well-versed with every aspect of the development of an automobile, right from design and engineering to production and assembly. This in-house capability should also benefit Tata Motors' performance division, TaMo, to work cohesively on the RaceMo and other upcoming projects.
Tata Motors is betting big on the TaMo sub-brand to overhaul its image as a youthful, enthusiast-centric brand as well, and its latest venture to develop special performance vehicles with Jayem Automotives should certainly give its aspirations to grow further a big boost. Regarding the new joint venture, Guenter Butschek, CEO and MD, Tata Motors, said, "We are delighted to partner with Jayem, a brand known for its capabilities in concept creation and prototyping of special performance vehicles. This partnership is a step towards creating long-term relationships as a part of our transformation journey and to bring more exciting performance variants to our product range."
About the new partnership, J Anand, MD, Jayem Automotives Pvt Ltd said, "We are excited about our joint venture with Tata Motors and to be a part of their transformation journey. We aim to bring World Class Performance Products to market in a short time, and to fulfil expectations of passionate customers in the niche segment of sportier cars."
In fact, given J Anand's expertise in building race and rally cars, it wouldn't be suprising if Tata Motors also teams up with Jayem Automotives to revive its 'Full Throttle' rallying program. Tata Motors could thus look at participating actively in motorsport, like Maruti Suzuki, which has its own motorsport division and competes in some of biggest rally-raids in the country and has its own autocross championship as well. Apart from Maruti Suzuki, manufacturers like Volkswagen and Toyota have their own one-make race championships, and these endeavours have sure added to the respective manufacturers' reputation as more youthful and sporty brands.
Also Read: Tata VW Alliance: Understanding The Future
Geneva Motor Show 2017: TAMO RACEMO Breaks Cover