Run Up To 2019 Dakar
by Gaurav
Jan 4, 2019
Views : 348
---
A preview of the work, sweat and blood poured in by the Indian teams and riders for the toughest rally in the world!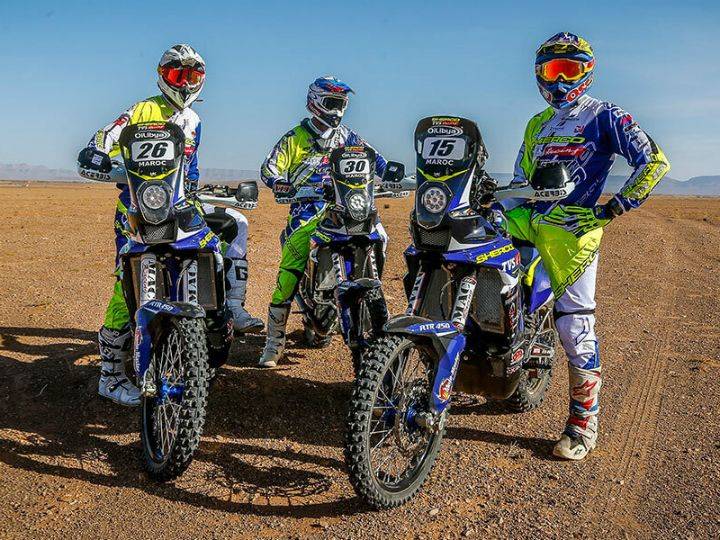 With just two days to go for the much-awaited 2019 Dakar rally, the excitement is constantly on the rise. We've spoken about India's achievements at the Dakar over the course of four years, which paints a picture of the journey until now. This time though, we take a look at all the rallies these teams have competed in, domestic and international, to prepare themselves for the toughest rally of them all, Dakar. Here's all that happened over the past year.
Desert Storm (17 to 23 March 2018)


2018 started off with both Hero and TVS Racing stretching their legs on Indian turf. Both had riders participating at the Desert Storm 2018, the perfect playground to test both man and machine. The seven-day long rally started from Bikaner in Rajasthan and ended in Jaisalmer covering a total of 2,000km.

Hero entered the event with three-time Desert Storm winner (2014, 2015 and 2016, 3rd in 2017) CS Santosh. Though the Bengaluru lad performed quite well and led the first leg of the race, he crashed out in the second leg trying to fend off Santolino Lorenzo of TVS Racing and Aaron Mare from Angata Racing.

Abdul Wahid Tanveer of TVS Racing ended the first stage in fourth position while TVS Factory debutant, Lorenzo, followed closely in seventh. In the second stage, however, the latter took the lead over the former, post which there was no looking back. Even though this was Lorenzo's very first go at one of India's toughest rally, he managed to surpass all expectations and clinched a close second place behind Aaron Mar of Angata Racing.
Merzouga (15 to 20 April 2018)


The next step was the Merzouga rally raid, also known as the proving ground for Dakar. The 1200km-long, five-stage course has massive dunes, extreme temperatures and a marathon stage in the desert.

While Oriol Mena and CS Santosh were at the forefront for Hero MotoSports, Sherco TVS had a total of four riders leading the way for them. Of which, Lorenzo put on an impressive performance and finished the race at a spectacular seventh position.
Hero had an impressive run as well, with Oriol Mena latching onto 15th position and CS Santosh finishing just under the top 20 at the 19th place. Despite a good start, both riders faced navigation issues in stage two which saw them drop a couple of places. That said, both Mena and Santosh made up for the deficit towards the end and were happy with their performances.
India Baja (17 to 19 August 2018)


The Indian 'Ticket to Dakar' event, the India Baja rally is quite a challenging course thanks to large sand dunes, slush, multiple ridge crossings and extreme temperatures. Though the event could only shadow the magnitude of the actual Dakar rally, its harsh conditions and varying terrains give participants a taste of what's to come.

TVS Racing participated in two divisions - 250cc and 450cc. Santolino Lorenzo led the way through stage one and two to finish in first place in the 450cc class. Tanveer and Harith Noah ran equally well and finished in third and fourth place respectively.
CS Santosh, on the other hand, faced stiff competition from Tanveer and Noah throughout stage one and two, but managed to hold them off. As a result, he finished the rally at second spot which also sealed Hero's 100 per cent finish record at India Baja.
Baja Aragon (20 to 22 July 2018)


And, that's not all, as TVS went an extra mile and also participated in Baja Aragon 2018. The three-day event had the Metge brothers - Michael and Adrien - finish on the podium at first and third positions respectively. Unfortunately, Aishwarya Pissay, the first Indian female rider to represent TVS, crashed, which led to her forfeiting the race.
CS Santosh was the lone Hero participant here and finished the rally at a respectable 12th place.
Atacama (12 to 18 August 2018)


Though Hero MotoSports missed out on Baja Aragon, they more than made up for it by competing at Atacama 2018. The 1200km rally filled with special stages has riders traversing through dry mountains, valleys and coastal regions of Chile. The course offers a mix of unique terrains which proved to be a good learning curve for Oriol Mena and Joaquim Rodrigues.
Mena rode five stages without any glitches and finished 12th overall and 16th in the final stage. Meanwhile JRod, despite a technical snag, made a comeback to earn the 14th spot in the final stage and stood 17th overall.
Desafio Inca (14 to 16 September 2018)


The rally of Desafio Inca 2018, was the last hurdle to tackle for Hero MotoSports. Held at the Inca desert in Peru, it was the ideal location for riders and teams alike to put their bikes through their paces before Dakar 2019. Moreover, massive dunes and narrow passes mimicing the Dakar 2019 terrain, make it an important learning ground of all participants.

JRod made it through the final stage in 18th place and 28th place overall, while Santosh stood at 17th in the stage. That said, he managed to outdo himself and managed to bag the 14th spot overall, his best finish yet. Oriol faced a technical glitch due to which he was unable to finish the stage. This meant he finished at the 33rd spot in the stage, while his overall ranking stood at 30th.
Oilibiya Rally Morocco 2018 (3 to 9 October)


Much like Desafio Inca, Oilibya in Morocco was the final test for Sherco TVS. It makes for the perfect stage for prep work as it's held right before Dakar in the calendar year.

Wahid Abdul managed his best ever ranking internationally, with 24th place overall and third spot in the Enduro class. Harite Noah, Adrien Metge and Santolino Lorenzo managed to finish at 42nd, 44th and 49th places respectively.