Crucial Details About The Upcoming Okinawa Oki100 Revealed
by Gaurav
Sep 24, 2020
Views : 7706
---
Okinawa's Managing Director, Jeetender Sharma, says the Oki100 will look nothing like the prototype and will instead look like a proper commuter motorcycle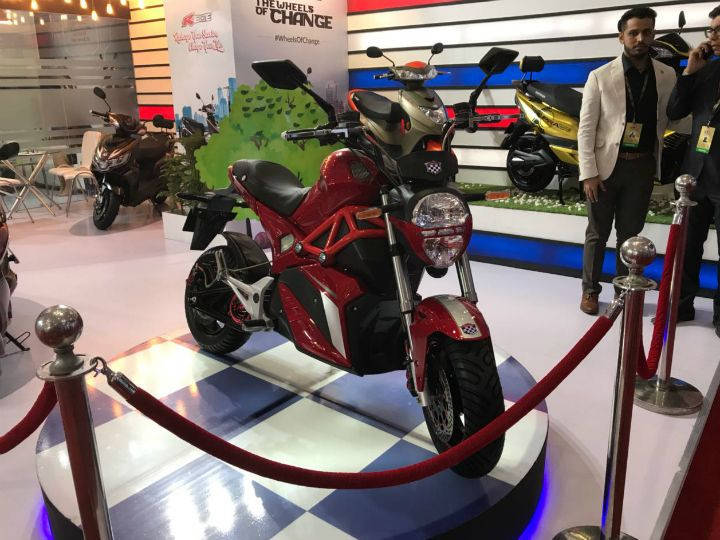 The Grom-sized Oki100 which drew inspiration from the Ducati Monster 797 was one of the centrepieces of the 2018 Auto Expo. It's been part of Okinawa's future plans for India for some time now but hasn't made it to production form just yet. And there's some good reason to back this up. We recently had a chat with Okinawa's Managing Director, Jeetender Sharma, who revealed some interesting details about the upcoming production-spec Oki100.
How much would you have to shell out, and when?

According to Okinawa, the Oki100 will be launched in the second half of 2020, which means around October - December this year. It's been a long time coming, but according to Mr Sharma, the delay has been due to the development process which took approximately three years. That makes sense when you consider the testing, research and development time frame. According to the bike maker, the Oki100 is being developed from the ground up and will be manufactured entirely in India, with components sourced from local suppliers.
The Oki100 which is expected to be priced around Rs 1 lakh will go up against the Revolt RV 400, which costs Rs 1,03,999 (ex-showroom). Okinawa, in collaboration with a number of banks, will offer easy financing schemes so as to reach out to a larger target audience.
Will it have enough juice?

According to Sharma, the Oki100 will offer a range of 100km per charge under ideal riding conditions, so the real-world range is expected to be a bit lower.
Removable batteries will come as standard, making swapping and charging an effortless affair. Thanks to this, we could expect smaller, lighter lithium-ion batteries stacked together rather than a single heavy battery pack like the one in the Revolt RV 400. Also, just in case you're wondering, these batteries will not be sourced from China, which is a good thing considering the current political situation.
Power-hungry?

Sharma says, in terms of performance the production-spec Oki100 will be equivalent to a modern ICE-powered 125cc commuter motorcycle. The previously seen hub motor will be traded in for a more conventional frame-mounted unit. This will help lower the centre of gravity, thereby improving agility. Like most EV's the motor is expected to power the rear wheel via a belt drive.
It will also use conventional hardware such as a telescopic front fork, rear monoshock, disc brake on both ends with CBS as standard.
Will be feature-packed with looks to impress:

The upcoming Oki100 will look nothing like the prototype we saw, said Mr Sharma. In fact, it'll look more like an everyday commuter motorcycle. To add to this, the Oki100 will come packed with a truck-load of features which include smartphone connectivity, linked to Okinawa's dedicated Eco app. This will give you access to geo-fencing, bike tracking, ride history and more. The lighting system is expected to be all-LED too.
From the looks of it, the Oki100 could give the brand the start it needs in the electric motorcycle segment. Will it hold a candle to the Revolt RV400? Only time will tell.
Okinawa Oki100 Alternatives