Mahindra Rakshak Plus at the 2012 Defence Expo
Apr 3, 2012
Views : 18215
---
The Mahindra Rakshak Plus has been designed to be part of rapid action forces that have the ability to go into the heart of danger and stabilise the situation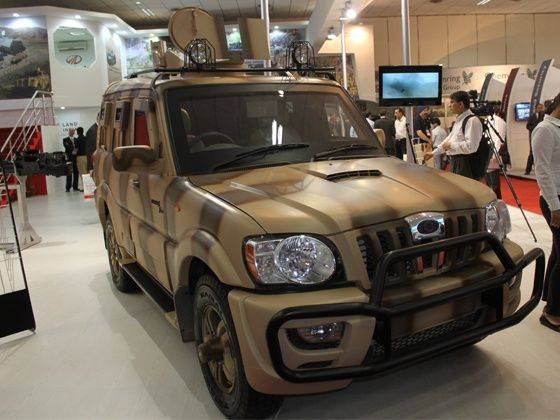 Mahindra was right up there alongside various armoured vehicle makers to showcase their Level 3 armoured Rakshak Plus at the 2012 Land, Naval and Internal Security Systems Defence Expo in Delhi.
However, unlike the Tata Safari Storme Armoured, meant to keep its occupants protected from danger, the Mahindra Rakshak Plus is engineered to be part of rapid action forces that head into the heart of danger to gain control of the situation and hence will be sold only to defence forces.
Underneath the Level 3 armour of the Rakshak Plus lies a Mahindra Scorpio with its 2.2-litre m-Hawk turbocharged and intercooled diesel engine generating 121PS of power. That gives the Mahindra Rakshak Plus a power to weight ratio of 35PS per tonne, which means it is less powerful than the Tata Safari Storme Armoured.
The Rakshak Plus comes with a gun mount on its roof with front and back protection plates, five firing ports, fire suppression material in the fuel tank, air conditioning, power steering, run flat tyres and a surveillance camera that can give soldiers a 360º view around the vehicle and near about 550m of telescopic zoom.