Consistency Is King In The 2020 MotoGP Season
---
Joan Mir wins Suzuki their first premier class title since 2000 in stark contrast to last year's champion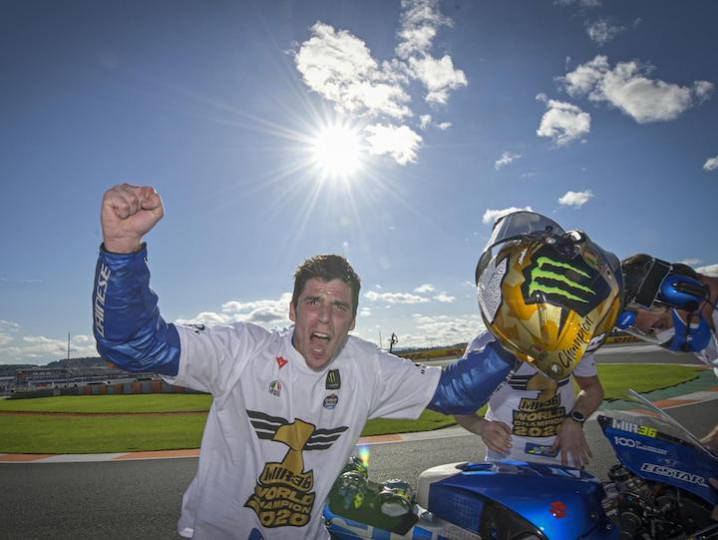 Numbers are fascinating. In the context of MotoGP, they provide us a gateway to start comparing how this year's title was won to last year's. After 13 rounds of the 2019 MotoGP season, Marc Marquez had scored 275 points (out of a maximum of 325) and won seven races. After 13 rounds of the 2020 season, the new MotoGP premier class champion, Joan Mir, has scored 171 points and won one race.
Yes of course, comparing and contrasting the 2020 vintage of MotoGP to 2019 comes with more than just one caveat. For one thing, this writer spent the traditional start of this year's MotoGP season filing articles about events being cancelled and postponed. And it felt like a matter of time that I would eventually have to file a story about the season being cancelled entirely.
And yet here we are, mid November and MotoGP has a brand new premier class champion that no one could have predicted. Certainly not anyone here at Zigwheels, and trust me I have the WhatsApp messages to prove it!
After the thirteen rounds of a 14 round season that is entirely based in Europe, Joan Mir's seventh place finish in the Valencia Grand Prix means he is MotoGP's first new premier class champion since Marc Marquez in 2014. Four years junior to his Spanish compatriot - who dominated the premier class, even after 2016 when standard electronics and control tyres made the premier class extremely competitive - the 23-year-old Mir won the crown in a season where it looked like no one wanted to win the title.

Petronas Yamaha's Fabio Quartararo was tipped to be Marquez's challenger for this year's title after the two duked it out last season. And he was pretty much the champion elect after total perfection in the opening two rounds of this year in Jerez. As Marquez's season ended with a horrific crash in the opening round, Quartararo took pole and victory in both the Spanish and Andalucian Grands Prix.
Mir retired from the Spanish GP and finished fifth in the Andalucian GP. So….how exactly did Mir end up scoring 160 points over the next eleven rounds as compared to Quartararo's 75? The current standings have Mir with an unassailable 29 point lead over Quartararo's teammate Franco Morbidelli, who won the Valencia GP after a sensational last lap battle with Pramac Ducati's Jack Miller. Quartararo, however, is in fourth place with just 125.

The new champion didn't go on a winning spree. He even finished off the podium in six of the 13 races so far. His solitary win of the season came in the European Grand Prix last week, which was held at Valencia as well. However, in a season where the dominant rider (sorry Rossi fans, it's number 93) was missing, no other rider was able to get anywhere close to the consistency displayed by Mir.
Eurosport, which has been broadcasting the MotoGP season, made it possible for this writer to sit in virtually for the pre-event press conference last week to ask the top six in the championship why there were such wild fluctuations in form. When that question was posed to Quartararo and Mir, they didn't really have much by way of a solid answer.
"There is nothing in the data that tells us why we performed the way we did in a race," said Mir. "It is just circumstances that determine how we did."
"I think everyone has a bike with a good and bad part," said Quartararo. "We know that the Yamaha can be pushed over one lap and the Suzuki's have strong opening laps and are good at the end of a race."
However, that still didn't explain Quartararo inexplicably crashing out of the Valencia GP today while his teammate Morbidelli scored his third win of the season (equalling Quartararo in wins). The Petronas Yamaha team riders have combined to win six races of the season while Mir and his factory Suzuki teammate Alex Rins have a combined win tally of two.

The story is much different when you look at the podium tallies, however. The Petronas Yamaha riders combined to score seven top three finishes while Mir and Rins scored 11 podiums for Suzuki. That is a remarkable testament to the Suzuki GSX-RR being, quite possibly, the best all-round motorcycle in MotoGP's premier class this season.
I also feel compelled to mention how Rins currently being third in the riders' standings, just four points behind Morbidelli is truly remarkable considering how the season started for the Spaniard. A crash in qualifying for the season opening Spanish GP resulted in a dislocated shoulder. The injury prevented Rins from participating in the season opener, but he rebounded to finish tenth in the second round. Once the long slog to getting healthy was achieved, Rins scored four podiums in five races from the Catalunya GP to the European GP. That included two second places and a victory.
Mir definitely deserves the plaudits for being the last man standing at the end of a gruelling (in every sense of the word) MotoGP season, but it so easily could have been Alex Rins celebrating a title victory. Ultimately, without Marc Marquez's magic propelling Honda's unwieldy RC213V, it came down to which bike was the most consistent. In this most remarkable of seasons, it was resoundingly Suzuki, which has a premier class champion for the first time since 2000 and Suzuki Ecstar has clinched the teams' championship. It's about time Honda and Yamaha got a little extra competition!