India Bike Week 2017 Bikers Paradise
---
Sometimes it's not just about the journey, but what awaits you at the destination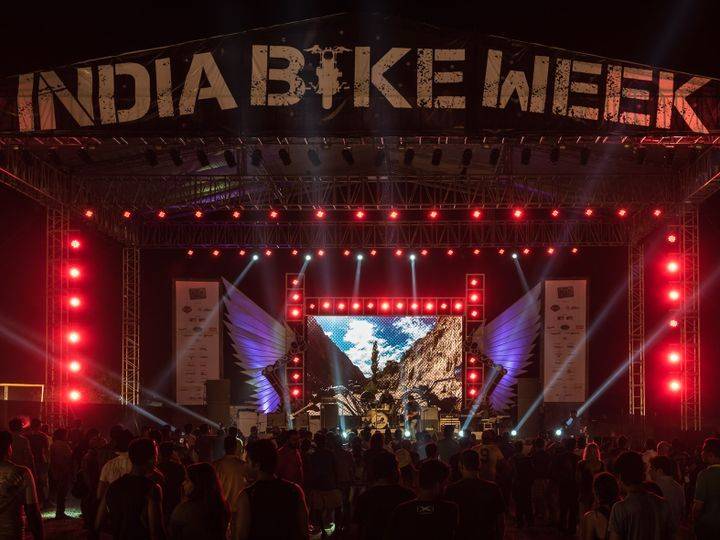 The night before I was to set off for this year's India Bike Week, I was restless and flush with excitement. I kept cleaning and polishing my helmet repeatedly, checking and rechecking my bags to ensure I was carrying everything.
No, this wasn't my first IBW. Nor was it my first bike ride to Goa. But there were two firsts that promised to make this trip memorable - my ride for the IBW was a Triumph Tiger 800 XRx; and two, a chance to meet one of my favourite motorcycling legends. But more on that later.

Also, IBW this year was going to be a different experience for me as I would be attending the event as a journalist and not as an employee representing a manufacturer.
So, while the journey from Goa to Pune was made memorable with an adventure tourer willing to rip down the road at the twist of the throttle, I went on with my eyes set on a prize that would give a new meaning to my passion for riding.

After almost 8 hours in the saddle, I landed in Goa and prepped up to attend the 5th edition of the IBW with a group of Triumph Riders by my side, celebrating their annual ride. As is seen every year, the 5th edition of the India Bike Week was also a two-day event packed with bikers, barbeque, music and not to mention, badass motorcycles.

Martin da Costa, founder and organiser of the India Bike Week, kickstarted this year's India Bike Week along with two biking legends who made their first ever trip to India to visit the event. These legends were none other than Freddie Spencer, one of the greatest motorcycle Grand Prix racers of the 1980s, and Leslie Porterfield, the world's fastest woman on a motorcycle and a member of the Bonneville 200mph Club, holding a Guinness World Record.

The moment the gates to the event opened up, all that people could see were bikes, bikes and more bikes. A scenario common all across Goa for both the days of the event. But I, for one, was really excited to meet the one legend who was reason enough for me to head down to IBW in the first place. I'm talking about "Fast Freddie" Spencer of course. And yes, he is the reason that I spent so much time dedicatedly cleaning my helmet, just to get an autograph and an interview with him.

My mind was going absolutely ballistic at the mere thought of being in the presence of Freddie. But unfortunately, it seemed that there were many who had come down to get a glimpse of the legendary rider, because even after some rigorous attempts to meet him, I had to return empty handed. On the lighter side though, there was one instance wherein I thought of driving a van with black tinted windows into the venue, kidnap him, have a drink with him, chat, get an autograph and some pictures, and then drop him off at his hotel. Next time maybe.
Anyway, coming back to reality. I was fortunate enough to find a place amongst the crowd gathered at the main stage where he had a chat with us, and shared his experiences growing up to become Fast Freddie. Well, if it had to be this way, then instead of frowning, I decided to savour the moment and carry on with the show.

So, apart from the adventures, or rather misadventures, in trying to get close to my childhood hero, there was one rider group that truly captured my fascination and interest. Known as the 3 Chakra Riders, they were unlike any other group vrooming into the venue.
These riders are as unique as the name of the group itself. To my amazement, I found out that all of them were physically challenged in one way or the other. After a lengthy heart-to-heart with these inspirational riders, it was clear that driven by a common passion for riding motorcycles, they had taken up the challenge of overcoming their physical conditions. It was truly a mesmerising turn of events. I didn't get to meet my childhood hero, but I had just found my new heroes.
So while everyone rides down to IBW hoping to take back something priceless and to be a part of the biking brotherhood. I, for one, being on the other side of the industry, was hoping to take back something more memorable from IBW and well, while it wasn't the souvenir I expected, I came back smiling with a new level of respect for the biking community.

I understood that motorcycling goes far beyond the point of just reaching new heights, or achieving records or dreams. Riding bikes might mean just going from point A to point B for most people, but it can also serve as a motivation for someone to go beyond their physical abilities, to fight for what they believe in. It's groups like 3 Chakras that are set out to make a difference.
And as I end my story of the IBW experience, I look forward to what the India Bike Week will have in store for us riders next year!