Hyundai Venue: First Impressions
---
Hyundai's baby SUV is promising a concoction of tech, feel-good features and potent engines.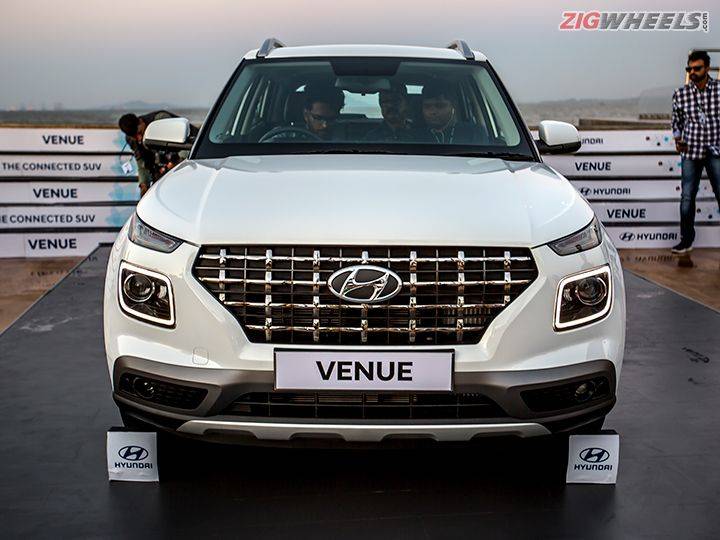 Right at the start, we'd want to set the record straight. This isn't meant to be a full-blown review. We've spent a few hours with the car, and only when we spend some more will we draw concrete conclusions. Also, since the unveiling took place in the middle of the Arabian Sea, we (obviously) couldn't take it out for a spin. So, this report will involve our first impressions of Hyundai's latest baby, the Venue. Here's a quick snapshot of what's on offer.
Small SUV vs Overgrown Hatchback
This is a question that every single sub-4-metre SUV in India has to face. Because let's be brutally honest, they are hatchbacks on super steroids. But, at least in the design department, most if not all 'compact SUVs' in the country deliver. And we're pleased to say the Venue does too. From a size standpoint, it's just right for the urban jungle.

| | | | | | |
| --- | --- | --- | --- | --- | --- |
| Dimensions | Venue | XUV300 | Nexon | EcoSport | Vitara Brezza |
| Length | 3995mm | 3995mm | 3994mm | 3998mm | 3995mm |
| Width | 1770mm | 1821mm | 1811mm | 1765mm | 1790mm |
| Height | 1590mm | 1627mm | 1607mm | 1647mm | 1640mm |
| Wheelbase | 2500mm | 2600mm | 2498mm | 2519mm | 2500mm |
It's definitely got a personality. Something, you'd gladly give a second look too. The design feels fresh, with the quirky-looking face where the headlamps sit low on the bumper instead of just under the bonnet. And no, the lamp at the top isn't a daytime running lamp like on the Harrier. It's the turn indicator. The daytime running lamp is a rectangular outline to the headlamp cluster that packs in a projector setup as well as a static bending lamp. You get another pair of projectors for the fog lamps. But it's interesting to note that there's no LED or HID lighting here.
Also, if you thought that grille looked a bit awkward in pictures, be rest assured it looks just fine in person. It's got a three-dimensional effect where the barrage of '+'-shaped elements look like they're floating. From the side, the angle of the A-pillar, the rake of the roof and the matte black treatment at the base of the doors will instantly remind you of the Creta. The 16-inch alloy wheels (wrapped in 215/60-section rubber) have a similar turbine-like design too.
View the Venue from a dead rear angle and it may not look all that like an SUV. Many of our viewers commented that the tail lamps remind them of the new-gen Polo. That aside, the design here too looks well-balanced. It's an appreciable ballad of curves and straight lines, and smaller details like the reverse lamps on the bumper, spaced out badging in the centre of the boot and the shark fin antenna round off the package.
Funky Inside?
First, getting in and out of the Venue is very car-like. Once you're in, the new design of the dashboard grabs attention immediately. That's not to say it will feel unfamiliar, though. Because every single switch and control is exactly where you'd want them. We were surprised that the India-spec car didn't get a dual-tone interior theme. But the cabin does have an air of youthfulness to it. Hyundai has garnished the cabin with a few dull-silver accents to break the monotony of black.
If there was something that stood out over the design for us, that'd have to be the quality. Hyundai dished out a pleasant surprise with the Santro, and it's the same story here too. You'd be happy if you got this level of quality in a bigger, more expensive car too. Little touches like the damped feel on the AC vents' flow control levers, the positive feedback from the steering-mounted buttons, and the reassuring clicks from the fan speed and temperature control knobs all point towards attention to detail. However, if you were expecting Hyundai to really push the envelope here, that hasn't happened.
The piece de resistance on the dashboard is the new 8-inch touchscreen. It's right up there with Ford's SYNC3 system in terms of response, load times and ease of use. The basics are well taken care off as well, with Android Auto, Apple CarPlay and in-built navigation. And, lest we forget, there's Hyundai's BlueLink tech as well, which we'll get to in a bit.
Move lower down the dash and you've got a chic-looking interface for the automatic climate control, and lower still is a quick-charge USB port, a regular USB port and a 12V charging socket. There's wireless charging on offer as well, although the car at the er...venue… didn't have it. Behind the gear lever, you'd find a nifty slot for parking your car keys. Notably, in the US-spec Venue, you'll spot buttons for seat ventilation and a drive mode selector here.
Connected?
Yes, that's what Hyundai wants you to focus on. The Venue packs in an e-SIM that paired with the infotainment, OBD-based diagnostics and a nifty mobile phone application to give you access to myriad features. For instance, you can track your vehicle in real time, remotely start it up, start up the air-conditioning to cool the cabin down and even immobilize the vehicle if it gets stolen.


But, let's take a step back and look past the hoopla. Save for the features mentioned above, nothing else changes your car ownership experience dramatically. Honda has been offering SIM-based location tracking and alerts for a couple of years now, and Maruti jumped into the fray with 'Suzuki Connect' last year as well. So, while there are a few nifty features that change our perception of what cars can do with the power of the internet, it doesn't alter your ownership experience dramatically.
For The Family?
Oh yes. We were genuinely surprised by the amount of usable room the Venue has to offer. Sure, you're never going to call it super spacious. But even four six-footers will be comfortable inside the cabin, and not jostle for space. At the rear, there's ample knee room and Hyundai has cleverly carved out the headliner to liberate some extra headroom too. If there's a bugbear, that'd have to be cabin width. Seating three abreast at the rear, although possible, is a tight squeeze. Not recommended. Rather have the rear central armrest down and relax. To keep you comfortable there's a pair of rear AC vents too.
Another aspect where the Venue simply shines is the boot. It's properly spacious and shaped well too. Hyundai hasn't given us a number for the boot volume yet. If we had to guess, we'd estimate it to be around 380-400 litres. Notably, there's 60:40 split seats on offer for added versatility.
Exciting?
On paper? That's a yes again. For the commuters, there are two tried and tested motors, both of which also does duty on the Elite i20. There's the 83PS 1.2-litre petrol, and the 90PS 1.4-litre diesel. What's really got us rubbing our hands in glee is the 1.0-litre turbocharged engine. This three-cylinder firecracker is promising 120PS and 172Nm. To round things off, it will be offered with a choice of a 6-speed manual and a 7-speed dual-clutch automatic as well. Yum.

| | | | | | | |
| --- | --- | --- | --- | --- | --- | --- |
| Petrol | Venue 1.0 | Venue 1.2 | XUV300 | Nexon | EcoSport | EcoSport S |
| Engine | 1.0 litre, 3 cylinder | 1.2 litre, 4 cylinder | 1.2 litre, 3 cylinder | 1.2 litre, 3 cylinder | 1.5 litre, 4 cylinder | 1.0 litre, 3 cylinder |
| Power | 120PS | 83PS | 110PS | 110PS | 123PS | 125PS |
| Torque | 172Nm | 115Nm | 200Nm | 170Nm | 150Nm | 170Nm |
| Transmission | 6-speed MT / 7-speed DCT | 5-speed MT | 6-speed MT | 6-speed MT / 6-speed AMT | 5-speed MT / 6-speed AT | 6-speed MT |
| | | | | | |
| --- | --- | --- | --- | --- | --- |
| Diesel | Venue | XUV300 | Nexon | EcoSport | Vitara Brezza |
| Engine | 1.4 litre, 4 cylinder | 1.5 litre, 4 cylinder | 1.5 litre, 4 cylinder | 1.5 litre, 4 cylinder | 1.3 litre, 4 cylinder |
| Power | 90PS | 116PS | 110PS | 100PS | 90PS |
| Torque | 220Nm | 300Nm | 260Nm | 205Nm | 200Nm |
| Transmission | 6-speed MT | 6-speed MT | 6-speed MT / 6-speed AMT | 5-speed MT | 5-speed MT / 5-speed AMT |
Hyundai said they've optimized the ride for bumpy road conditions. At the same time, they're claiming to have made the handling agile and predictable. These are claims we'll be putting to the test when we get our hands on the Venue in a month's time.
Final Question

When can you buy one? Hyundai will officially announce prices on May 21. And we're expecting them to be aggressive with the pricing. Expect the range to start from Rs 7.20 lakh and top out at around Rs 12 lakh. And that preps the Venue enough to march into battle against some seriously established rivals such as the Vitara Brezza, Tata Nexon and the Ford EcoSport. It will also have to fend off Mahindra's latest small SUV, the XUV300. On the whole, the Venue might not have that one big wow element. But it does prove that it's the sum of all parts that counts. And on that front, Hyundai seems to have a winner at hand.
Add Your Comments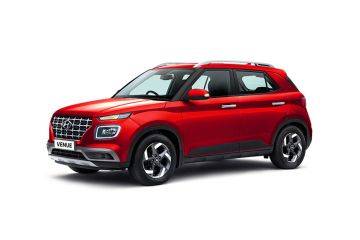 Rs. 6.50 lakh Onwards
Ex-showroom, Delhi
Request For Booking
View On Road Price
Hyundai Venue Alternatives