Ford Mahindra Enter New JV; To Launch 7 New Products In India!
---
The JV will run Ford's India ops with Mahindra owning a 51 per cent stake in it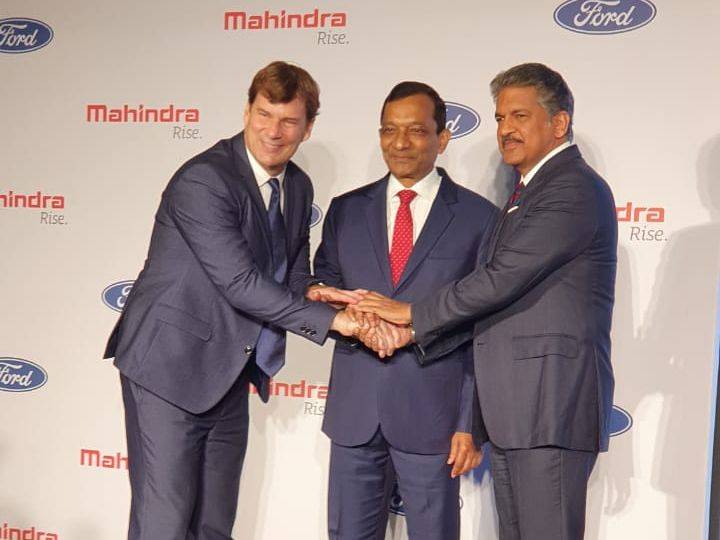 The JV will not affect Ford and Mahindra's individual identities in India.
Both brands to exist as is, with their own sales and service networks.
The new JV to spawn a total of 7 products to be shared by Ford and Mahindra.
These will include a new Hyundai Creta rival, MPVs and an all electric sedan.
After bouts of speculations over the last few weeks, Ford and Mahindra have finally announced that they have entered into a new joint venture, which will essentially develop, market and sell Ford cars in India. The new entity will also manage exports of Mahindra and Ford cars to emerging markets.

Under the new JV, Mahindra will hold a controlling 51 per cent stake, while Ford India will be a 49 per cent stakeholder. Ford India will transfer its entire operations to the JV including both assembly plants in Chennai and Sanand.
However, Ford will retain its engine plant operations in Sanand as well as the Global Business Services unit, Ford Credit and Ford Smart Mobility ventures in India. The new JV will not affect Ford and Mahindra's individual retail operations in the country and both brands will continue to have their own individual identities, sales and service networks, similar to what Skoda and Volkswagen have in India.

The new JV, which was brewing since 2017 will be operational by mid 2020 and has seen a total investment of Rs 1,925 crore. It will spawn a whole new crop of Ford and Mahindra UVs and cars in the next few years. These include a total of 7 new products under the two brands.
According to a joint statement by the carmakers, the JV expects to introduce three new utility vehicles under the Ford brand, beginning with a new mid-size SUV that will have a common Mahindra product platform and powertrain. There will be three new Mahindra branded UVs as well, which will utilise the same platforms and powertrains as their Ford counterparts.

Next-gen XUV500 Spied In India
Mahindra and Ford have been jointly developing a 'C-segment SUV', which will likely rival the likes of the Jeep Compass and Tata Harrier as well as the 2019 MG Hector and 2020 Citroen C5 Aircross. This is touted to be the second-gen XUV500 and could break cover by mid 2020.
Among the product pipeline of the JV will also be electric vehicles and the manufacturers will collaborate on this front. The first fruit of this collaboration could be an all electric version of the Aspire sedan, which could be sold under the Mahindra brand.

Speaking at the announcement, Anand Mahindra, Chairman, Mahindra Group, said "Mahindra and Ford coming together is a testament to the long history of cooperation and mutual respect between the two companies. Our combined strengths – Mahindra's expertise in value-focused engineering and its successful operating model, and Ford's technical expertise, global reach and access to future technology – are a potent recipe for success. At its core, the partnership will be driven by the shared values of both companies, which are focused on caring for our customers, associates and our communities."
Apart from further developing synergies and sharing platforms for new vehicles both Ford and Mahindra will also look to benefit from each other's global sales channels. The new entity will use Ford's distribution network in emerging markets to export both Mahindra and Ford cars from India.

"Ford and Mahindra have a long history of working together, and we are proud to partner with them to grow the Ford brand in India. We remain deeply committed to our employees, dealers and suppliers, and this new era of collaboration will allow us to deliver more vehicles to consumers in this important market," said Bill Ford, executive chairman, Ford Motor Company.
Along with jointly developed SUVs, we also expect Ford to continue offering indigenously developed products in India as well. Among them will be the next gen Ford EcoSport, which is already due for a generation change as well.

The new landmark announcement today would not only introduce a whole new crop of Ford and Mahindra vehicles, it would also help enhance the reach of their products in India. With the automotive industry witnessing its biggest slowdown in the last decade, manufacturers are consolidating now and are using synergies to stay relevant and sustain in the face of adversities. The true scope of the partnership will only come to light in the future, but it does look like a fruitful one for now.
Add Your Comments