Ferrari Or McLaren - Who Won The Game Of F1 Musical Chairs?
---
F1's two most successful teams of all time will have a new face each in 2021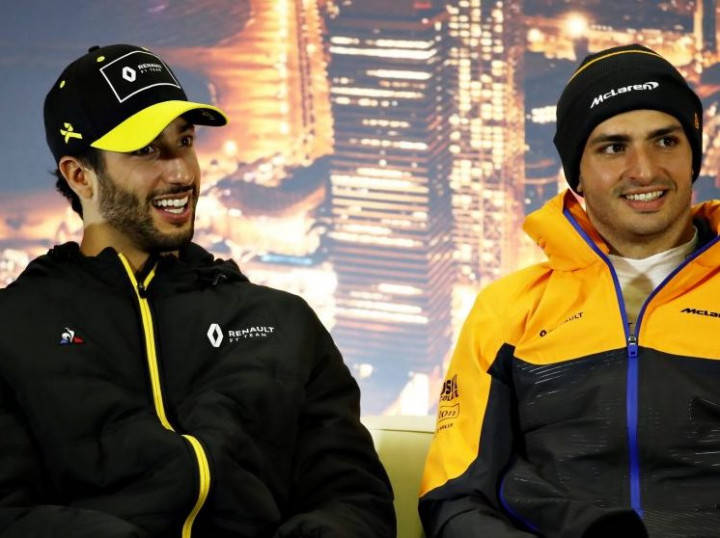 Phew! Everybody caught their breath after what happened in F1 this week? That too without a single car hitting the racetrack.
On the face of it, one would say that Ferrari came out the big winner. The announcement of Sebastian Vettel leaving the Italian squad at the end of this coronavirus pandemic-affected season prompted Carlos Sainz to leave McLaren and join Ferrari.
Smooth Operator
The soon to be 26-year-old Sainz has proven to be a 'smooth operator' not just on the track but also in being a master of his own fate. That is something that not every driver to come out of Red Bull's much vaunted driver development program can lay claim to.

Until Sebastian Vettel many drivers had fallen through the cracks of F1 once Red Bull deemed it fit to not continue their association with them.
It says a lot about Sainz's shrewdness that he has managed to land one of the most coveted seats in motorsport, not just F1, as he joins Charles Leclerc. Sainz has made constant improvement since his debut in 2015, and that too in teams that were mired in F1's midfield with little to no chance of getting on the podium.
Sainz knew that with Ricciardo and Verstappen at Red Bull, there was little to no chance of him joining the Red Bull Racing squad. Red Bull is currently only one of three teams on the grid that has a shot at winning a race, Mercedes and Ferrari being the other two. Unless all the drivers from those three teams retire or crash out of a race or are disqualified. Highly unlikely!

Sainz's promotion from Red Bull Racing's junior team, Scuderia Toro Rosso (now called Scuderia Alpha Tauri) was unlikely despite impressive and consistent points scoring results. While still under contract with Red Bull, Sainz moved to the works Renault team in 2017 and immediately scored a points finish. Another solid season in 2018 was followed by a move to McLaren to replace his hero Fernando Alonso. That move formally ended his association with Red Bull Racing and Sainz spearheaded the Renault-powered McLaren team to their best season in F1 since 2012. Lewis Hamilton's post-race penalty in Brazil earned the team their first podium in F1 since 2014, when Sainz was promoted from his fourth place finish.
So let's recap, shall we? Sainz is fast, consistent, opportunistic and works well with others. That last part was made all the more apparent by his chemistry with McLaren teammate Lando Norris. Sainz and Norris' hijinks off the track were social media gold for a sport that has shaken off the shackles placed on it by its former commercial boss and has therefore drawn in many new fans.
That makes Sainz an even more valuable commodity in this era where social media marketing and promotion efforts lead to increased engagement with people.
The Honey Badger
So what about Daniel Ricciardo, the driver who will replace Sainz and partner the 20-year-old Norris at McLaren from next year? The Aussie who has nicknamed himself 'honey badger,' due to his admiration of that diminutive animal's fierce determination, is also a product of Red Bull's driver development program.

Since his debut in 2011, the soon to be 31-year-old whose smile appears to be wider than an F1 tyre has become a multiple race winner with a penchant for exciting, late-braking overtaking maneuvers and winning races when he was not the favourite to do so.
In 2014, his first season at Red Bull Racing, he replaced Mark Webber as Sebastian Vettel's teammate. This was right after Vettel had won four straight drivers titles, creating history by being the first driver since Michael Schumacher to do so. Till date, Vettel is still the youngest driver to ever win the driver's championship.
That season, the first for F1's current era of turbo-electric hybrid cars, was when Ricciardo delivered a lesson in abject humiliation to Vettel. The Aussie won three races, including a sensational win at Hungary when he finished ahead of Ferrari's Fernando Alonso, and Mercedes' Lewis Hamilton and Nico Rosberg. Ricciardo passed both Hamilton and Alonso on the track - no refueling stops in F1 since 2010 - while Vettel spun and lost his chance to claim victory.

Hamilton and Rosberg won 16 of that season's 19 races as Mercedes had got a jump on every other manufacturer on the grid in outspending them to develop their turbo-electric hybrid power unit.
Ricciardo was the only non-Mercedes driver to win, and that too in a team where Vettel felt like a king. He scored 238 points to finish third in the championship standings while Vettel was fifth with just 167 points and no wins to his name. Vettel had won 13 of the 19 races of the 2013 season as well as the last nine, which included the last Indian Grand Prix where he sealed the title with three rounds remaining.
Ricciardo's performance forced Vettel to announce a surprise move to Ferrari for 2015. Since then his teammate was Red Bull's latest prodigy, a certain Max Verstappen. Feeling ignored and also at the receiving end of Verstappen's growth as a driver - who made his F1 debut at the age of 17 - Ricciardo left for Renault after the 2018 season. He thought that the resources of a manufacturer keen to get back on top would help him eventually. It became clear, though, just how far back Renault were to the likes of Mercedes, Ferrari and Red Bull Racing, who were now officially partnered with Honda.
Despite the services of Ricciardo and the capable Nico Hulkenberg, Renault were beaten to fourth place in the constructor's championship by McLaren, which they were expected to clinch at the start of the season. The double shock of the novel coronavirus pandemic and then Sebastian Vettel's departure from Ferrari has led us to our current situation.
New Teammates
Ferrari and McLaren each have a pairing that consists of the product of their own driver development programs; Charles Leclerc for Ferrari and Lando Norris for McLaren. Both were sensational in junior single seat racing series where drivers learn racecraft before graduating to F1. Both had solid rookie seasons, Leclerc in 2018 and Norris just last year. Leclerc did to Vettel at Ferrari last year what Ricciardo did to the German in 2014 by winning two races to Vettel's one and finishing ahead of him in the championship standings.

Norris was eleventh in last year's drivers championship while Carlos Sainz was sixth. Norris was often accused of being more interested in hijinks and humour than being focused on racing. To be fair, though, that is a somewhat harsh criticism to level against a guy who hasn't even turned 21 yet and who had to deal with the steep learning curve that is F1. And that too with a much more experienced teammate.

Sainz paired with Leclerc means Ferrari have two very professional, likeable, fast and consistent drivers for 2021. Keep in mind that this is on paper. They may play nice outside of the car, but both are young and hungry racers in a sport where a teammate is treated as a rival.
Ricciardo paired with Norris already has people abuzz, many anticipating more moments like the pre-race press conference at last year's British Grand Prix. Go ahead and search for 'Ricciardo Norris press conference' on YouTube to see what I mean. In a sport that is rediscovering the benefits of allowing drivers to be something other than PR robots, Ricciardo and Norris are probably the two biggest characters on the F1 grid.
The fact that there is a 10 year age gap between the two makes it even funnier that they act like a couple of schoolboys who can't believe that they get to drive insanely fast racing cars and get paid for it. When it gets serious, however, you will be hard-pressed to find a more dogged competitor than Ricciardo, for whom the professional and - compared to Renault F1 - less stuffy environs of McLaren F1 will bring the best out of him.
Advantage McLaren?
Norris is only at the beginning of his F1 journey with room for improvement. McLaren are also due to get Mercedes power units from next year. However, due to cost saving measures in the wake of the coronavirus pandemic, McLaren will have to adapt their 2020 chassis for the new Mercedes power unit, which currently comes from Renault. It is not an ideal situation, but it will be just a short term problem.

From 2022, F1 will introduce the long awaited technical regulations that have been framed for teams to build cars that will make it easier to race closer on the track. More significantly, from next year all teams, including Ferrari who - along with Mercedes - often spend upwards of 400 million dollars every year will have to adhere to a 145 million dollar budget cap. And this figure is set to reduce by another 10 million dollars in 2022.
A team like McLaren, which is not affiliated with a manufacturer, with an experienced race winner and a driver who has a lot of untapped potential will be well set. Ferrari look to have gained on paper too, but their history of glaring errors since the end of the Schumacher era and the loss of extreme spending power could very well tip the scales in McLaren's favour from 2022 and beyond. On paper, Ferrari have the stronger driver pairing, but McLaren look to have the ingredients to continue their rise back to the sharp end of the F1 grid.
I am willing to stick my neck out and say that McLaren will be better set for the long term than Ferrari. The two factors that can make me look like I have egg on my face, will be wearing scarlet overalls.
Add Your Comments