Of Course The Abu Dhabi Police Has Added The Ducati Panigale V4 R To Its Fleet
by Alpesh
Dec 3, 2019
Views : 2786
---
Just when we thought Abu Dhabi's police fleet couldn't get any crazier, boom, they bring the maddest Panigale into the picture!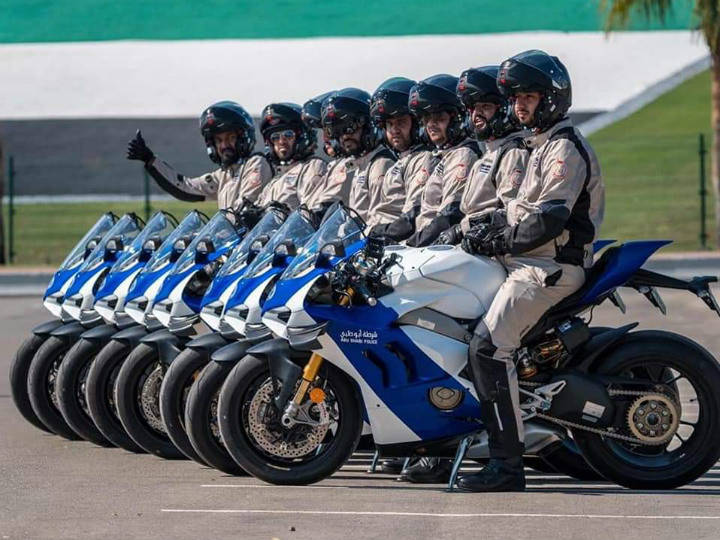 The Abu Dhabi police force is a team of true petrolheads. In a place where supercars are as normal as Maruti Suzukis in our country, they want the best set of wheels out there in case they find themselves in a pursuit situation. Their fleet already has Lamborghinis, a Bugatti, Bentleys, and McLarens among other high-end supercars which we just dream about owning one day. Now, the Abu Dhabi police decided they needed something small, light and powerful. Enter the Ducati Panigale V4 R. And not just one, but as you can see in the image, there are several V4 Rs standing right there, just waiting for someone to break the law.

Instead of the eye-catching red and white paint scheme that we have seen on the Abu Dhabi police's fleet cars, the Panigales are draped in a cool blue and white colour scheme. Apart from this custom paint scheme, the bikes haven't received any mechanical changes. The V4 R is currently the most hardcore Ducatis out there until the carbon-clad V4 Superleggera comes into the picture. Powering this monster is a 998cc motor that pumps out 220PS and 112Nm. A whole host of electronic aids like riding modes, cornering ABS, traction control and wheelie control help anchor this bike to the tarmac. Head here for more information on the Panigale V4 R.
So, the people of the dot com world, what else would you like to see wearing the Abu Dhabi law enforcement's paint option? Let us know in the comments below.
Add Your Comments