Ather 450X vs Aprilia SXR 160 - Performance, Acceleration, Braking Compared
---
Is Aprilia's latest and greatest quick enough to take on our electric scooter champion?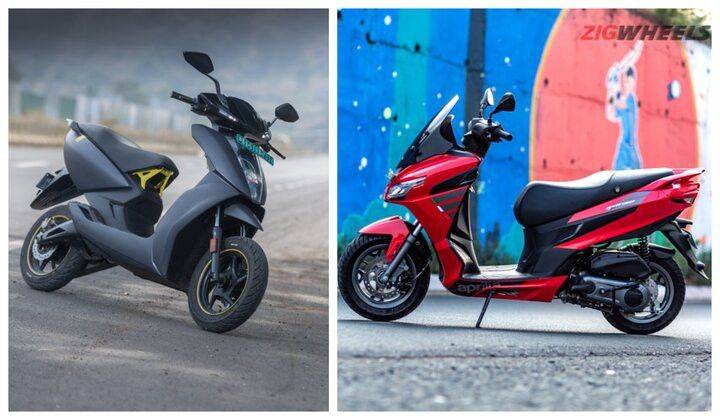 The Aprilia SXR 160 is one of the most powerful scooters that you can buy in India today. Sure, it's just slightly less powerful than the scooter on which it's based, the SR 160, and a little heavier too. But it does have some serious oomph. In fact, we recently did a full-blown road test of this maxi-style scooter, which you can check out here. But after putting the SXR through the wringer, the question on our minds was whether it could take on our current scooter performance benchmark, which just so happens to be an electric - the Ather 450X. So a simple comparison of their VBOX-tested numbers should put that question to bed.
Acceleration
| | | |
| --- | --- | --- |
| Acceleration | Ather 450X | Aprilia SXR 160 |
| 0-40kmph | 3.41 seconds | 3.61 seconds |
| 0-60kmph | 6.94 seconds | 7.80 seconds |
| 0-80kmph | 13.74 seconds | 14.14 seconds |
Maybe it was a bit too much to expect the SXR to beat the 450X in acceleration. The Aprilia is certainly a quick scooter. However, considering the Ather makes all its 26Nm of torque from essentially zero rpm, few scooters will ever be quicker off the line. On top of that, at 108kg, the 450X is 21kg lighter than the SXR. Given that, the SXR, in our opinion, holds its own rather respectably, with not much between them up to 40kmph.

That initial burst of acceleration provided by the 450X's Warp Mode opens the gap to 60kmph to a little shy of a second. But then, as the speeds build up, the Aprilia begins to claw back some ground, and by 80kmph, that gap is down to under half a second. We believe, given a longish stretch of road, the SXR will beat the 450X in the runs to their respective top speeds.
Roll-On Acceleration
| | | |
| --- | --- | --- |
| Roll-on | Ather 450X | Aprilia SXR 160 |
| 20-50kmph (kick-down) | 3.48 seconds | 4.27 seconds |
It's a similar story when it comes to kick-down acceleration. Honestly, with the electric motor's instant torque response, an ICE will not stand a chance when you suddenly open the throttle. In the case of these two, the Ather turns out to be an eighth of a second quicker than the Aprilia. While overtaking traffic in the city, this difference will be noticeable.
Braking
| | | |
| --- | --- | --- |
| Braking | Ather 450X | Aprilia SXR 160 |
| 80-0kmph | 43.50m | 33.70m |
| 60-0kmph | 22.14m | 18.36m |
The one area where the Ather falls behind is braking. Even though 450X has got disc brakes at both ends (as opposed to a disc/drum setup on the SXR), the Aprilia's big advantage here comes from its fatter 120-section tyres and single-channel ABS. In fact, the SXR is one of the only three scooters in India offering ABS as standard (well, they kinda have to).

The 450X, in contrast, only offers combined brakes, and the skinny 90-section tyres have a tendency to lock up under hard braking (especially the rear). That's why the SXR stops from 80kmph almost 10 metres shorter than the 450X. In fact, the SXR 160 manages the best braking distances among all BS6 scooters we've tested so far.
So, in most performance parameters, the Ather 450X still remains the scooter to beat. Although, we wish Ather provided it with ABS, at least as an option. Of course, we're talking purely in terms of performance numbers. When it comes to living with it, an electric will have its set of downsides over something like an Aprilia SXR 160. But that's a story for another time.
More on Ather 450X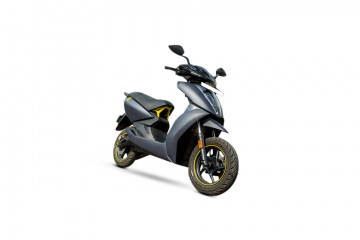 Rs. 1.27 Lakh Onwards
Ex-showroom, Delhi
See what our community has to say!
NEW
India's largest automotive community