Jawa Perak Ridden: Jawa Gets In Its Stride
---
Is there more to the Perak than just what meets the eye?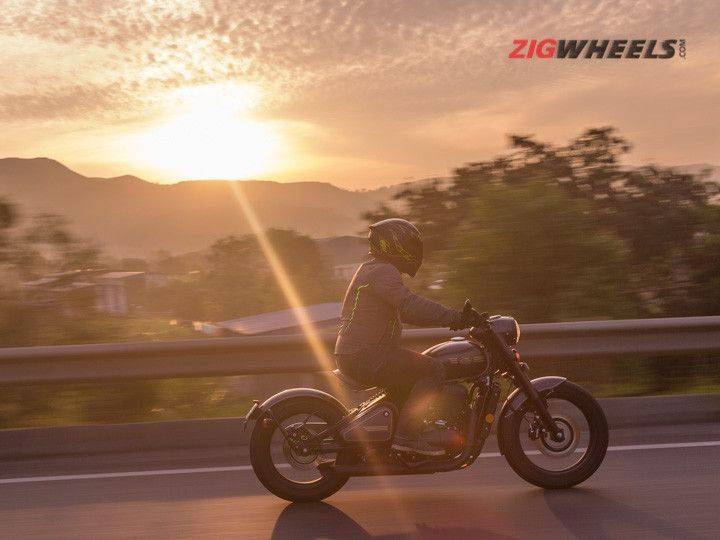 Not to be confused with the Malaysian state, the origins of the name Perak can be traced back to Nazi-oppressed Prague. Operating from the shadows, a man clad in all black gave hope to Prague's citizens of better days ahead. Seventy-five years later, the birth of a new Perak took place: the Jawa Perak.
Much like the urban legend mentioned above, the Jawa Perak, too, is meant to herald the start of good days for the Jawa brand. But does it? Is Jawa finally getting into its stride with the Perak? Its life in the 21st century might be off to a rocky start, thanks to the delays due to the COVID-19 pandemic, but it is finally here with us. Time to find out then...

Motor Gains Versatility

| | | |
| --- | --- | --- |
| | Jawa Perak | Jawa BS6 |
| Specs | 334cc single-cylinder, liquid-cooled, DOHC | 293cc single-cylinder, liquid-cooled, DOHC |
| Power | 30.64PS | 26.51PS |
| Torque | 32.74Nm | 27.05Nm |
| Gearbox | 6-speed | 6-speed |
Being the flagship model (or as Jawa likes to call it, a "factory custom bike"), the Perak has been blessed with a larger motor. Jawa engineers took the 293cc mill from the classic Jawa and the Forty Two and gave it a bigger bore to up the displacement to 334cc. Over the course of the lockdown, the engineers even managed to extract more torques as well. So, how much of a step up is it really in terms of performance?

| | | |
| --- | --- | --- |
| | Jawa Perak | Jawa BS4 |
| 0-60kmph | 3.98 seconds | 4.07 seconds |
| 0-100kmph | 11.45 seconds | 12.59 seconds |
Looking at the above figures, you might be wondering why the performance gap isn't as sizeable! But trust us, the Perak is a second quicker to 100kmph with our test rider Gaurav, who is around 25kg heavier than the one who tested the BS4 classic Jawa - Zaran (he weighs 50kg). So, please take these figures with a pinch of salt. Rest assured that when we get the BS6 classic Jawa, we will have Gaurav go at it to spot a more exact difference in performance between the two bikes.

That said, the Perak doesn't feel half as lively as the classic Jawa. Jawa loyalists, don't worry; the company hasn't done a complete 360 and given the motor bottom-heavy torque characteristics like some of its rivals. *cough*Royal Enfield*cough* It's just that the motor mannerisms are now catering to a more wholesome experience -- something that is sporty and fairly convenient to ride at a reasonable pace and without too much fuss.

| | | |
| --- | --- | --- |
| Roll-on acceleration | Jawa Perak | Jawa BS4 |
| 30-70kmph in 3rd gear | 4.35 seconds | 4.77 seconds |
| 40-80kmph in 4th gear | 5.54 seconds | 5.09 seconds |
Even the gear ratios on the Perak have been altered. They are taller in comparison to the other two Jawas, which makes for a more usable commute experience. You are no longer working the gearbox as much, which is a good thing as the gear shifts are a bit clunky, and the clutch action is on the heavier side. Thanks to the revised gear ratios, the Perak can be ridden at 45-50kmph in fifth gear with no shuddering from the motor.

Smooth Operator
One of the more appealing bits about this larger motor is that it allows you to sustain speeds of 100-110kmph effortlessly. It does max out at around 140kmph. However, the vibrations beyond 110kmph are quite bothersome. Plus, because of the tall gear ratios and a lack of great top-end performance, getting to 140kmph is a relatively time-consuming process.
Another likeable trait of this new engine is that you will not have to downshift much to regain lost momentum if you need to slow down for highway traffic. In fact, there is enough drive present in sixth gear to get you from 75kmph to 110kmph in no time.

| | | |
| --- | --- | --- |
| | Jawa Perak | Jawa BS4 |
| Highway fuel efficiency | 30.79kmpl | 35.64kmpl |
| City fuel efficiency | 34.05kmpl | 41.26kmpl |
| Fuel tank capacity | 14-litres | 14-litres |
Moreover, if you ride sensibly, you will be able to extract some decent fuel efficiency figures. Now, the larger motor has extra performance on tap and has to contend with more weight. Hence, there is a slight dip in overall fuel efficiency. That said, it can still travel around 420km on a tankful of gas, which is respectable for a bobber motorcycle.

Muted Feeling
Looking at the lovely slash-cut exhausts, you would be expecting a soulful rumble. Sadly, the note is relatively muted and not that engaging. Its 11:1 high compression ratio, liquid cooling, and a 4-valve head setup have to be blamed here. Not to forget the new BS6 emission norms that have reduced acceptable decibel levels by a significant margin.

Firm Hustler

| | | |
| --- | --- | --- |
| | Jawa Perak | Jawa BS6 |
| Wheelbase | 1,485mm | 1,369mm |
| Kerb weight | 175kg | 172kg |
Jawas are known for their sporty gene, and the Perak is no exception. Sure, it is not as agile as the classic Jawa, for it has a longer wheelbase, extra weight, different steering geometry, and wider tyres. But it loves to be hustled. It is relatively light on its feet and holds its line well around sweepers. Corner clearance isn't much of a problem. It is only when you start pushing extreme limits that you end up grazing the side stand on the left and the exhaust on the right.
Frame

Tubular double cradle frame

Suspension

F: Telescopic fork

R: 7-step preload-adjustable monoshock

Brakes

F: 280mm disc

R: 240mm disc

Tyres

F: 100/90 - 18

R: 140/70 - 17
The Perak runs a firm suspension tune. While it does get a bit annoying at crawling speeds as you feel every single ripple on the road, the ride flattens out once you gather momentum. But you have to keep vigil for sharp bumps. The quick rebound setting of the monoshock could toss you off your seat should you hit such a bump at a decent pace.


| | |
| --- | --- |
| | Jawa Perak |
| 80-0kmph | 31.65m |
| 60-0kmph | 17.24m |
The large brake discs of the Perak shed speed quite rapidly. Braking is fairly predictable, with stopping distances at par with the competition. That said, we would have liked a little more fierceness from the brakes and feedback at the levers. ABS intervention can be a bit bothersome as the system kicks in even on smooth tarmac. It could be because of the Ceat Zoom Plus tyres, which, while offering great traction overall, don't really hold up well under hard braking.

Stunning To Admire… From A Distance
The Perak is an exquisite motorcycle to look at; styling is its Ace of Spades. Its dark overalls, the gold accents, floating seat, and the integrated tail lamp lend it a spiffy air that's hard to match at its price point.

That is when you admire the bike from a distance. Get closer, and you start to notice the blemishes. The panel gaps are inconsistent, there are rough edges all around the bike, and the rear turn indicators seem as though they were an afterthought. Quality levels have improved from BS4 times, but it isn't anywhere close to what we've experienced on the Royal Enfield Meteor 350 or even the Benelli Imperiale 400.

Nostalgic But Not Readable
There isn't much additional feature to be found -- no LED headlight, no digital dash, and obviously, no smartphone connectivity module. The digital inset displays just the odometer. There's no trip meter, no clock, or no tachometer, for that matter.
And then there's the dash itself. It has its nostalgic appeal and looks lovely in the dark, thanks to the black background and white readouts. Still, reading the exact speed is a challenge. Between 40kmph and 120kmph, I could barely make out the speeds I was clocking.
The experience could have been improved on had Jawa angled the dash towards the rider and provided a chamfer on the panel it has been mounted on. That would've made it easier to read the speedo.

Uncomfortable Seating
Our biggest complaint with the Perak happens to be its riding ergonomics. Yes, at 750mm, the seat is easily accessible for riders of all heights, and you do not have to stretch much to reach the wide bars. But it is those footpegs that cause massive discomfort. They are located directly below the rider's seat. Traditionally, on a bobber, you would find them neutrally located if not entirely forward-set. And since they are so high, it almost creates a knees-up riding posture for larger riders, as if you were sitting on the toilet. Even if you are healthy and in prime shape like our testers, you can only clock 100-150km at one go as it becomes extremely uncomfortable.

The seat angle should have been sloping downwards. Currently, it is horizontal to the ground, which, when braking hard, slides the rider forward into the tank. The constant movement also tires you out. If it were sloping downwards, you wouldn't be rocking to and fro as much, considering there'd be a slight scoop to keep you from sliding backward every time you went on the gas.

Lastly, the bar-end mirrors irritate your palms. It doesn't become an operational hazard but is a bother nonetheless.
Yes, this is a bobber, and bobbers are conventionally single-seaters. If you are keen on buying this bike, you have to keep in mind this inherent shortcoming. So, when you are out on a date, even if you end up impressing your date with its looks, you will have to call for an Uber to get them home.

Good But Not Wow!
Does this Perak instil hope that better days are on the horizon for Jawa? Why, yes! It is the most affordable bobber for sale in India. The larger engine is more usable and versatile than the smaller 293cc mill. It makes for a good commuter and is adept at highway cruising too. However, while it scores high on style, it doesn't leave you much impressed in any other department. The inherent drawbacks of the bobber genre limit its practicality quotient. And when you factor in the quality on offer, its near-Rs 2 lakh price tag feels a strain on the pocket. What really mars the bobber experience is the weird riding posture and the muted exhaust note.
So, with the Perak, Jawa is certainly getting into its stride. But we would've liked to see the larger engine make its way into the classic Jawa. In our books, that would make for a great contender in the 350cc retro motorcycle segment.
More on Jawa Perak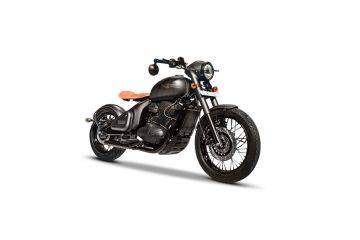 Rs. 1.97 Lakh Onwards
Ex-showroom, Delhi
See what our community has to say!
NEW
India's largest automotive community