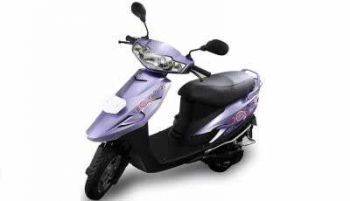 The little scooter that is targeted mainly at young ladies and college-going teenagers is a stark departure from other electric two wheelers currently present in the market today. The scoot benefits from TVS' long-standing experience in manufacturing petrol-powered two wheelers in the country. Available in red, black and lilac with a vibrant graphic scheme on the body, the Scooty Teenz Electric is bound to appeal to the fairer sex for its suave looks and might even find potential male buyers for reasons of its performance advantage.
With an 800 Watt electric motor powering the rear wheel, the Scooty Teenz Electric is capable of speeds of up to 40 km/h and boasts a much higher payload capacity than other available electric two wheelers. The higher top speed also means that the scoot will be able to operate at speeds at par with regular city traffic. A unique feature called the 'range selector' on the Scooty Teenz Electric also allows the rider to switch between two operating modes-one that uses full power and achieves the 40 km/h top whack and another which cuts power down so the scoot uses a fraction of the available power and speeds up to a lower top speed. The advantage of the switch that helps select low and high range is that in the high range mode, though the scoot can achieve lesser top speed, its range increases by 50 per cent to enable a 60 km operating distance. The scooter also comes with large storage spaces and a mobile charging outlet.
The scoot also a 'battery low' indicator that blinks within 2-5 km of running out of juice in low range mode and around 6-10 km in high range mode. This vehicle for the green brigade can be purchased and serviced through TVS' wide dealer network. The Scooty Teenz Electric falls under the L1 of the Central Motor Vehicles Rules (CMVR) and Automotive Research Association of India (ARAI), which means that learner's licenses for the vehicle can be obtained at sixteen years of age instead of the mandatory eighteen years. The scooter will be available for sale across the country within the next three months.