Here's Our Favourite Pick Of Electric Vehicles Showcased At LA
Nov 23, 2019
Views : 10801
---
We saw a variety of EVs in different segments at the 2019 LA Auto Show. But which one's the best? Here are our favorites showcased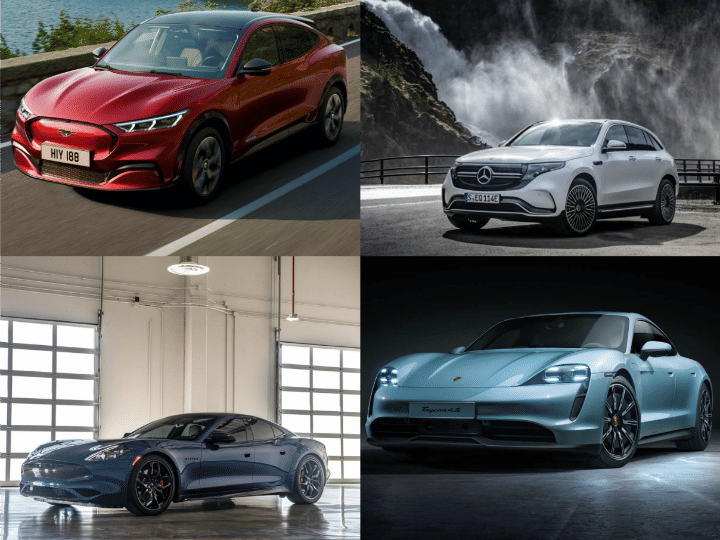 The 2019 Los Angeles Auto Show saw a variety of debuts on the EV front belonging to different segments ranging from SUVs to performance sedans. But which one's the best? Here's a look at the showstopping EVs showcased at the LA Auto Show.
6. 2020 IONIQ Refresh

Aside from unveiling the refreshed IONIQ hybrid and plug-in-hybrid trims, Hyundai also introduced the all-electric update of the 2020 IONIQ sedan. Updates include a bigger 38.3 kWh battery that increases range to 170 miles (273 km) on a single charge and a power boost at 134PS. Other updates include a new grille, revised front and rear bumpers and new wheels. The bigger changes are inside with a revised dashboard and instrument panel, 7-inch LCD console display, and a standard 8-inch touchscreen infotainment system with Apple Car Play and Android Auto. You also get a 10.25 inch touchscreen is also available as an option. Other features like collision avoidance assist, high beam assist, and drivers attention warning make up the safety quotient. Prices are yet to be revealed.
5. Mercedes EQC

The Mercedes EQC electric SUV made its US debut with prices starting from USD 67,900 (Rs 48.75 lakh). It is powered by two motors, one at each axle tomake 508PS and 761Nm of torque. It sprints from 0-100kmph in 4.8 seconds juiced up by a 80kWh battery. Charging time ranges from 10 to 80 per cent with a 110kW fast charger in around 40 minutes. The EV will be available in three trim levels -- Progressive, Premium, and Advanced. Features like car-to-x communication and a suite of driver assistance technologies including predictive speed adjustment will be available on the EQC 400 4Matic. It will go on sale in the US early next year.
4. Audi e-tron Sportback

Audi's flagship EV, the e-tron, gets a more stylish trim with the e-tron Sportback. It gets a sloping roofline making it more aerodynamic than the standard e-tron. It also shares its dashboard with the standard e-tron. The e-tron Sportback is powered by two electric motors powering all four wheels. It comes in the 50 quattro and 55 quattro variants with the 50 quattro producing 312PS/540Nm out of a a 71kWH battery pack. The top-spec 55 quattro produces 360PS/ 561Nm from a 95kWH battery. WLTP claimed ranges are and 347km(50 quattro) and 447km(55 quattro) on a single charge. Prices start at USD 79,052 (Rs 56.64 lakh).
3. Ford Mach-E

Ford begins its EV journey by adding an SUV to the Mustang lineup for the first time in the Mustang's 55 year history. The new SUV, named Mustang Mach-E looks more like an SUV coupe with its sloping roofline and notchback-like design. Standout features include a panoramic fixed glass roof, Ford's next-gen 15,5-inch SYNC infotainment system, and Co-Pilot 360 2.0 driver assistance technology. It's no slouch under the hood with 459PS/830Nm in the GT variant and a range extending all the way to 482km. It is available in five versions -- Select, California Route 1, Premium, First Edition, and GT.
2. Karma Revero GTS

Aside from the radical SC2 concept, Karma introduced the performance-oriented version of the Revero GT electric sedan. While the specific performance upgrades haven't been revealed Karma has retained the dual electric motors and the 3-cylinder petrol engine to power the car's electric generator. It is faster off the line with a 0-100kmph sprint time of 3.9 seconds and a higher 209kmph top speed. It has a range of 360 miles (580km) with 80 miles (128km) achieved solely on electric power thanks to a 28 kWh lithium-ion battery. It also get three different driving modes as well as launch control. Other tweaks include carbon-fibre inserts, a new 7.1-channel 570-watt Soloscape audio system and touch-sensitive steering wheel controls. Pre-orders have begun with prices starting from USD 149,950 (Rs 1.08 crore) and production slated to begin around the first quarter of 2020.
1. Porsche Taycan 4S

The star EV attraction of the 2019 LA Auto Show of course had to be the US debut of the Porsche Taycan 4S. It comes with a cheaper price tag of USD 103,800 (Rs 74 lakh, excluding taxes) at the cost of a smaller 79.2kWh battery pack pushing out 530PS. However it returns a driving range of upto 463km. You can also get the 93.4kWh battery pack from the Turbo and Turbo S as a performance option that produces 571PS. It retains the same powertrain layout as its bigger brothers as well as its fast-charging capabilities with compatibility upto 800V. Both versions of the Taycan 4S can top out at 250kmph with 100kmph sprint in under 4.0 seconds. With the Taycan confirmed for India, we might get the more affordable 4S variant. Expect an India debut by March 2020.
Special Mention: Tesla Cybertruck

Aside from the Evs mentioned above, there was another radical EV called the Tesla Cybertruck that was unvelied in LA. However it wasn't unveiled at the LA Auto Show that prevented it from making to the list. This new pickup isn't just a prop out of a Cyberpunk virtual world, but also boasts real-world performance and brutal strength too. It has a body that is dent-proof, scratch proof and bulletproof upto 9mm shells. It also gets a spacious interior with sic seats, a 17-inch touchscreen and autonomous driving tech. It goes from 0-96kmph in 2.9 seconds and a range exceeding 804kms. Off-road features include adaptive air suspension, 16-inches (406mm) ground glearance, and towing capacity of upto 14,000 pounds (6,350kg). For trucking capabilities, it features a 6.5-foot (1981mm) bed and a 3500 lbs (1,587kg) cargo capacity. Prices start at USD 39,900 (Rs 28.66 lakh) with pre-orders already commenced and expected deliveries for late 2021.
Add Your Comments