Karma Goes Futuristic At LA With SC2 Hypercar Concept And Revero GTS Reveals
Nov 20, 2019
Views : 7535
---
The Karma SC2 concept puts out 1000PS of power and 14,000Nm of peak torque!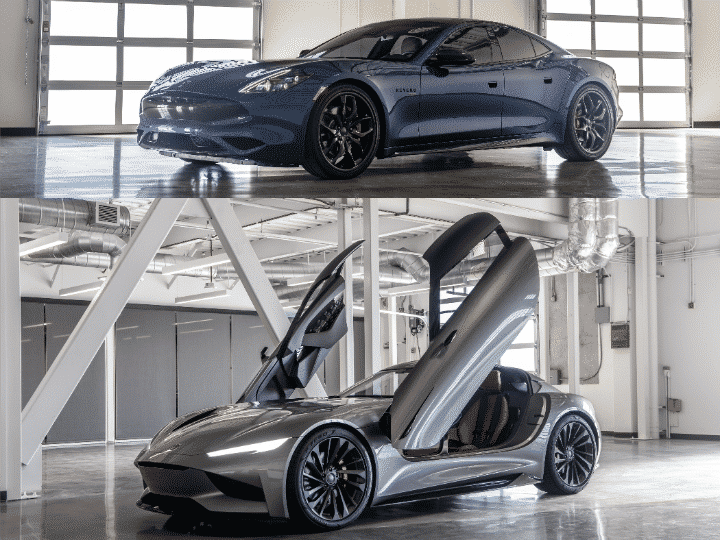 The SC2 concept is a radical hypercar with a 0-100kmph time of less than 1.9 seconds.
Other highlights include simulation, dynamic regenerative panel and a range of upto 563km.
The Revero GTS gets dual electric motors and a 3-cylinder petrol motor for the electric generator.
The GTS is half a second faster than the Revero GT off the line and faster by 8kmph at the top end.
Pre-orders for the GTS have begun with a starting price of USD 149,950 (Rs 1.08 crore).
Production of the GTS is slated to begin around early 2020.
With the 2019 Los Angeles Auto Show kicking off, California-based Karma has taken an early march amongst the manufacturers and unveiled two performance-oriented electric vehicle (EV) models. The Karma SC2 is a hypercar concept with 1000PS, while the Revero GTS boasts a range of 580km. Here's all you need to know about Karma's show cars at the LA Auto Show.
SC2 Concept

After giving us a tease of the top-view, Karma has finally unleashed its SC2 concept car at the 2019 LA Auto Show. And we can tell you that it looks like an absolute beast with design highlights such as bespoke Vapor Grey hand-painted exterior as well as a set of gullwing doors.

The main talking point, however, is what's under the hood. The SC2 concept is powered by twin rear mounted electric motors that produce 1000PS of power and a whopping 14,000Nm of torque! All this propels the concept from 0-100kmph in less than 1.9 seconds. It also boats high efficiency with a range of upto 350 miles (563 km) on a single charge. Other performance highlights include carbon-ceramic brakes, torque vectoring gearbox, pushrod suspension as well as a dynamic regenerative panel claimed to help the SC2 corner well..
Also Read:

Aside from performance, the SC2 concept also boasts a variety of future tech in the form of Drive and Play technology. This allows drivers to relive their previous drives via simulation, using a triple high definition camera setup under the windshield and frequency-modulated continuous wave (FMCW) lidar sensors. Other tech highlights consist of fingerprint and facial recognition sensors, biometric steering wheel and seats and a 3D audio system. It also gets an electro-chromatic glass that shifts from clear to opaque for privacy and light protection.
Revero GTS

Karma's next model that made its debut is the performance-oriented version of the Revero GT electric sedan. While it hasn't revealed the specifics of its performance upgrades, Karma has retained the dual electric motors and the 3-cylinder petrol engine to power the car's electric generator.

The carmaker has also revealed that the GTS is faster off the line by more than half a second with a 0-100kmph sprint time of 3.9 seconds. It's also a bit faster at peak speed with a 209kmph top speed compared to 201kmph on the Revero GT. It has a driving range of up to 360 miles (580km) with 80 miles (128km) achieved solely on electric power thanks to a 28 kWh lithium-ion battery. Other nifty kit includes the choice of three different driving modes (Stealth, Sustain and Sport) as well as launch control.

Other highlights of the Revero GTS include carbon fiber exterior inserts, a new 7.1-channel 570-watt Soloscape audio system as well as touch-sensitive steering wheel controls. These are also available in the SC2 concept. The Revero GTS also comes with features like ventilated seats, oak and elm interior inlays, leather upholstery and active noise cancellation. Pre-orders for the Revero GTS have begun with prices starting from USD 149,950 (Rs 1.08 crore) and production slated to begin around the first quarter of 2020.
Also Read:
See what our community has to say!
NEW
India's largest automotive community