Looking Back At The Tech We Saw At Auto Expo 2018
---
How does technology evolve from one Expo to the next, and how does it make its way to the cars we drive?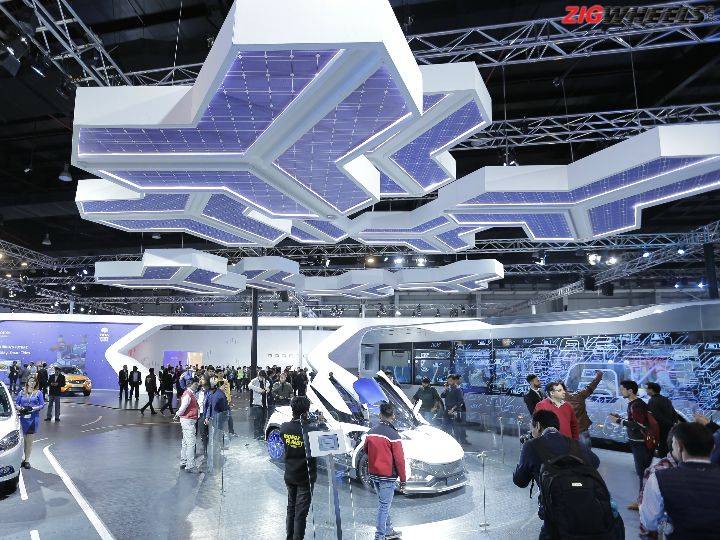 Sustainable mobility and electric car technology were key ideas for many Expo displays.
Top technologies were centred towards safety and efficiency.
Indian manufacturers like Mahindra had unique ideas about the vehicles of tomorrow.
We can't wait to see the new cars that are set to make an appearance at Auto Expo 2020. We already know which carmakers are coming and what they have to show us. But what's the point of an expo anyway? While some carmakers use such events to advertise their cars, others use it to showcase their latest innovations and see how people respond to them. For example, at the last Expo, we saw a bunch of EVs even before the government declared war on petrol and diesel cars. The Auto Expo isn't just a place for revealing new, but also for showcasing new automotive technology as well. In this edition of our Flashback Fridays for Auto Expo 2018, here's a list of automotive features, technology and trends that were showcased two years ago and could possibly make it to our cars in the near future.
Autonomous Tech:

Cars that drive themselves are getting closer to reality with each passing year. Today, some expensive luxury cars come with adaptive cruise control, lane keep assist and a suite of other technology that makes them capable of driving themselves under controlled conditions for short spurts. The most reliable of these technologies are no more than driver assistance systems. Innovations in machine learning have brought us to Level 2 of autonomy, where a car can recognise obstacles in the road, traffic signs, and other motorists and road users. When we get to Level 5, the car would not need a human driver. But what would a car be if you don't have to drive it? According to carmakers like Honda, it would be a room. That's why the e concept which we saw at the 2018 Auto Expo had a wooden floor with pedals that can retract and sit flush with the floor.
Side-view Cameras:

Tata's Altroz concept wowed us two years ago at the Auto Expo. The Altroz still isn't out yet, but it at least stays true to the concept. Except one bit -- the side-view cameras. The Audi E-Tron has them in its production form, too. Side view cameras which project video feed onto screens placed at the base of the A-pillar were also a feature on the Honda e concept. Why are they useful? Aerodynamics. In automakers' pursuit of efficiency, the side view camera is an expensive solution to a problem which only becomes significant when travelling at high speeds.
Urban Mobility Solutions:

Apart from the eVerito and eKUV100, it was nice to see Mahindra bring out sustainable non-car transportation for use in cities and towns. The Atom is a conceivable alternative to auto rickshaws, while the eSupro will be a practical people mover in Tier 1 and 2 cities. The company also had an electric bus on display, though it hasn't made it to production yet. For personal mobility, Mahindra had the Udo three-wheeler on display, which comes with a set of pedals you can use to get home if the charge runs out.
Flush door handles:

The Tesla Model S was one of the first production models to come with these, but concepts have had 'flush' or 'hidden' door handles for many years. At the 2018 Expo, it was the Kia SP concept which got everyone's attention, and it had flush door handles as well. While you might think security or aerodynamics may be the reason for replacing traditional pull-type handles, it is designers who like flush handles. They are right, of course. Flush door handles do look cool.
Digital Instrument Cluster:

Screens. That's the future. The Honda e is supposed to be a city car, but it has five screens, each bigger than the one you'll find in the cabin of an India-spec city car. Digital instrument clusters were all the rage in the 80s, but now they provide versatility. Like Audi's Virtual Cockpit, which puts a map in your dashboard when you don't know your way around a strange town. You can change the information displayed within your field of view to anything you deem relevant.
Long-range EVs, Shorter Charging Times:

If you still think electric cars can't replace combustion vehicles because of range issues, you're obviously living in 2017. That's because the Mercedes EQ concept showcased at the last expo was claimed to have a range of 500km on a single charge. As carmakers equip their vehicles with faster charging capabilities and bigger batteries, EVs are soon going to become practical (albeit pricey) alternatives to combustion cars. We have started to see the change in India as well, with cars like the Kona Electric and the upcoming MG ZS EV, both of which can go as far as 400km and take as little as under 1.5 hours for a full charge from a 50kW CCS charger. With innovations like solid-state batteries just a few years away, EVs will keep getting better at accumulating and storing energy. As long as we get that energy from renewable sources, they'll be better for the environment too.
Add Your Comments