Tokyo Motor Show 2017: Honda's Sports EV Is Gorgeous!
---
The future of sports car from Honda's stable is here.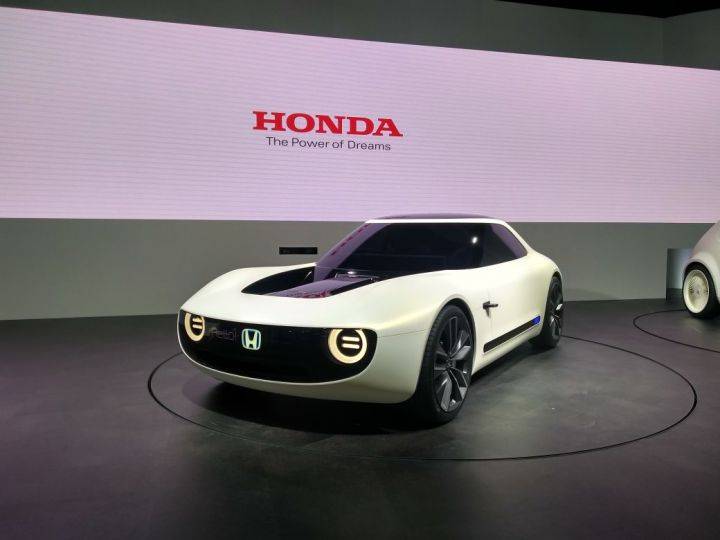 The world is going fully electric. If you weren't sure about it until now, the 45th Tokyo Motor Show should be proof enough. In a bid to expand their electric concept lineup, Honda unveiled the Sports EV Concept. The idea behind the Sports EV Concept, Honda says, is to "combine EV performance and AI (artificial intelligence)". Though other manufacturers have dabbled with similar concepts, Honda has decided to go old-school with the design, which, in our opinion, looks gorgeous.
The Honda Sports EV Concept is based on a completely new platform built specifically for EVs. It is equipped with 'a highly responsive' electric powertrain which is placed lower in the body so as to obtain a low center of gravity. Combined with a the low and wide design, the EV looks like a sports car. However, Honda has managed to make it look rather friendly with circular lights at the front and a smooth sculpted design. The grille, lights and the placement of the logo resembles that of the Urban EV concept which was showcased last month.
Coming to the AI part of the story, the Sports EV Concept gets something called the 'Honda Automated Network Assistant' which, Honda says, will "unite the driver and the car". In simple terms, it means that Honda has set out to build a car with an AI "emotion engine" that will detect the emotions behind the driver's judgements and make new choices and recommendations. Honda says this system will be capable of monitoring the driver's emotional well-being and make music recommendations based on mood among various other functions.
The Sports EV Concept will be compatible with the 'Honda Power Management Concept'. This system optimises energy management for the entire house through the EV and other renewable energy source like wind and solar for a greener, more sustainable world.
By adopting such technology, Honda seems to be thinking deep into the future. The production version of the Urban EV Concept will built in Europe in the next two years, and we expect the Sports EV Concept to follow soon as well.