Talking Karting With Mira Erda, India's First Female Formula 4 BMW Racer
Oct 21, 2019
Views : 3141
---
Mira Erda gives us an insight into the current scenario of karting and what's changed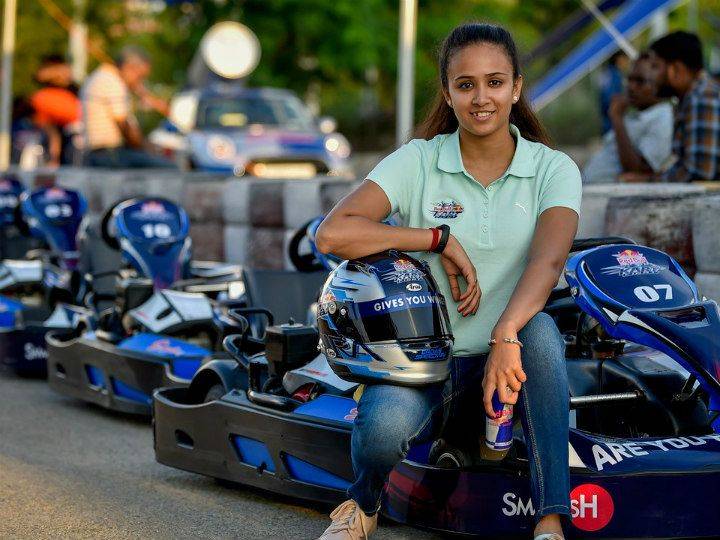 With the Red Bull Kart Fight National Finals in full swing at Hyderabad, it certainly looks like Red Bull has given amateur and aspiring racers from all over the country a chance to have a glimpse into the professional aspect of motor racing at the grassroot level. But how much have recent driver programs made an impact for a sport that requires a boatload of financial support in the country? We discuss with Indian Red Bull athlete Mira Erda.
The soon-to-be-19 race driver has had a long journey since 2010, from the basics in karting to being the country's first female Formula 4 BMW racer and a part of the Top 50 candidates considered for the W-Series. For those that are new to W-Series, it is an all-women single-seater championship in which 18 racers from around the world face off in F3-spec racecars. The series was launched to increase awareness of motorsports among women and help them climb up the ranks of motorsport. Here are Mira's insights on the sport's current state in the country.
Q- Being that we are at a karting event, how important is karting as a basic step into motorsports?
M- I think karting is very important because, you know, everyone is always trying to get into Formula cars, but India as a country, it's still not out there in the world competing at the best levels of motorsports. So now, FMSCI as well is trying to focus on the grassroot level competitions. We have 4-stroke karting, we have Red Bull Kart Fight, we have 'Girls On Track'. So everyone knows 4-stroke karting is the basic, because that is where people get the chance to actually come out and race at the basic level without any, you know, like too much of funding. So it is best to start off with karting and then going into professional karting that is rotax. I think whoever wants to get into professional racing, they should start from karting.

Q- With the current scenario of drivers being picked up at an early age through driver programs by brands like Red Bull and Volkswagen, how has the scenario changed as compared to when you started out?
M- When I started out 9 years ago, we didn't really have big brands, like VW or say Red Bull, picking us up through karting. We were just exposed directly to the Rotax championship and the JK Tyre national championship. And we were just supposed to go and race, that's all that we could do. Now, they have made attempts to try and get drivers from 4-stroke championships. However, that is wrong because the drivers participating in 4-stroke karting championships don't have much experience. And that's when if we start at a young age, we can actually, you know, train them in a much better way and train them at a younger age and get them to perform much better. This is because it becomes difficult after a point of time, after a certain age, to start learning things quickly. Whereas when you're young and starting raw into the 4-stroke karts, it's much more preferable and we can actually train them in a much easier way.

Q- As we know, in racing, there's two types of drivers that come through the ranks -- self-sponsored and brand-sponsored. What is the current proportion of drivers in that bracket? Sponsor to sponsor range, and how has the proportion changed compared to your early days?
M- When we used to race back in 2010 we never used to get sponsors at all. I mean, even JK Tyre, they were not sponsors. They were just letting us drive in the national championship. But now if you see, at least if you see Red Bull Kart Fight, the drivers are getting fully sponsored trips, they are getting fully sponsored stay. They just have to come here and drive. And also during the qualifiers, they don't have to spend too much. It's just max Rs 300 that they have to spend which is the normal karting price at any track in in India and they can just qualify and come.
So I think the scenario has changed much more compared to the times that I used to race. I had a very difficult time finding sponsors but now it's much easier for people to get into motorsports at a younger age without spending too much money. I mean, it still needs a lot of growth. It still needs a lot of companies to get into motorsports and support our drivers, but it's growing. That's a good sign.

Q- Speaking of spending, how much is the overall cost of a pole for a person to compete in a professional karting race weekend?
M- If you say national that is Rotax championship, around Rs 1.2 lakh is like the minimum. I have a team and that's what we charge the drivers because, you know, getting the cars on the track from different places, getting the containers, the hospitality, fuel, and everything else that is important for karting. It comes to around one 1 lakh- 1.2 lakh per weekend.

Q- With this in mind, what makes the Red Bull Kart Fight different from other racing series in the country?
M- I say it's different because the guys don't have to spend too much. It covers every part of the country, be it North India, South India, in the West. Whereas, if we see other races that happens in different cities, it's quite limited to those cities, giving participants less options. Hence not everyone wants to spend so much that they'll come from a place like Delhi all the way to another corner of the country just to drive. On the other hand, the Red Bull Kart Fight is actually giving everyone a chance to go and participate. Since we didn't have one of the qualifiers in Hyderabad, guys from Kerala, Nagpur, Pune, they all came to Gujarat just for the qualifiers. And that was a very good change that we saw. Guys are actually spending money because they want to compete and have zones where they can just go compete. One participant actually went to Bangalore and he didn't qualify, so he came to Vadodara. So they get chances. That's how I think Red Bull is different from the championships as the participants get more chances to compete.

Q- Now, speaking about your career, you're leading the women's standings at the JK Tyre FLGB F4 championship and have had a good run of form in the previous round, fighting against seasoned national champions. How has 2019 treated you so far?
M- This wasn't the plan for me. In the beginning of the year, I actually went for the W-Series selection and I had different plans. But obviously in the selection I couldn't make it through because of the experience that the other girls had. It was much more compared to what I had. But now, since Formula BMW wasn't coming to India, I thought, I don't want to just sit at home and not do anything. I wanted to make sure that at least I'm driving and preparing for the next year.
So went back to the Formula 4 LGB cars, where I started my career in formula cars, and it has been an amazing year. The first race was not so good because I came back to Formula 4 LGB after two years, so getting that form back and getting used to the car took me one round. And then after that it has been just growing and getting better at what I'm doing and competing with national champions in the LGB category. And being amongst them gives me so much experience through them. In the last race I was actually fighting for the top five, so it's amazing. I've been learning, I've been getting better at it so hopefully, in the last round in Delhi, I can make it to the podium somehow.

Q- Speaking of FLGB F4 your previous season in the series was back in 2016. What has changed in your approach to the race weekend from then and now?
M- For me at that time, I was just focused on making it to the top 10, trying to get better trying to learn how to shift gears while cornering and everything else because I was totally new to the car. This year after driving F4 SEA and F4 LGB in India, I have gotten more experience of going faster around the corners and competing with the guys, going for it and pushing the car. So this year, I was not afraid at all. I was not trying to learn from the guys, I was just trying to improve my driving skills by pushing myself out of my comfort zone and trying to drive just like them and compete. My approach has been totally different. I am much more confident that I can fight with them instead of just trying to make it to the top 10.

Q- A little off-topic from racing now: you're about to turn 19 next week. Which cars have you driven so far and which one's your dream car?
M- I don't really have a dream car, I would say. I just want to go out and drive every car possible. As for which cars I've driven? I mean already, mostly all of them. I got a chance to drive those cars on an airstrip. In terms of Mercedes-Benz cars, I drove the C-Class in BIC during an endurance record event. So that was like an amazing experience for me. I've also driven an Aston Martin, but I don't remember the series. I drove one of them in the W Series in the snow and that was amazing to me. It was a left-hand drive car and it was totally a different car for me because I was not used to these cars. And driving there on the snow was an amazing experience. Hopefully I can get a chance to drive those cars again.

Q- And finally, have you decided on any future plans so far after the Formula 4 LGB season?
M- So Red Bull and I are planning to do some testing on the personal side for F3 so that I can actually get experience for the W Series. To make it into the series this year, they have this criteria that you have to have experience in a car that is near to F3. I can't really go out there and race cars right now, so just testing one of the cars will be better. That's the target and maybe next year, if I am experienced enough to try the F3 car I might try to race in F3 Asia, even for one round. I just want to see how I am over here and how I perform and how the car works. So that's the target to make it to W-Series somehow in 2021.