Renault Lodgy With 0 Airbags Scores 0 Stars; We Explain
---
Global NCAP crash tested the barebones Lodgy with no airbags, ABS or ISOFIX seat mounts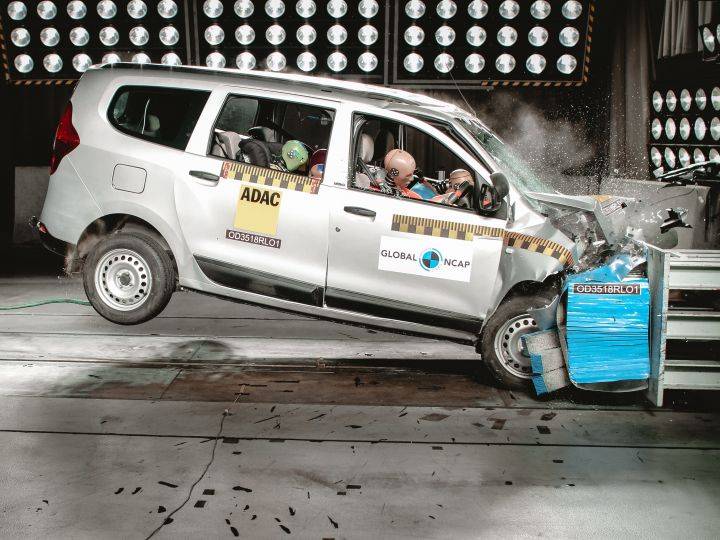 After Global NCAP published the crash test data for two more cars from the Indian market - the Maruti Suzuki Vitara Brezza and the Renault Lodgy, the Internet has been abuzz with questions about why there is such a drastic difference in the two results. Accusations are flying thick of NCAP being biased and choosing to test a Lodgy without airbags, especially when there is one available in that configuration. We clear the air on this matter.

For this test, Global NCAP has chosen the base variants of both cars. But, where the Vitara Brezza comes with dual airbags as standard, the Lodgy gets no airbags in the first two out of the four variants in its lineup. So, would the Lodgy with a dual airbag setup (available only in the top variant) have scored a rating similar to the Vitara Brezza? Maybe yes, but there are some aspects of the test that suggest otherwise.
If you look at the crash test closely, the A-pillar of the Lodgy is substantially deformed by the impact. In fact, in its analysis, the conducting body states: "The bodyshell [of the Lodgy] was rated as unstable and it was not capable of withstanding further loadings." As far as the second-row safety is concerned, the Lodgy scored two stars despite missing out on ISOFIX child seat mounts.
Post the crash test results, Renault issued a statement saying, "All Renault products meet and exceed the regulations set by ARAI. Renault has taken great strides in vehicle safety. The company shares the goal of improving road safety worldwide, including the adoption of robust vehicle safety standards. Our products are ARAI certified, which is the current mandate in India. As India is gradually moving towards international safety and emission norms by including more robust regulations, Renault will be ready for the upcoming safety regulations and BS VI norms. The tests by Global NCAP are conducted at speeds that are higher than those prescribed by the regulatory authorities, not only in India but also in developed markets. The results of Global NCAP have to be seen in that perspective."

The current laws in the country do not make it mandatory for cars to have airbags as standard. That will change from October 2019, though, with the government making it mandatory for all cars, small or big, to have a driver airbag as standard. Currently, Renault sells the Kwid, Lodgy, Duster and the Captur in India. Out of these, only the Captur offers airbags as standard. And while a lot of manufacturers have already started to offer airbags as standard, or at least as optional extras in most of their cars, it remains to be seen whether Renault waits for the mandate or makes a move before time to equip its cars with at least a driver airbag.
Add Your Comments