Practical Mahindra Roxor 'Roxbox' Concept Unveiled
---
Roxbox concept provides a mix of off-road fun and everyday practicality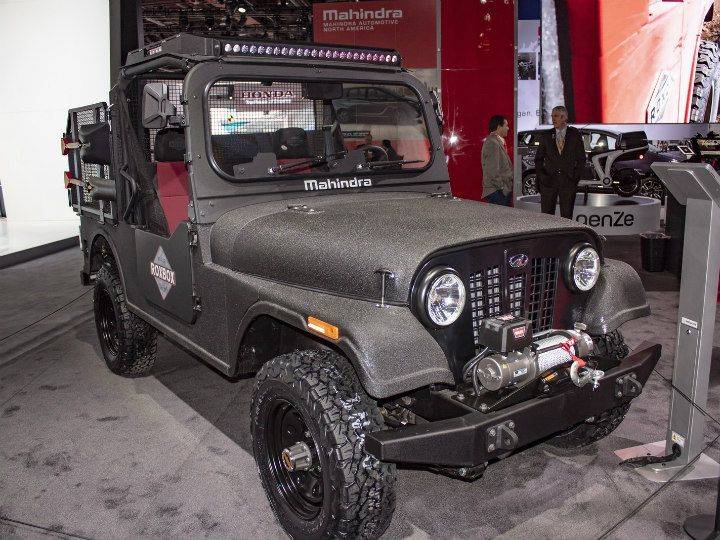 Exterior changes include a steel bumper, flat work deck, steel roof, and more.

Interiors remain basic with hard-wearing seats, pedals, steering wheel, and cup holders.

Expected to be priced at a slightly higher premium over the Roxor.

The Mahindra Roxor and the Roxbox are exclusively available in the US market.
The Mahindra Roxor is a car that packs off-road capabilities with tiny dimensions. It is a car that is better used as a recreational off-road vehicle rather than for any practical everyday tasks. The Roxor also sports a retro look which gives a throwback to Jeep designs of old. Mahindra looks to put a mix of practicality and off-road thrills with the unveil of the 2019 Roxor Roxbox Concept for the US market.

On the outside, the Roxbox retains the retro look of the Roxor. However, the main differentiator is the addition of a flat work deck for the Roxbox instead of a truck bed for the Roxor. Another subtle difference in the Roxbox is the use of tough bedliner-type material all over the body, which Mahindra calls the 'Rox liner'. Other cosmetic changes include a steel front bumper, steel roof, a foldable steel cage and an LED light bar on the roof.

The interior of the Robox is as basic as it can get. It consists of a steering wheel, pedals, gear-and-4WD levers, red fabric seats and cup holders. The Roxbox also comes with half-doors which consist of small bags on the inside to enhance practicality.
Also Read:

Under the hood, the Roxbox doesn't put out eye-catching numbers but we need to remember that this is not a city/highway commuter - this is a proper off-road machine. The Roxbox is powered by a 2.5-litre, 4-cylinder engine that puts out 63PS of power and 144Nm of torque which propels it to a top speed of 88kmph. Capabilities remain unchanged from the Roxor, it has a payload capacity of 158kgs and a towing capability of up to 1,583kgs.

Mahindra is likely to launch the production version of the Roxbox soon, but it will be limited to the North American market just like the Roxor. There is no word yet on the pricing of the Roxbox, but we can expect it to be priced around the $17,000 (Rs 11.77 lakh) margin, which is slightly higher than the Roxor.