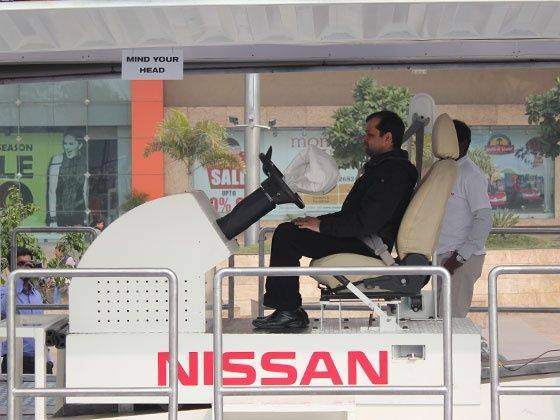 Nissan has launched its Safety Driving Forum in India recently to spread the awareness of on-road safety for drivers as well as co-passengers to make them aware of various safety features and their importance in cars.
The first program took place in Noida recently where the importance of wearing a seatbelt and the relevance of airbags was showcased through practical demonstrations.
People could experience a frontal car crash and a roll over in simulators to understand how these safety features protect occupants in the event of a crash.
Nissan also plans to introduce an ABS simulator for people to experience and understand the importance of having ABS in their cars.
Participants will also be able to test drive Nissan vehicles and learn about onboard safety technologies within a controlled environment.
Nissan also displays information on-site about various other safety features in their cars to make people understand their importance.
At the launch of the program, Takayuki Ishida, Managing Director & CEO, Nissan Motor India said, "The growing number of cars on Indian roads has also resulted in increased number of accidents. Nissan as an automobile manufacturer understands its social responsibility and strongly believes that "Safety begins with ME." The Nissan Safety Driving Forum has been formed to educate drivers, co-passengers as well as other road users on safety practices with a focus on reducing road accidents."
The Nissan Safety Driving Forum will also be launched in Mumbai and Chennai before spreading to other parts of the country.
Also read: Nissan Evalia vs Toyota Innova : Comparison