New Audi A1 Looks Mean And Could Ruffle A Few Feathers In India
by Nikil
Jun 19, 2018
Views : 3150
---
Based on the sixth-gen VW Polo's MQB A0, which is set to be localised soon, the A1 hatchback could be Audi's most affordable offering in the sub-continent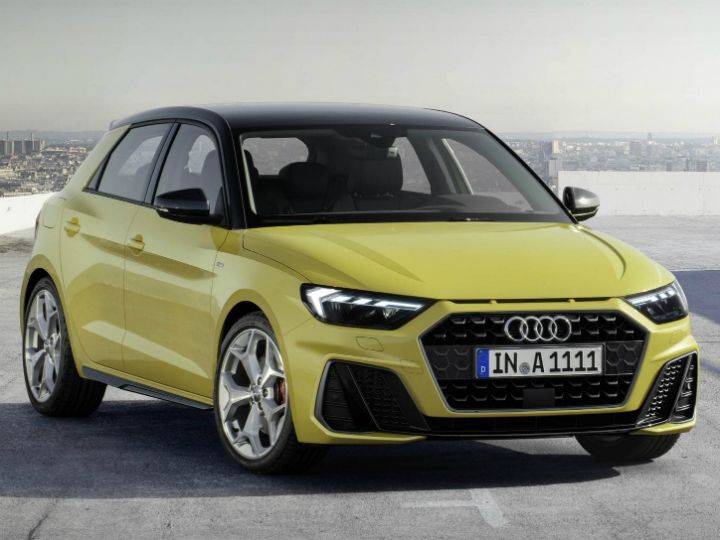 Audi has revealed the second-gen A1 and it looks like it's got a score to settle. Just take a look at the slits above the massive grille. Audi says they are a homage to the '84 Sport Quattro. And we believe them, even though there's nothing to write home about the engine options the hatchback will be offered with initially. But more on that later.
The new A1 is bigger than ever, sports five doors and is based on the MQB A0 platform that underpins other small hatchbacks like the sixth-gen VW Polo, Seat Ibiza and Arona. The good news is that Skoda has been tasked with localising this platform for the Indian market so that its parent company, Volkswagen, can replace the ageing Polo and Vento with their latest versions - the international-spec sixth-gen Polo and Virtus. This platform is also expected to spawn a couple of sub-4 metre SUV/crossovers for Volkswagen and Skoda for the Indian market.
As far as the design goes, we have to admit that it is one of the best looking luxury hatchbacks ever produced. Audi's crisp lines, flared wheel arches and taut rear are all present. The headlamps look aggressive and feature arrow-shaped LED DRLs as well. The two-tone paint scheme suits the hatchback's youthful character and should offer plenty of possibilities for customisation. If we were to nitpick, we'd say the LED tail lamps could have been designed better to give the derriere a more cohesive look. There will be three wheel sizes on offer - 15-, 16- and 17-inch, with the later being reserved for the top-spec S-Line variant.
The new A1 is 4.03 metre long, 1.74 metre wide and 1.4 metre high. The wheelbase has gone up by nine centimetres, which should give it a usable rear bench. For reference, the new A1 is only 35mm longer than the Maruti Suzuki Baleno. If Audi could trim the bumpers a bit and give it a petrol engine that displaces 1200cc or less, the A1 could even qualify for the Indian sub-4 metre small car rule.
Expected to cost significantly lower than the A3's starting price of Rs 33.1 lakh (ex-showroom India), the A1 can be had with three engine options at launch. As diesel-powered cars are slowly making their way out of Europe, Audi has decided to not equip its latest offering with engines that run on the sticky fuel. Instead, it gets a 1.0-litre, 3-cylinder petrol engine, which is likely to be shared with the upcoming next-gen Polo as well. This engine is available in two states of tune - 95PS and 115PS. And based on Audi's bewildering engine nomenclature, these variants are most likely to be called the 25 TFSI and 30 TFSI, respectively.
Those craving for more power can opt for the 35 TFSI, which gets a 1.5-litre, 4-cylinder motor that produces 150PS and gets cylinder deactivation for better fuel economy. Audi hasn't revealed any plans for a sportier S1 or RS1 version yet. However, expect them to be launched with a 2.0-litre, 4-cylinder petrol engine with quattro all-wheel-drive in the coming years.
Being an Audi, expect the new A1 to offer superior ride and handling as well. While the international version gets three suspension options with varied damping and stiffness, expect the India-spec version to come equipped with a rough road package with softer springs and increased ground clearance. Expect it to borrow a tonne of driver assistance features from larger Audis as well.
Standout features include a new touchscreen MMI infotainment system that ditches the tablet screen-like approach for a more traditional spot on the centre console. It will also get Audi's Virtual Cockpit instrumentation along with snazzy colour-coordinated trim pieces and upholstery.
The first-gen A1 was introduced way back in 2010. Although it never made it to India, the Ingolstadt-based carmaker says it is now open to the idea of having a more affordable offering than the A3 sedan and Q3 SUV in India. Some of you may remember that the A3 was the first sedan to be launched in the entry-level luxury segment which was, until then, dominated by hatchbacks such as the Mercedes A-Class, B-Class and the BMW 1 Series. The success of the A3 and the now discontinued Q3 S leads us to believe that Audi India could launch its most affordable offering to capture a larger slice of the luxury passenger car market, which is currently ruled by Mercedes-Benz.
Add Your Comments