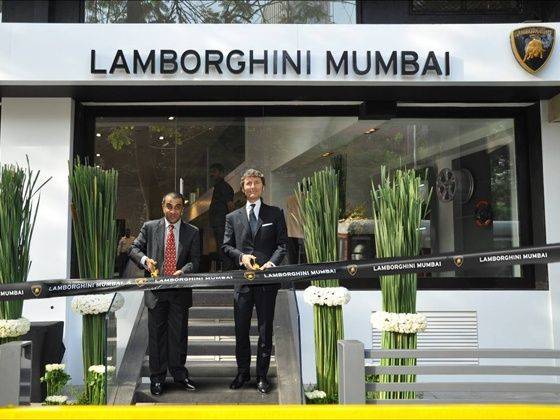 Italian maker of dreams, Automobili Lamborghini, has opened its second showroom in India, specifically in Southern Mumbai's up-scale Prabhadevi area. Lamborghini's first showroom in India happens to be Delhi based Exclusive Motors where their latest supercar, the Aventador, made its India debut. Lamborghini has appointed Autohanger as its dealer in Mumbai. The Italian supercar maker is a part of the Volkswagen Group with whose help they intend to setup its own National Sales Company (NSC). As of now Exclusive Motors serves Lamborghini customers in North India and the new showroom in Mumbai will serve customers in Western India.
Stephen Winkelmann, President and CEO, Automobili Lamborghini, was there to declare the showroom open. Talking about future plans of the raging bull in India he mentioned that Lamborghini plans to sell about 50 supercars by 2015 in India.
In recent times India has seen supercar and sportscar makers like Aston Martin, Ferrari and Maserati storm into the market with their entire product range to meet demands. However, due to limited infrastructure in terms of driveable road network sales of low slung sportscars and supercars will remain constrained for the time being. This is why performance car makers like Lamborghini and Maserati are more equal than others with their upcoming luxury performance SUVs.
Lamborghini's upcoming SUV, the Urus was recently unveiled at the 2012 Beijing Motor Show. Winkelmann rightly expects the Urus to do well in the Indian market once the SUV hits the production lines at Sant'Agata Bolognese, Italy home of the only Lamborghini factory.
Lamborghini currently sells both its vehicles in India, the Gallardo and the all new Aventador. The Lamborghini Gallardo comes with a 5.2 litre V10 engine and is priced upwards of Rs. 2 crore while the all-new Aventador comes with a 6.5 litre V12 engine and is priced close to Rs. 4 crore.