Kinetic To Make Golf Carts For Lamborghini!
---
Under the new JV, Kinetic Green will manufacture and market premium electric golf carts for Tonino Lamborghini
75:25 JV between Kinetic Green and Tonino Lamborghini
Lamborghini will design premium golf carts and electric campus vehicles, Kinetic will manufacture and market them to global markets
Golf carts will be premium. Plans are for it to have solar charging, digital instrument clusters, connected technology, and maybe even autonomous technology
Karts will utilise lightweight materials like aluminium, carbon fibre and lithium-ion batteries
Kinetic Green will have exclusive rights to export Tonino Lamborghini branded golf carts for a period of 10 years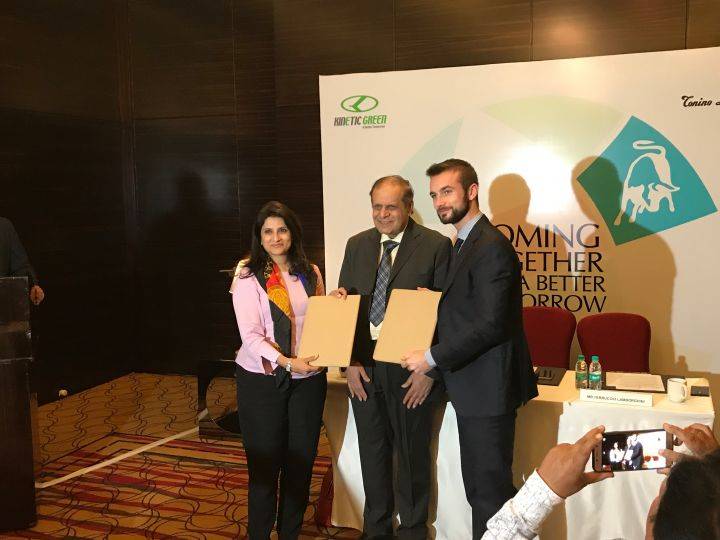 Kinetic Green and Energy Power Solutions Ltd has signed a partnership agreement with Tonino Lamborghini SpA to manufacture and sell 'Tonino Lamborghini' branded electric golf carts in India and other global markets. Under the 75:25 joint venture, Tonino Lamborghini will design the golf carts and lend their brand licence while Kinetic Green will use their expertise and R&D facility to develop the luxury golf carts. Both parties will contribute towards exporting and selling the products worldwide. And it is not just golf carts, both brands are looking towards developing campus electric vehicles as well.
The luxury golf carts will feature premium styling with plans to use lightweight materials like aluminium and carbon fibre. Roof-mounted solar panels will help in charging the carts quicker while swappable and lightweight lithium ion batteries may be used as well. Keeping with the luxury theme, the golf carts are expected to get high-end technology like a digital instrument console with connected technology. We might even see an autonomous variant of the golf cart too. All these features are currently in the ideation stage.
Kinetic Green, a market leader in electric three-wheelers and electric mobility solutions, has sold over 25,000 EV's so far and have close to 200 dealers across India. Currently, their electric products are 90 percent localised, with parts like the microcontroller being imported. With the upcoming luxury golf carts, Kinetic plans to achieve 100 percent localisation.

Tonino Lamborghini SpA (not to be confused with Automobili Lamborghini) is known for its luxury apparel, merchandise and boutique hotels. It is run by the same Lamborghini family who started the iconic and highly desirable supercar brand before selling it off to the Audi VW group in the 90's.

The golf cart industry is a niche one but attracts an annual turnover of close to 2 billion US dollars. Kinetic Green and Tonino Lamborghini plan to tap this segment and expect to sell around 7,500 golf carts annually, which should see a turnover of around Rs 500 crore. The first of these luxury 'Lamborghini' branded golf carts are expected to roll out from Kinetic's Ahmednagar plant by September 2019.
Add Your Comments