Curtiss' New V8 Electric Motorcycle Shows There's A Replacement For Displacement!
---
'V8' and 'electric' don't exactly go together but Curtiss does have a sound reason behind it
The battery has a 16.8kWh capacity and is arranged in a very unique fashion.
The motorcycle is as powerful as a Ducati Panigale V4S.
But it costs almost thrice that of a Panigale V4S!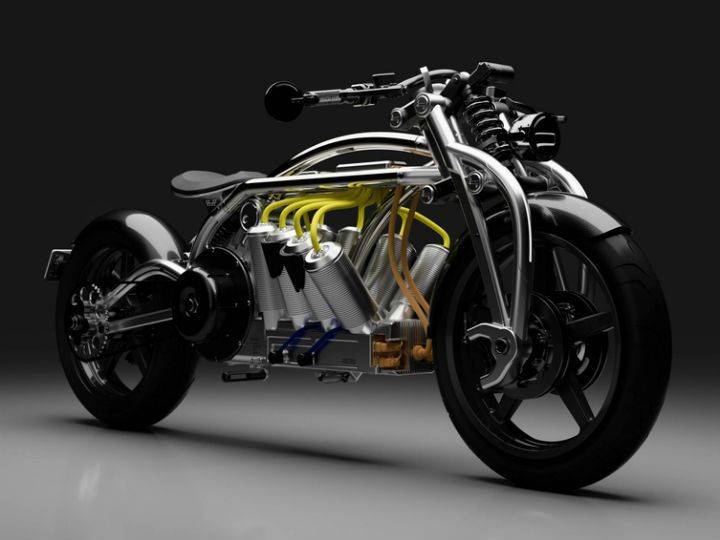 We usually associate V8 with big, burly gas-guzzling engines. But American luxury bikemaker Curtiss Motorcycles has given the term a whole new meaning with the unveiling of its new bike, the Zeus Radial V8. Fitted with a 'V8 battery,' its design pays homage to American aviator and motorcycle racer Glenn Curtiss' original four-litre petrol-powered V8 motorcycle which achieved a land speed record of 219.4kmph back in 1907.
So what exactly is a V8 battery? The battery cells have been packaged in eight 'cylinders' which are arranged in a flaring radial 'V' pattern. Curtiss says this not only looks similar to Glenn's iconic V8 form language but also results in achieving maximum battery cooling efficiency. With this configuration, the battery capacity is rated at 16.8kWh at 399V.
The electric motor produces a massive 220PS of power and an equally impressive 199.3Nm of continuous torque! This motor has been developed in partnership with YASA, a British electric motor manufacturer. That being said, the controller unit is Curtiss' proprietary technology. This powerhouse of a motor is held in place by a titanium/ chromoly tubular hand-welded and machined aluminium fusion frame.
Up front, it uses a delightfully retro-looking yet advanced girder-type aluminium fork with a fully adjustable RaceTech monoshock. The rear also employs a fully-adjustable RaceTech monoshock. Bringing this motorcycle to a halt are four 230mm Beringer cast iron discs up front and two 230mm units at the rear. Both front and rear brakes are held by radially mounted calipers. As if these weren't sophisticated enough, Curtiss has used carbon fibre wheels too. Thanks to all these weight reduction measures, the motorcycle weighs a reasonably light 208kg.
Curtiss will open bookings by the end of this month and production will begin from early next year. The brand has priced the bike at an eye-watering 75,000 dollars (approximately Rs 51 lakh).
Add Your Comments