BMW i8 Roadster Launching In 2018
Nov 15, 2017
Views : 2030
---
The open-top variant of the futuristic-looking sportscar will debut at the 2017 Los Angeles Auto Show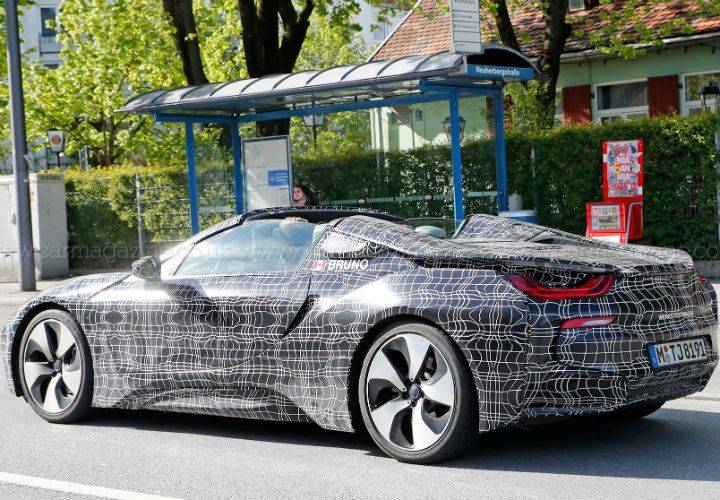 Three years ago, BMW launched the i8, and we got a taste of it in 2015. Now, it's time to welcome its convertible sibling, the i8 Roadster, as it makes its first public appearance at the Los Angeles Auto Show later in November. The car is set to launch sometime in 2018, and it shouldn't take long before it goes on sale here, since it's directly imported to India.
The official photos show the car undergoing stress tests and the carmaker says that the Roadster is in its final phases of testing. One of the images shows what looks like a hard top with hinges on either side on a test vehicle. That means the i8 Roadster will most likely get an electrically retractable hard roof.

BMW's preliminary data suggests that in hybrid mode, the i8 Roadster will deliver 47.6kmpl and spew 48 grams of CO2 per kilometre. That's only 2.4kmpl and 4g/km worse than the coupe. The powertrain will get minimal changes and will retain its turbocharged 1.5-litre 3-cylinder petrol engine. In the regular i8, this engine makes 231PS of power and 320Nm of torque. It gets help from a pair of electric motors, each generating 65.5PS of power and 125Nm of torque.
The engine charges the batteries when it's on the run, but you could charge it yourself as well with a plug and get 37km of quiet cruising at speeds of up to 120kmph.

The i8 is not a car for everyone. When standing still, it looks futuristic, expensive and fast, but is only two of those things. Its hybrid powertrain, laser headlights and other features complement its looks. Even the scissor doors look like they belong to a Rs 2.62 crore car. But, a 0-100kmph acceleration figure of 4.4 seconds gives it a poor rating in the enthusiasts' books. The Volvo S60 Polestar is only 0.3 seconds slower at hitting triple-digit speeds; not bad for a car that costs Rs 55 lakh. It won't win beauty contests though. In the supercar territory, the Nissan GT-R posts a significantly quicker acceleration figure of 3.0 seconds for a lower asking price of Rs 2.09 crore. Let's hope the Roadster betters its sprint time.