BMW i8 Roadster Unveiled; Coupe Gets An Update
Nov 30, 2017
Views : 7345
---
Want to look cool while you save the environment? Fear not, BMW has a solution.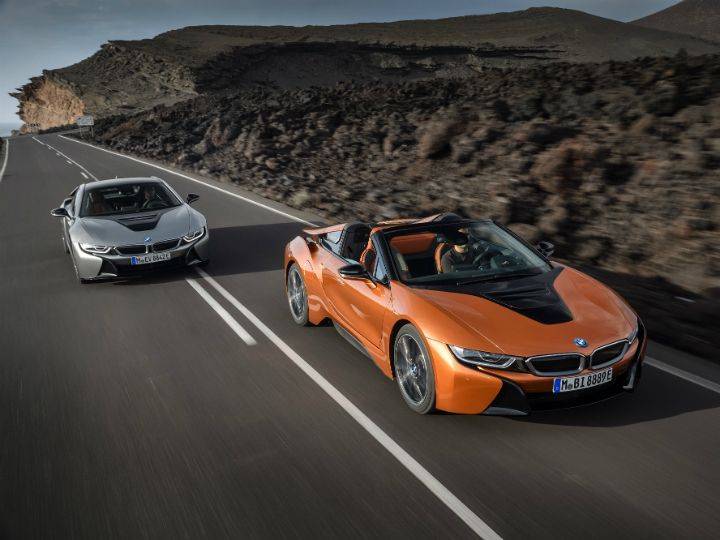 BMW has taken the wraps (and the roof) off the updated BMW i8. The German luxury car giant introduced the topless version of its green and mean sportscar, and added a bunch of regular updates to the 'regular' coupe as well.
Aesthetically, the i8 hasn't strayed away from its original futuristic design. There are subtle tweaks in the form of an air-shutter on the hood, and new 20-inch (optional) wheels. Weirdly, BMW thinks you need to be told what version of the i8 you're looking at. So, the convertible gets 'Roadster' badging on the C-pillar and the rear, and the Coupe is badged, uh...Coupe!
Speaking of the convertible, BMW has managed to stick with the awesome butterfly doors. They've gone the traditional route and opted for a soft-top too. The roof can be stowed away within 15 seconds and at speeds of 50kmph at the press of a button. There's not much new on the inside as the i8 retains its space-age cockpit. BMW now offers new colour schemes for the upholstery and will drape the seats in 'sustainable materials' to make you feel a bit more considerate towards the environment. To make you feel like you're at the helm of something that's quick - there's optional carbon fibre. Because, who can say no to carbon fibre, right?
The boffins from Bavaria have made updates to the powertrain as well. The i8 duo shares the same petrol-hybrid setup with the outgoing version. But the battery capacity is up from 20 to 34Ah. The electric motor too makes 143PS now, as opposed to 131PS. The 1.5-litre, three-cylinder (yes, it's a three-pot) continues to make 231PS of power and 320Nm of torque. The standout numbers remain unchanged for the Coupe: 0-100kmph comes up in 4.4 seconds, while the Roadster takes two-tenths of a second more.
Being a hybrid has its benefits. BMW claims the Coupe will deliver 52.63kmpl, whereas the Roadster is capable of 47.61kmpl. All-electric range stands at 55km for the coupe and 55km for the convertible. The max speed in all-electric mode has been bumped up to 105kmph from 70kmph. Press the eDrive button, and it'll let you do 120kmph.
So, there you have it. BMW's updated i8 isn't drastically different from the one that debuted back in 2013. It's still the coolest way of going green, and now you can do it while people look at your smug face.
Recommended Read: BMW 520d: Road Test Review