Arguably one of the most promising hybrid performance cars south of a new generation supercar, we drive BMW's innovative i8 to find out if it is the future we should be heading to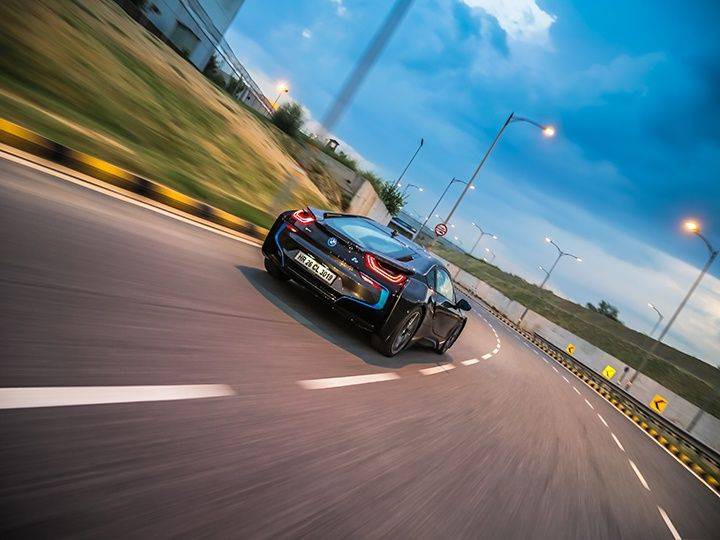 Hybrids make an effort to keep the enthusiast crowd at arms length. The diminutive engine note, the ridiculously undesirable design or all the performance kills that an enthusiast frowns upon. It matters to many that the earth is being saved but not much to these lot. Is there a middle ground then, something that entices the petrolhead enough to give petrol-electrics a thought.... a car that can give a tough fight to conventionally powered cars in the present or the near future? Sure there are hypercars like the 918 Spyder and the LaFerrari that kick convention right in the face with their performance enhancing electric systems but there needed to be a car that caters to the more 'humble' enthusiast. And there comes in the BMW i8.
But to begin with, let us clearly state that the i8 is no humble creature. It costs a whooping Rs 2.29 crore, ex-showroom Delhi, tucking in just under the border beyond which you'd progress to buying a supercar. So for the expansive list of high performance cars available on the market around that ballpark figure, does the i8 stand out with its complex technology and exciting design? In more ways than one, but you'd have to read on to find out

Design and styling rating_4.5_rating
The BMW i8 has got layers and surfaces unlike any car you will see on road today and just the way the doors open and shut, the way you curl yourself into the driver's seat, it all makes it an occasion. The i8 sits wide and you can see the unique rear fenders in your wing mirrors trying to channel air smoothly away from the i8. BMW has a winner on the design front just for its pure awe factor. It's the poser for every porch, the painting for every contemporary gallery. It looks fast when stationary.

The i8 is just 1.3 metres tall, the passenger cell is made of carbon fibre and the chassis is all lightweight aluminium. Weight distribution is 50:50 and it's got massive 20 inch wheels on rather skinny tyres. The tyres are to eke out more efficiency and the only bit of compromise on the i8 but we'd give BMW that much leeway for the audacity of the overall design. What is rather surprising is the fairly high drag coefficient of 0.26 for a car so low slung and supposedly aerodynamic.

Interior and Space rating_4.0_rating
It's hard to not play the price card when it costs as much but the interior feels a tad bit underwhelming after ogling at the outsides. The asymmetric interior is fairly simplistic. You can notice the common parts from the BMW parts bin on the centre console and switchgear but the design is rather interesting. A fully digital instrument cluster, customizable ambient lighting, brushed aluminium vents, driver focused cabin. It all looks nice, but a bit short on the wow factor for a car of this price.

There are a set of baby seats at the back that can be used for friends you want to be particularly cruel to. But it is the front seats you want to be seated into. The i8 is one of those cars you can just sit into and drive like you've owned it for a while. All controls fall perfectly in hand and the driving position is just right, typical of any BMW. The i8 fits like a glove despite its rather exotic design.

Features and equipment rating_4.5_rating
There are no compromises on the features front. Sure weight saving is essential that leads to many carmakers shaving off plenty of comforting equipment to make it quicker but with the i8, BMW wants nothing to do with that. The i8 is a urban poser's sportscar and so it gets electric seats, front and rear parking camera, 360 degree top-view camera, a top quality music system, ambient lighting is six different shades, digital instrument cluster, iDrive and six airbags. The leather seats feel fantastic and the steering wheel is nice to hold.

Engines and performance rating_4.0_rating
The i8's petrol-electric plug-in hybrid powertrain uses the electric motor as a wingman to the petrol mill, helping it all the way along to some blisteringly quick acceleration times. The petrol unit is a 3-cylinder 1.5 litre twin turbocharged mill borrowed from Mini. The pint sized motor is quite potent, dishing out unbelievably, 234PS of power and 320Nm of twist to the rear wheels.
Definitely not sportscar quick in its own right considering it has got close to 1.5 tonnes to lug. The high voltage lithium ion battery however comes to its rescue. 132PS and an additional 250Nm of torque get the combined output to 367 horsepower and more torque than you get in an M3. A majority of this torque courtesy the electric motor is available at Zero rpm giving it excellent acceleration off the line.

On 98 octane fuel, with the batteries charged, the i8 can sprint to 100kph in 4.4 seconds flat. Top speed is limited to 250kmph but you'd be draining the batteries at an alarming rate when driven this hard.
Right under the start stop button you get this e-Drive mode. The i8 works like a electric car here as long as you manage the throttle gingerly. It can go all the way up to 120kmph in electric mode but the battery will deplete fast. Range in full EV mode is said to be 35km but you'd have to drive with a feather foot to get it this far. Switch it to EcoPro and the i8 begins to make use of both petrol and electric power. The system is clever here. Light throttle keeps the battery in service, heavy throttle wrings the engine in and every time you coast or brake, the batteries get charged. Then there is Comfort and Sport mode. In Sport, the dials turn to orange and the synthesized engine note gets more audible.

The 1.5 petrol mill does sound nice but nothing close to the sounds you'd get from a big engined naturally aspirated sportscar, or even the turbocharged M3. Sound is clearly synthesized to keep you entertained. You could be driving in all electric mode with absolutely pin drop silence and at the next instant stepping on the gas like there is no tomorrow, the changes in character make the i8 a very expensive but fun toy to have.

Ride and handling rating_4.0_rating
Batteries charge faster the heavier you brake or lift off from high speeds so in essence, you will do more electric miles in Sport Mode. It is also the quickest this way as the petrol motor and battery work their butts off to give you the sportscar experience. Since the petrol engine powers the rear wheels and the electric motor sends power to the fronts, traction with both units on is very impressive. It doesn't stick into turns like its running on rails when you are pushing hard but poise mid-corner due to the low centre of gravity and traction on exits due to the 4wd system gets our thumbs up. Ride surprisingly is quite good too. 45 profile tyres up front to cushion those heavy batteries and more than acceptable 40 profiles for a sportscar in the rear give the i8 a decent ride on slight irregularities. Don't expect the i8 to be an out-n-out sportscar for the race track though. It still has a while to go to achieve that.

Fuel Economy and price rating_3.5_rating
Price will not be a factor if you are considering to buy an i8. It is more of a statement that reduces your bank statement by Rs 2.29 crore, ex-showroom Delhi plus taxes and optional extras. Hefty pricetag aside, the BMW i8 will save you massively on fuel costs.
The worst mileage the onboard computer showed us was 8.6kmpl. You drive a petrol Honda City hard enough and it will drop to this. It's a Sportscar with the efficiency of a small car! BMW says it can stretch a litre of petrol to 47.5kmpl. If you own a car that looks like this and somehow manages to get that kind of average, you sure aren't driving it like it is meant to be though.

Verdict rating_4.0_rating
The BMW i8 looks like a supercar, performs like a sportscar and spends fuel like a small car. So you get a car that doesn't want to kill you and looks more exclusive than a 911 or an F-Type. And for a car that does the 0-100 sprint in 4.4 seconds, the i8 sips fuel like a supermodel nursing a glass of wine. Sure it isn't dynamic on the same level as said competition and costs a way lot more. But buying an i8 isn't logical, It is a statement and the car has the kind of presence few can match. It is a car that shows a foreseeable future where motoring is fun and efficient from the driver's seat. Driverless cars be damned.
See what our community has to say!
NEW
India's largest automotive community