BMW i8 Roadster Showcased At Auto Expo 2018
---
What's better than a futuristic hybrid? One without a roof, of course!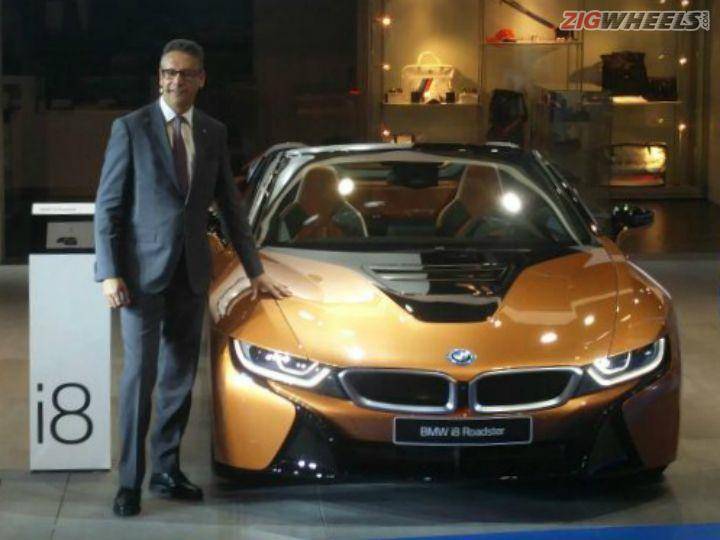 The BMW i8 hasn't strayed too far away from the Vision Dynamic concept it was based upon. And, the Roadster simply amps up the cool quotient. On display at BMW's pavilion - it's rather hard to digest the fact that the i8 Roadster is, in fact, a road-legal production-spec car.

Before we get to the technical gubbins, we urge you to take a look at it. The i8 Roadster looks jaw-dropping no matter what angle you choose. The 'layers' of bodywork meld together seamlessly while the contrast colours add a dash of oomph. The biggest talking point, of course, is the roof. The fabric roof folds itself in 15 seconds and can be done at speeds up to 50kmph. What's impressive, however, is the fact that BMW has retained the i8's signature butterfly doors. Because, well, they look ridiculously cool!

The futuristic dash remains unchanged, but there's more to pick and choose when you're speccing your i8 in terms of materials. The powerplant gets a minor update in the form of a bigger battery (34Ah vs 20Ah) and a more powerful electric motor (143PS vs 131PS). The i8 Roadster is also home to a 1.5-litre, 3-cylinder petrol engine that makes 231PS of power and 320Nm of torque. The Roadster isn't snap-your-neck fast - it does 0-100kmph in 4.6 seconds.

Of course, it'll do that while being super considerate of the melting ice caps in the Arctic. In all-electric mode, the roadster will chug along happily for 53km with a top speed of 105kmph. Pressing the eDrive button will let you scurry along at 120kmph.

What do you think of the i8 Roadster? Let us know by voicing your thoughts on our social media accounts on Facebook, Twitter, Google+ and Instagram. For more action from the 2018 Auto Expo - stay tuned to ZigWheels.