Aston Martin DB11 Volante Blows Its Lid, Drops Our Jaws
by Hiral
Oct 17, 2017
Views : 1783
---
The only thing more constant in Bond films than Moneypenny, the brand takes the curtains off its latest offering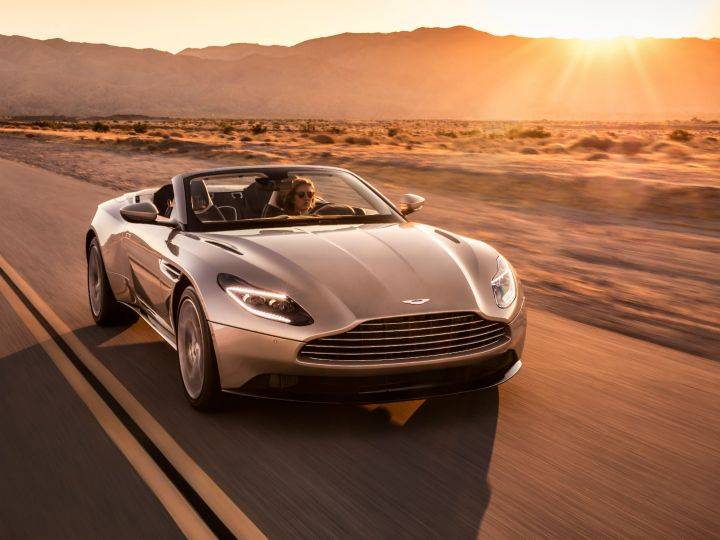 Aston Martin's DB cars - named after David Brown, the man who brought the company to where it stands today- have always been known for being beautiful and fast grand tourers. Over the last few decades, they have also been fictional British Secret Service agent James Bond's preferred set of wheels. After one look at the latest version of the company flagship, the DB 11 Volante, one can be sure that this one will be no exception.
When you hear the word 'Volante', you instinctively prepare yourself to see a sleek, sexy droptop. This one doesn't disappoint. Not one bit. In terms of appearance, the traditional Aston Martin grille, the clamshell aluminium bonnet and the 'Curlicue' vents over the front wheels not only look gorgeous but also helps the grand tourer slice through air. To add a new touch to the convertible, the DB11 Volante features new wood or carbon-fibre veneer panels behind the seats along with an 8-layer fabric roof which is available in three colours - Bordeaux red, black silver or grey silver.

Yes, Aston Martin has retained the fabric roof from the DBS Volante. But this one takes up 20 per cent less space than the older convertible's unit and won't let wind noise or weather dampen your driving experience either. The roof takes about 14 seconds to open and 16 seconds to close and can be operated at speed up to 48kmph with 48kmph of headwind.
Like the Coupe, the Volante too gets a 2+2 seating arrangement. What's worth noting is that Aston Martin has finally ditched the older infotainment system supplied by Ford for a brand new one by Mercedes-Benz. The interiors are made from double-stitched leather and come with several customisable options including colours and fabrics from Aston Martin's Q department.

The DB11 Volante weighs 1,870kg, which is 110kg more than the Coupe. To counter this additional weight, the Volante is only available with the AMG-sourced, 4-litre, twin-turbocharged V8 engine that churns out 510PS or power. Yes, the V12's gone. While that's sad news, it's at least better for Mr Polar Bear, so we'll make peace with it. Sending all 510 ponies to the rear wheels is an 8-speed auto 'box. As a result, 0-100kmph is dealt with in 3.9 seconds. The Volante also gets de rigueur driving modes to alter the engine, transmission and suspension settings. It also gets a limited-slip differential with dynamic torque vectoring that lets you play naughty or nice depending on the weight of your right foot.

Aston Martin has begun accepting bookings for the convertible version of the DB11 and the first set of cars are likely to be delivered by the first quarter of 2018. The DB11 Volante costs a neat £159,900, which roughly translates to nearly Rs 1.37 crore. And that's before you factor in import duties and taxes. We expect Aston Martin to launch the DB11 Volante in India sometime next year.
If we have left you craving for more, click on the video below