Honda Amaze Questions and Answers
Q. Does it have Rear parking camera - Amaze?

View 2 More Answer

Q. Does it have a back camera in S petrol variant - Amaze?

View 2 More Answer

Q. Are you satisfied with amaze diesel. What it's mileage?

View 2 More Answer

Q. Does Amaze petrol shakes in highways? What is the NCAP rating of Amaze?

View 2 More Answer

Q. Is it getting vibrations while applying reverse gear - Amaze?

View 2 More Answer

Q. Is Honda amaze s variant equipped with push button start/stop feature?

View 2 More Answer

Q. Is GPS available - Amaze?

View 2 More Answer

Q. Does it have Android Auto - Amaze?

View 2 More Answer

Q. Does Honda Amaze Disel CVT has issues while overtaking

View 2 More Answer

Q. Is there hill assist in this car - Amaze?

View 2 More Answer
View More Questions
View More Questions
Q. Can I fit genuine Honda DRL in S CVT variant of Honda Amaze? If not, then whether aftermarket DRL is recommended or not?

Q. Is Amaze build quality better then other sedan's?

View 1 More Answer

Q. I would like to buy automatic car Which is best automatic car below 11 lakh

View 1 More Answer

Q. Is Honda Amaze E diesel BS6?

Q. I bought Amaze 3 months back. Every time it starts to rain the windows fogging up outside really bad. When the rain stops, I have to continue using the wiper blade. Is there any way I can prevent this from happening?

View 2 More Answers

Q. Are Honda Amaze VX CVT spare parts available easily in Mumbai?

View 1 More Answer

Q. Is Honda Amaze BS VI Petrol available?

Q. Which car will be more comfortable in terms seating arrangement and interior space between Honda Amaze and Tata Nexon?

Q. Is CNG successful on Amaze S model?

View 1 More Answer

Q. How is the cabin noise in diesel manual - Amaze?
View More Questions
View More Questions

Have a Question about Honda Amaze?
1100+ Answers from Experts & Owners
Didn't find the question you were looking for?
Search your question about Amaze
E.g - Which variant of Amaze is best to buy?
Honda Amaze Overview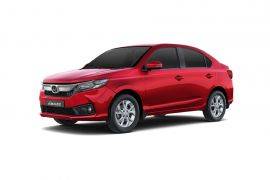 Honda Amaze User Reviews
Mileage

Comfort

Performance

+ 3 more
Maintenance Cost

Safety

Features & Styling
Preferred For : Family & Daily Commute
37% of users have given a rating of 4.5 and above
Amaze can"t overcome hills.Low power is main issue I found and it"s only in petrol version.I am also one of the happy customer of Honda until driving a hill or ascent.Amaze can"t overcome ascents.Its the only issue i found since driving 3000km,which is not an acceptable issue.When i contacted Honda they said its handed over to dealer,but the dealer informed Honda that they didn"t find any abnormality in my car which they accepted that Amaze has power issue and its for maintaining mileage once i was there at showroom.And when i asked dealer about their reply to Honda they said its made like that they can"t tell this to Honda,if we want to ride hills we must choose another vehicle and they can"t fit same Honda engine on both boat and car(just imagine my situation hearing this kind of reply from dealers).Really pathetic situation. So, dear brothers and sisters please don"t buy amaze petrol.If you like Amaze go for diesel.All other features in amaze are good.I choose petrol because i am not aware of this power issue and now suffering for my choice.My bad i have test driven Amaze but not on an ascents. When you people ask sales person about this power issue they will reply there is nothing like that,better have a test drive with the same sales person on a hill or ascent and ask him to stop car in middle and then move, you can experience what i was saying about.

Gets Mileage of 18 kmpl

Following is a review on the Honda Amaze Petrol after 5000kms. Looks: The overall silhouette of the new Amaze is good. It now looks like a bigger car compared to the previous version. I am not a big fan of the thick chrome grill at the front. The headlamps are stylish. The rear looks good with C-shaped lamps and sloping roof.Performance: The engine is super smooth and the gears are slick. Frequent gear changing is required but the performance is good. The initial pickup is low to maintain fuel economy. The car feels best on the highway. Feels stable even at speeds of 120kmph.Interiors: The interior is spacious and comfortable. The beige and piano black finish looks classy. The AC is quick and powerful. The rear seats offer ample legroom. The door speakers produce good sound. Audio controls are present on the steering wheel. The boot is spacious at 420 liters.Mileage: For a 1.2 liter petrol sedan, the mileage is good. It offers about 18.5 kmpl on the highway and 14-15 kmpl in the city with AC.Ride and Stability: The wheels soak up most bumps effortlessly. The ride quality is good. The stability at high speeds is good and body roll is controlled.Overall: Value for money. Spacious interiors and boot space. Good mileage and ride comfort.

Gets Mileage of 18 kmpl

1. Honda Elite Cars Rajahmundry delivery my car in time as they promised to me.After reviewing Swift,Xcent and Ertiga i decided to by New Honda Amaze.I have seen so may bad review in amaze but my friend who is service engineer of Top Brand told that New Amaze is best in segment . Also service cost is low as so many told that Honda car service is High.2. I completed my 900 KMS traveled continuously for 300 KMS i did not feel any discomfort while journey. But the same journey with Etois i feel so much discomfort . Normally when we travel in car we feel dizzy but with amaze while riding we feel as we are at home . AC is very good no need for Rear AC vent.3. From far its looks like Volvo car. Mileage is good got AVG 21KMPL with in local and Highway. Some reviews told there is a problem in reverse gear but it is totally wrong.4. yet to give to service 5. Pros:Lots of boot Space, Leg room , Audio is Superb when compared to other cars . Diesel engines are noisy but Amaze engine is low noise like petrol engine. AC is very good no need for Rear AC vent.Cons: Some told that it has no resale value. But with Honda Pre owned car and its brand its not a big issue it think.

Gets Mileage of 21 kmpl

Suspension quality is very poor. Honda Amaze has extremely soft suspension which results in high body roll and poor ground clearance.Build quality of both interior and exterior parts are very poor. External noise enters in cabin very easily. Engine quality is excellent but there's a speed limiter on 145KM/Hour which is for safety reasons obviously but it makes the car out of the competition when it comes to the top speed.Overall I'm neither satisfied nor dissatisfied with it but yes, not happy with the build quality and suspension system. I have a 2017 model petrol SMT model.

Gets Mileage of 18 kmpl kmpl

I bought the iDTEC Amaze in January 2014, and have run over 1,10,000 KM over varied terrains. The Amaze is definitely the best car in its segment. With amazing performance and fantastic mileage, coupled with great road grip, handling and safety, this is the car you should look at over any other in its segment. The car handles very well on the highway and has more than enough oopmh to overtake any vehicle on the road. A super responsive engine, you will experience no turbo lag.Be vary of unnecessary service add ons though. When you give the car for service, they'll try to get you to sign unnecessary "value add ons" like rodent repellent, etc etc which can add thousands to your service bill.

Gets Mileage of 18 kmpl
All Amaze User Reviews
meet expectations. feeling like mid sized sedan.

Gets Mileage of 12 kmpl

It's a good practical car. Better than maruti cars.

Gets Mileage of 19 kmpl kmpl

Perfect medium priced family sedan

Suspension quality is very poor. Honda Amaze has extremely soft suspension which results in high body roll and poor ground clearance.Build quality of both interior and exterior parts are very poor. External noise enters in cabin very easily. Engine quality is excellent but there's a speed limiter on 145KM/Hour which is for safety reasons obviously but it makes the car out of the competition when it comes to the top speed.Overall I'm neither satisfied nor dissatisfied with it but yes, not happy with the build quality and suspension system. I have a 2017 model petrol SMT model.

Gets Mileage of 18 kmpl kmpl

9 kms in city and 17 kms on highway, city mileage is very low

Gets Mileage of 9 kmpl
All Amaze User Reviews
Frequently Asked Questions about Honda Amaze