Trek Marlin 4 Cycle Review
---
Is this the right beginner's bicycle to get back in shape considering our less than ideal Indian road conditions?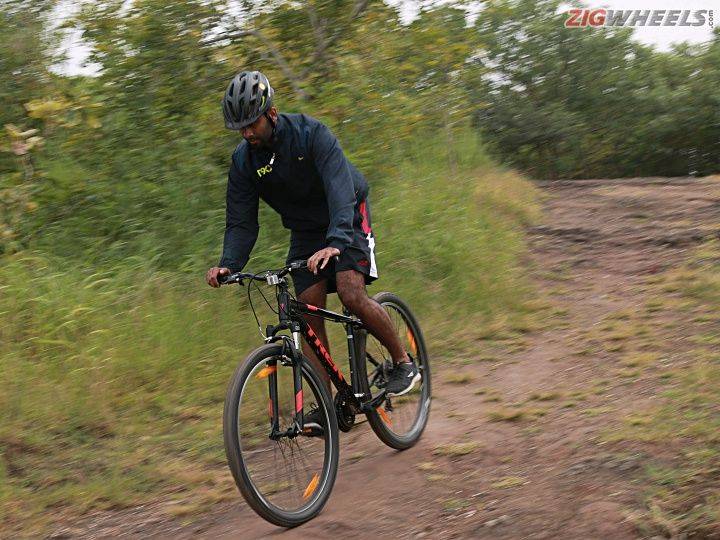 Words by Benjamin Gracias
Photography by Vikrant Date
Note: The Trek Marlin 4 we reviewed is not on sale. Trek has updated the Marlin 4 with new colours and disc brakes.
Price when tested: Rs 26,000
New price: 34,199
That was the thought going through my mind as I browsed the Trek Cycles website. You see, I am trying to get back into shape and what easier way to get your heart rate up than a quick bout of cycling. Now Trek has some serious road-going cycles with lightweight frames and ultra slim tyres that look the business, but I seriously doubt they would survive a pothole or an unmarked speedbreaker. For me, the cycle needs high profile tyres to cushion the impact and protect the rim. And a basic suspension setup to cushion the rider aka myself. That's my reasoning for opting for a cross country mountain bike, something that would also help feed my fantasy of riding on jungle trails in the far future.
Also read: Trek Bicycle Launches New Endurance Bikes In India
As luck would have it, Trek sent out a Marlin 4 for review. A bit of research on the bike revealed that this could be the most value for money bike to fulfil my requirements. Intrigued, I decided to swap my gasoline-powered runabout to a pedal-powered one. Seeing that I hadn't cycled anywhere since school days, naturally, I had some apprehensions and some questions that needed to be answered. Let's get on with it then.
Also read: Hero EZephyr Electric Cycle: Review
Is it possible to get a similar bicycle for less?
I remember my childhood days when a good bike cost Rs 6,000. That means I am either too old to account for inflation or bicycle tech has advanced quite a bit. I'd side with the latter. Now, you can get a similarly specced bike with front and rear disc brakes for as less as Rs 16,000 but you might not understand exactly what you're getting until you look close enough or ride the two back-to-back. I did both, thanks to my close friend getting a more affordable cycle off the internet. The first thing you notice is the paint quality, high-spec components and the attention to detail, be it the welds or the fact that the brake and gear cable are cleanly routed around the frame. I also liked the contoured handlebar grips and machined metal levers. Also, the fact that at 14.5kg, it weighs a whopping 6kg less means I can easily carry the Marlin 4 up a flight of stairs and park it in my bedroom. Fun fact: I have dumbells at home that weigh more than the Marlin 4.
And then there is the ride.
I swapped my Marlin 4 for the Montra Madrock and the first thing I noticed was the chain noise. By itself, the Marlin 4 has an almost negligible chain noise and that limits distraction. Then there is the effort. Despite having a 21-speed Shimano setup like the Marlin 4, the Montra needed more pedalling effort. Both, the reduced noise and effort is due to the Marlin 4's high-spec Shimano gear components. Yes, I bought one and I have been living with the Marlin 4 for six months now. Admittedly, I have not been using the bicycles as much I would like, but the cycle feels as fresh as the first day I rode it. Also, the cycle frame is cold extruded and is claimed to be extremely durable. In fact, the frame comes with a lifetime warranty.
I hate exercise. Is cycling a lot of effort?
Not with this one. I am as averse to running as city folk are, so I need my cycle to be as effortless as possible.
You get the Shimano 21-speed gearbox as standard. So if you are going up an incline, flicking down a couple of gears reduces the force required to pedal. It does help a lot when you start cycling. Of course, lower gears are needed less often once you build up the endurance over time. Gear components used are high-spec as well, so shifts are effortless and snappier than the ones we tested on the Hero EZephyr and Tronx One electric-assist cycles.
Speaking of electric-assist cycles? Won't those be easier to ride than the Marlin 4?
You have to be really lazy to think about this. I did mull over this prospect for a while before riding the Trek. Having ridden both the electric-assist and conventional bicycle, I can say that while electric-assist bicycles like the Hero EZephyr and Tronx One help reduce pedalling effort a great deal, the assist is limited to a certain speed. Beyond that, it is your own pedalling effort and the bicycle's mechanical efficiency. Here we believe, the Trek felt more efficient than both the Hero and Tronx. So while you will be able to cover greater distances on electric-assist cycles from day one as most of the pedalling effort is put in by the electric motor, a conventional cycle would make more sense to build up endurance. Wait. Wasn't that the plan all along?
Also read: Tronx One Electric Cycle: Review
How is it to ride?
Effortless. The Marlin's light weight makes it quite agile and easy to dart in and out of traffic. The high-profile tyres are grippy and cushion you from uneven road surfaces while the front suspension works well and doesn't let sudden jolts or jerks make their way to your arms. One thing I didn't like was the narrow seat. It takes getting used to but you can opt for a wider comfort seat. This one should work well on trails to a certain degree.
Would it be dangerously slow in traffic?
Highly unlikely. Cycles have evolved quite a lot. Better lightweight components and efficient powertrains mean you get up to speed quicker and on any other roads other than highways, can end up being quicker than most motorists. Which means you are the one doing the overtaking rather than getting overtaken. Also, if you need to brake, the stock V-brakes are more than up to the job of shedding speeds quickly (the updated model gets front and rear disc brakes).
Since I prefer riding at night, I would have loved more reflective stickers on the bike to make myself more visible to other motorists. I, therefore, opted for both front and rear lights that clip onto the bike. These have LED illumination and offer different lighting patterns which means you are visible from a distance.
To buy or not to buy
A decade ago, buying a cycle meant heading down to your local cycle store and buying whatever was available or in vogue. The same thing today is a different ball game. Cycles now are built to cater to specific requirements like purely for fitness, fitness with a bit of off-road, touring, and even cross country. The cycle frame is now selected according to your height (Trek offers upto seven frame sizes and 27.5 and 29-inch wheels depending on the frame size) and you can even opt for different component upgrades like tubeless tyres and disc brakes. It does not stop even after you buy the cycle as you can kit it with tons of aftermarket components.
So it all boils down to your specific requirement. The Marlin 4 has quite a few things going for it like lightweight and high-spec components that make it almost effortless to get up to speeds. Then you have the front suspension setup and high profile tyres that don't have you wincing every time you go over a bump or pothole. While a proper road bike with skinny tyres might be optimal if your primary requirement is outright fitness and you have fantastic roads around you, the Marlin 4 makes sense if you plan to take up cycling but encounter bad roads often. Even if you ride a lot of trails but need something inexpensive (by mountain bike standards) and usable for small commutes, the Marlin 4 might be right up your alley.