Mercedes-Benz GLA 220d AMG Review | Perfect Introduction To The Luxury SUV Life?
Jun 24, 2021
Views : 3362
8 min read
---
By Alan Richard

Follow us
The Mercedes-Benz GLA returns in its latest generation. Is this the best possible introduction to German luxury?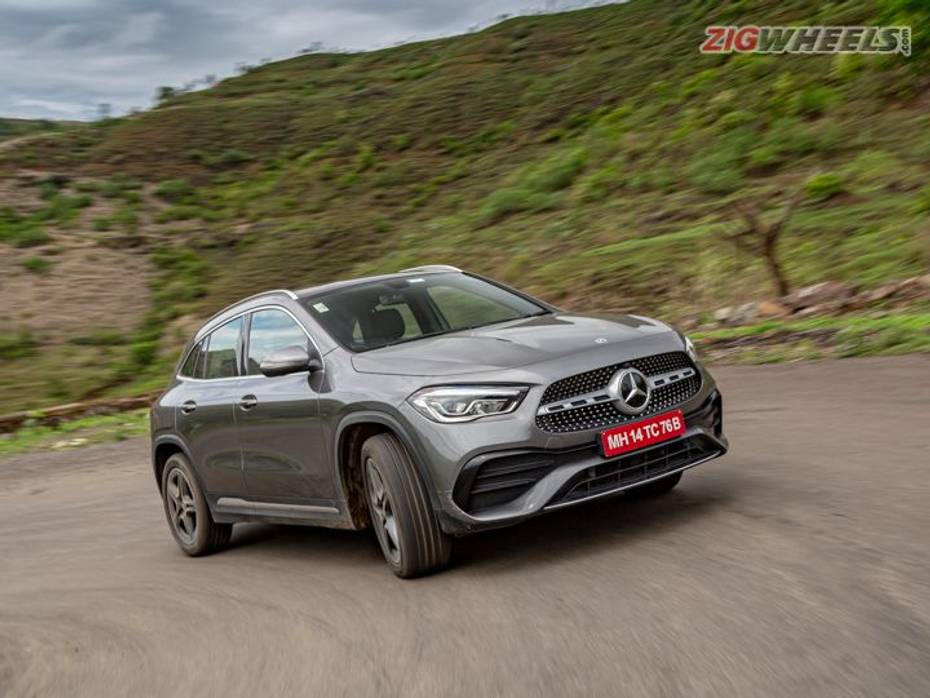 It was actually launched at the end of May, but I'm sure you can forgive us for being safe and taking our time with getting you this review. And you should still be that too. We mean be safe, mask up, wash your hands, you know the drill. The Mercedes-Benz onslaught continues with the launch of their flagship S-Class, barely a little more than a week after the launch of the mighty Maybach GLS 600. But if the very top of the Merc lineup is still a dream away, should your true blue Mercedes-Benz journey start here, with the new gen, entry level SUV?
Better Looking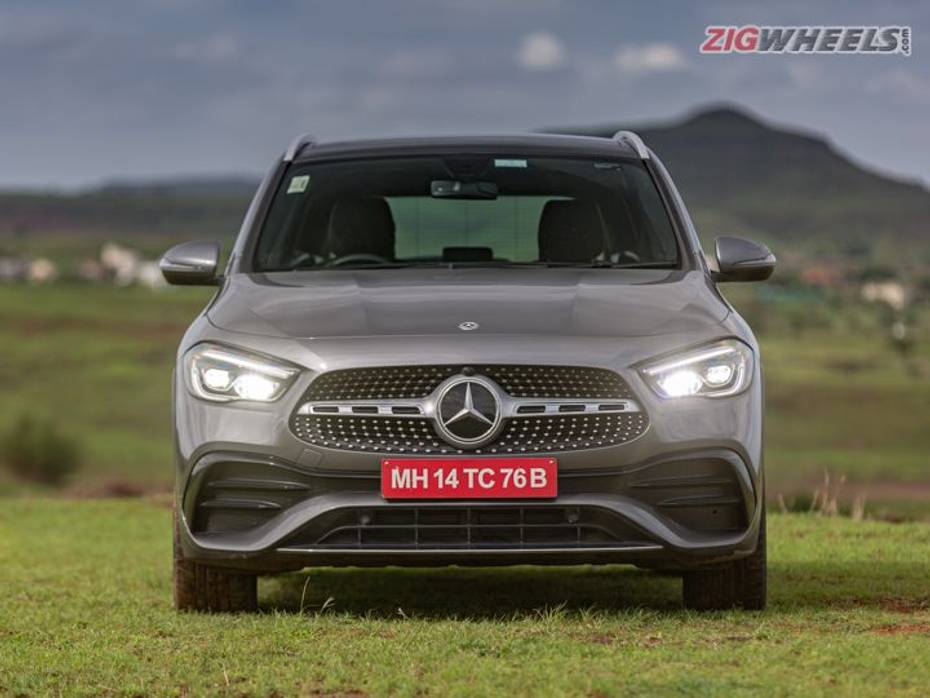 We really like the silhouette of the new GLA, which looks a lot more SUV-like than the outgoing model. The new design language with its softer edges also looks a lot more like its bigger cousins, the GLC and the GLE. The wide shoulders and haunches also help make its presence felt on the road.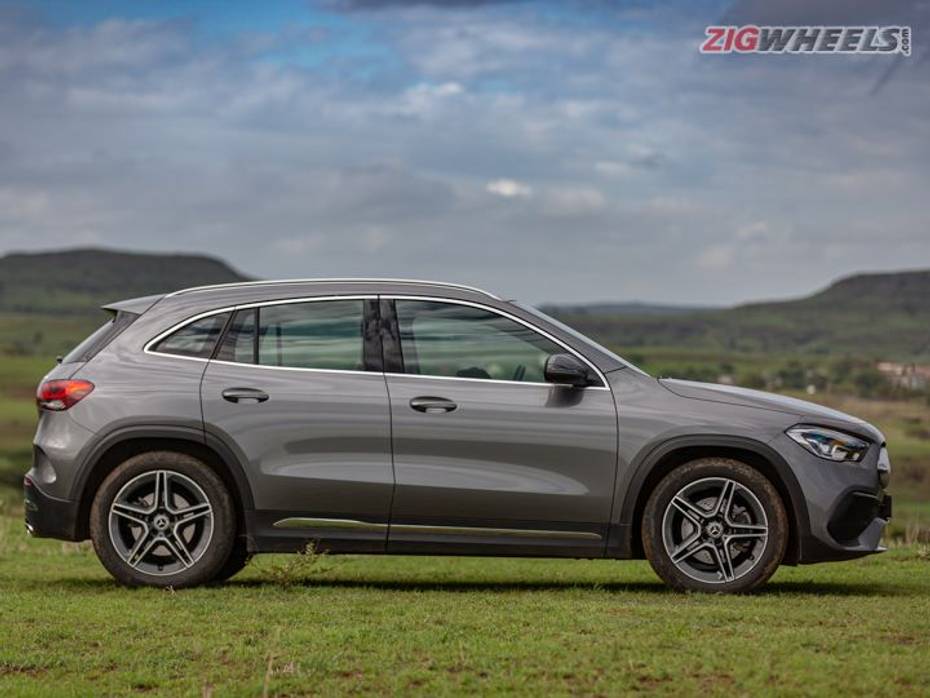 This is the AMG Line car, distinguished head-on by the chrome stars on the grill, this sportier front bumper and chrome lower splitter. It also sports 19-inch alloys and larger brake calipers with Mercedes-Benz branding, a different tune to the suspension, and rides 15mm lower than the regular Progressive Line variants. At the rear the taillights are cute adaptive LED units, there's a neat bumper with diffuser-like fins, though the fake tail pipes still look silly.
It is pretty much the same size as the BMW X1 and the XC40 but it has a distinct advantage in wheelbase.
Plusher Inside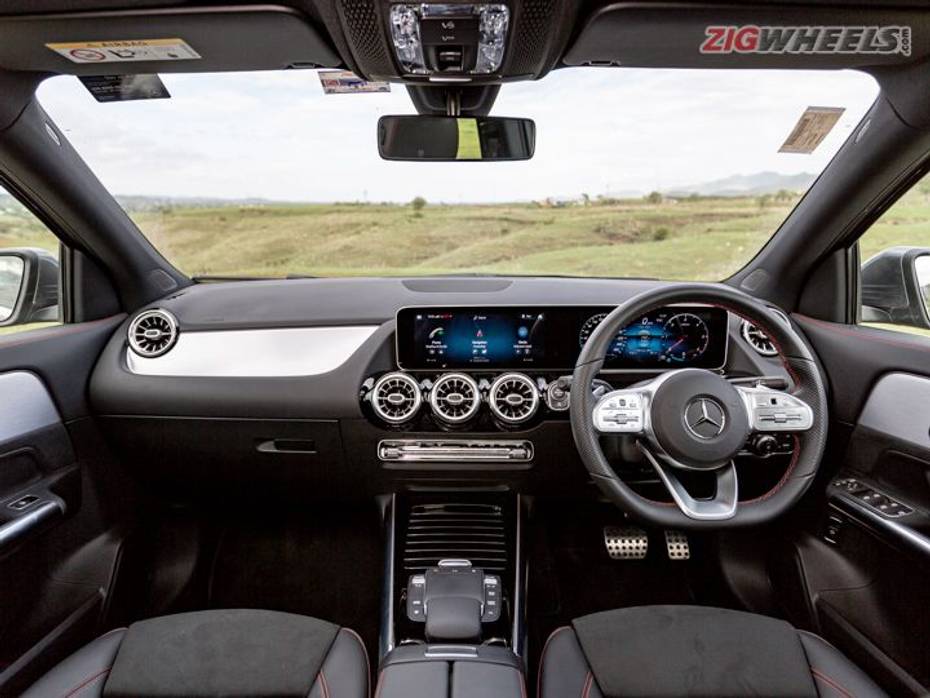 Get latest updates on
the automobile community
I really like the design of modern Merc cars, and the GLA is no different. There's a nice AMG line, flat-bottomed steering wheel, and the two large screens that's now standard across their lineup. The main infotainment screen is touch. You also have the new trackpad and two trackpads on the steering to control the driver's information screen and there's plenty of information there as well. And like in the E-Class, you can completely customise how much and what information you would like to see. There are some cool infographics for the off-road modes included but we'll come to that later.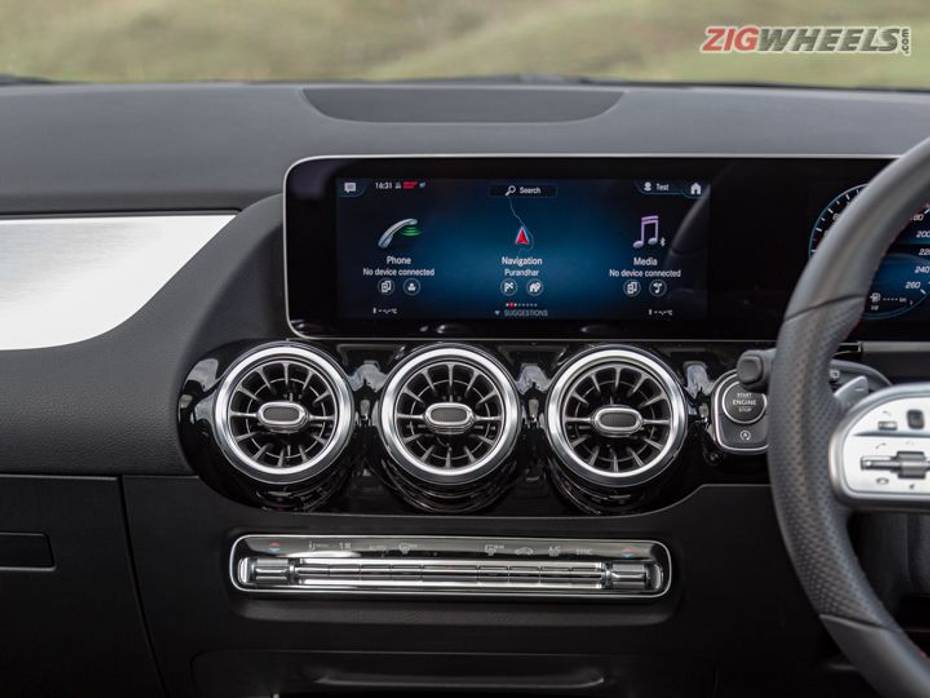 Another beautiful detail in this cabin are the rather over engineered AC vents, but one gripe about those are that the two outer vents both reflect in the wing mirrors--and while it's not a distraction, it is noticeable. Another highlight of the AMG trim is the brushed silver inserts on the door and dash, but we do have a complaint about the one on the dash. Around midday, when the sun is directly overhead, the angle of the dash and the brushed aluminum finish reflects sunlight directly in the face of the passenger. And there's not much you can do to escape that reflection.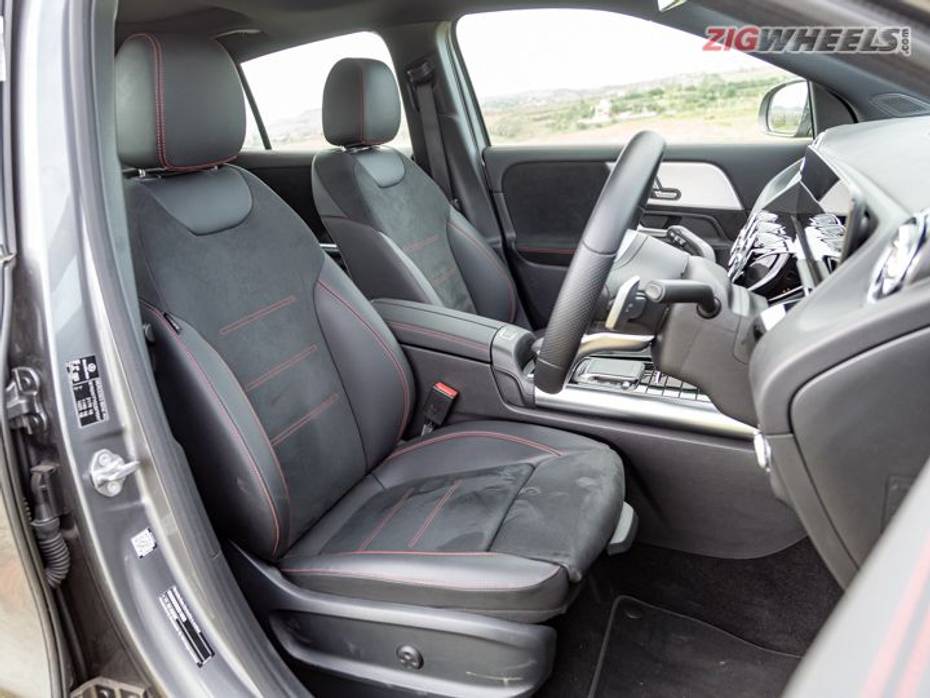 Another detail on the AMG Line car is these man-made-leather seats with suede/alcantara-like inserts and red stitching. Both the front seats are electrically adjustable and have three memory settings as well.
In terms of convenience there's a wireless charger, USB socket and a 12v charge socket as well. The features list also goes on to include Android Auto and Apple CarPlay, connected car tech, voice assistant, ambient lighting, dual zone climate control but no 360-degree camera or ventilated seats.
Passenger Comfort & Practicality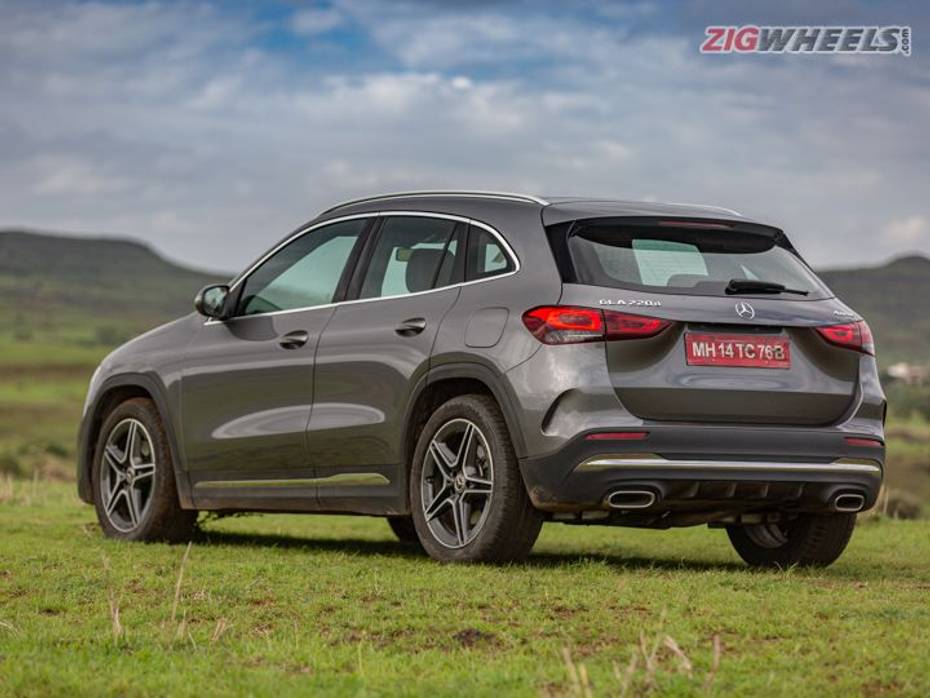 In the rear seats, there's plenty of knee room and space under the front seats to tuck your feet under. Also, the seats are placed higher up than in the A-limo and so there's better underthigh support, though the seat base could have been a little longer. Also, despite the large dual pane sunroof, there's very good head room on offer. That dual pane sunroof also gives this compact, all-black cabin a sense of spaciousness.
It's also a nice flat bench and we have tried three abreast and over short distances this shouldn't be a problem. The seats also have this fold down armrest with two cup holders tucked away neatly in there. The seats can slide forward, the seat back becomes more upright and the seats are 60:40 split in the bottom and a 3-way split in the rear. And the only reason for all this practicality is to free up more boot space.
Rear passengers have two AC vents but no blower control. And with the size of the vents being small we found that switching one or more dash-mounted vents off improved the flow of cool air to the rear significantly. There are two USB Type-C charge ports in a little pop out compartment but the space here is too small to fit most regular sized phones.
Plenty of Drivetrain Options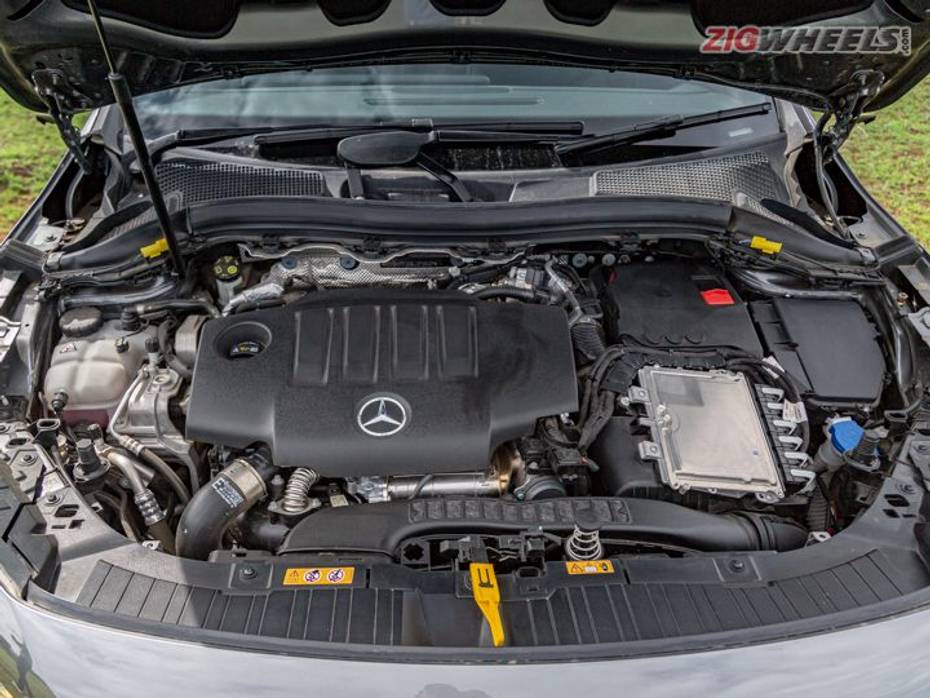 There are two engine options available: a 1.3-litre turbo petrol and a 2.0-litre diesel. The petrol drives only the front wheels via a 7-speed dual clutch gearbox. The diesel sports an 8-speed gearbox and in the Progressive Line trim sends power only to the front wheels. The AMG variant, though, is the 4MATIC version and so drives all four wheels.
The diesel makes 190PS and 400Nm and is a punchy engine to drive. In town it's an easy engine to get along with, and the 8-speed gearbox's shifts are smooth, with the slight jerkiness you would normally associate with a dual clutch gearbox. It's pretty linear low down but there's a slight surge around 2500rpm when the turbo really kicks in.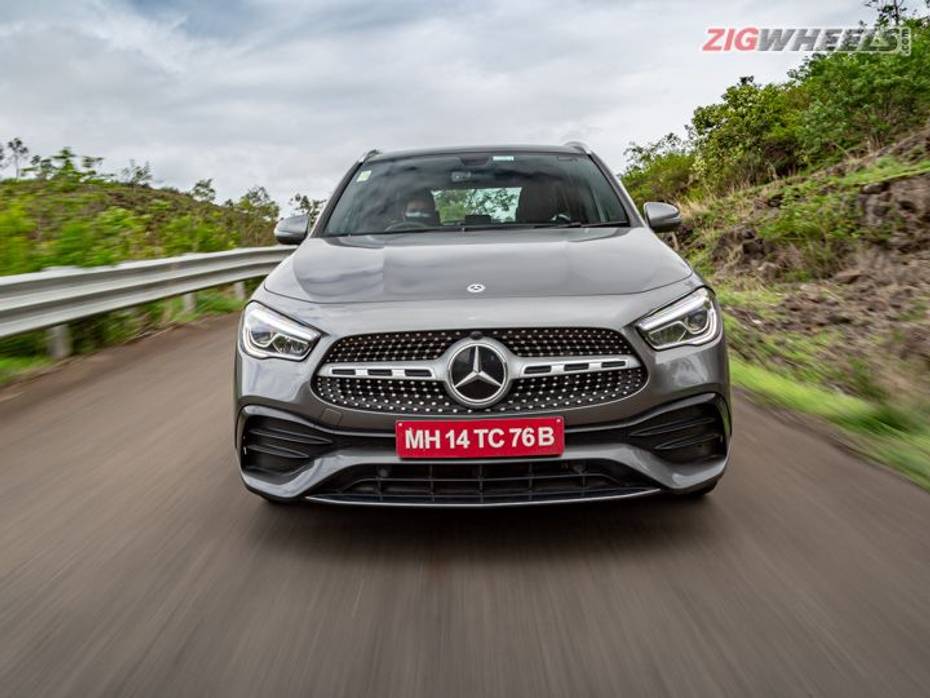 In town the gearbox does like to shift up through the ratios quickly, which is a good thing for efficiency. But if you prod the throttle for a quick overtake or to close a gap in traffic, it also encourages a quick kick down. And in heavy traffic this does feel like the transmission is working a little harder than it should. A simple workaround is switching to 'Sport' mode which holds on to gears a little longer and makes the drive experience smoother.
Firm But Comfortable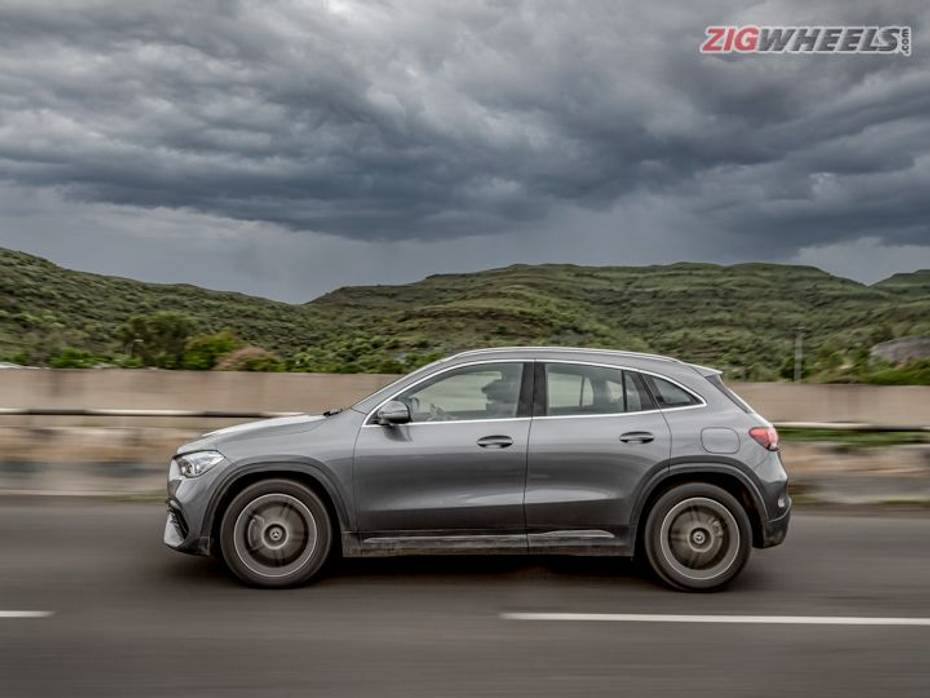 As we mentioned earlier the AMG Line is lowered by 15mm, but its dampers are also tuned for a more sporty AMG stance and ride. And at highway speeds or through a twisty bit of road it does great, staying stable through corners with the steering firming up nicely in sport mode.
Ride is comfortable but firm in the city, so while it stays planted and plush over smooth roads, you can just about feel smaller imperfections and expansion gaps and such. Over bigger bumps and bad roads you need to take it a little easier or else the suspension will complain with a few thuds from the wheel wells. That's not to say that it won't give you an SUV-like drive experience over bad roads, just that you'll have to tackle them at a slow pace.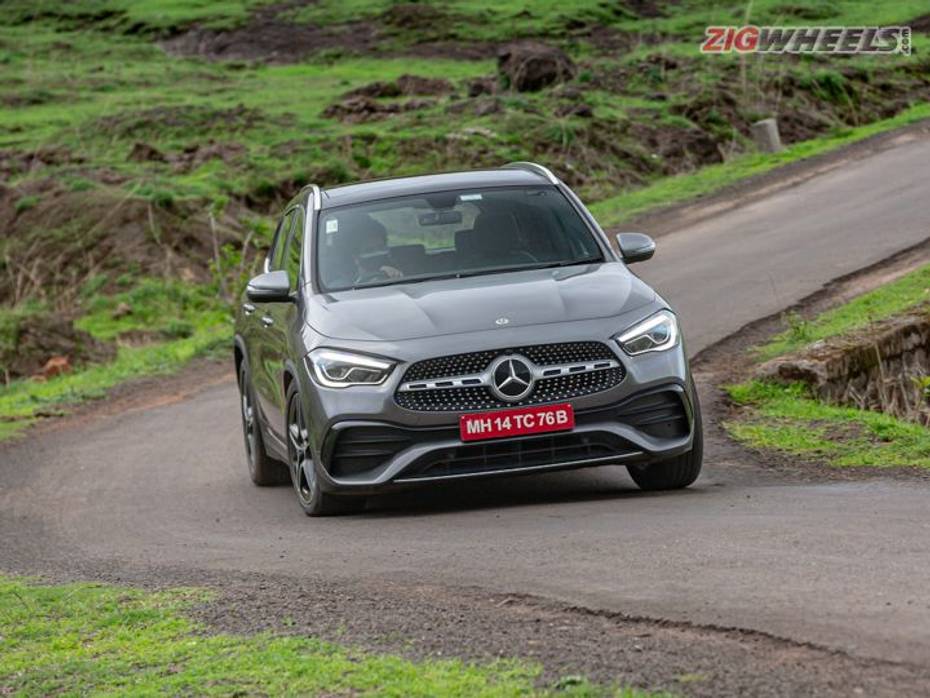 Some light green laning is possible and with the added safety net of all-wheel drive, quite stress free as well. And if you do come across a sticky situation (mud, sand or even snow) the GLA should pull through. That's not to say that you should go looking for any rough off-road patches with it, just that you needn't feel shy if the road gets really rough or disappears altogether for some sections. Special mention to the great infographics in the driver's side MID that shows a host of info like tilt angles, the 4MATIC power split to the different wheels, compass heading and much, much more. It does make going off the beaten path quite interesting.
If you really don't need that all-wheel drive and prefer a softer ride, and you are confident that your GLA will be confined to urban only duties, then taking a test drive of the softer suspension setup in either the 200 or 220d 'Progressive Line' variants may be worth your while.
Safety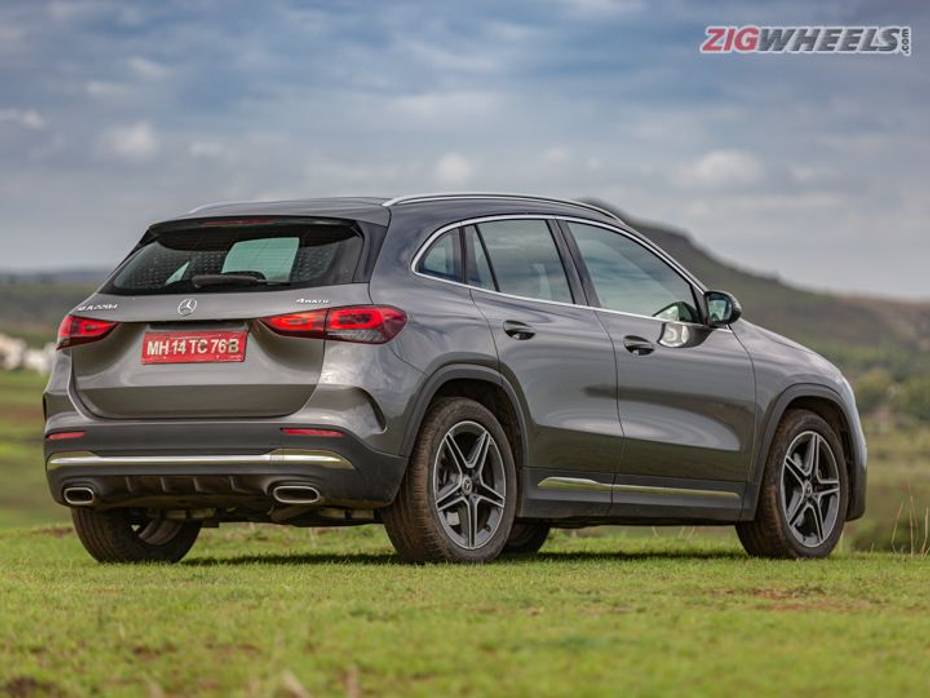 In addition to seven airbags, ABS, ESP and traction control the GLA's safety bouquet also includes Pre Safe, Active Brake assist, Attention Assist, Headlamp Assist, Adaptive Brake, TPMS, Hill-Start, Childproofing and Adaptive Brake Light Flashing.
Verdict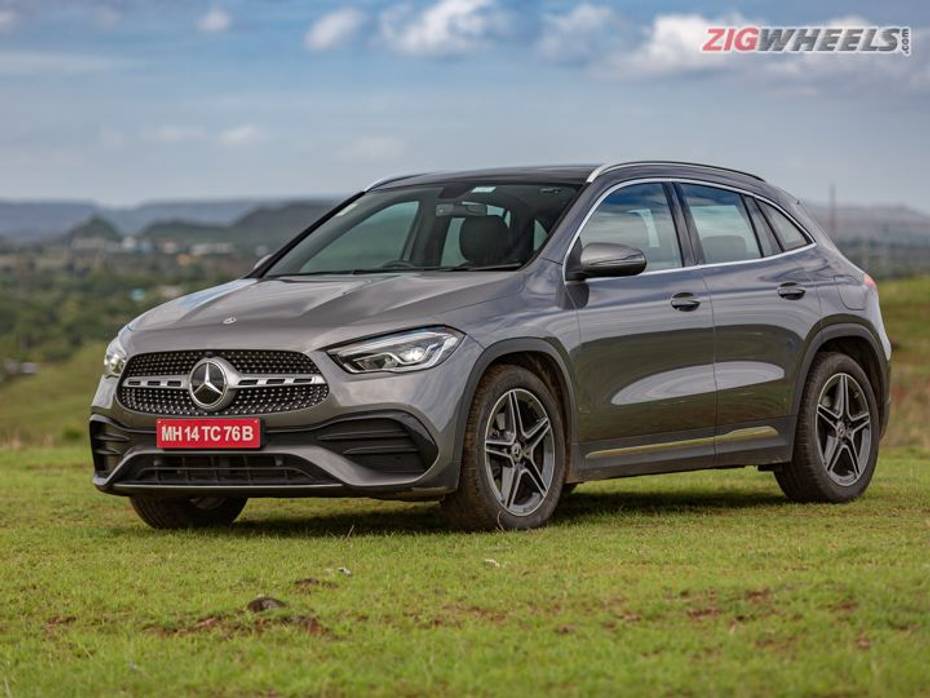 So the GLA has grown up. It's comfier, better equipped and in its segment is the only marque giving you a lot of choice: petrol or diesel, 2 wheel drive or all-wheel drive. With prices starting at Rs 43.60 lakh and going up to Rs 47.70 lakh for the AMG Line 4MATIC (there's a slightly cuckoo AMG 35 variant too, but that's 10 lakhs more), it is pricing itself a cut above the competition. But it's also offering more, both in terms of drivetrain options and overall feature set, and so this premium does seem justified.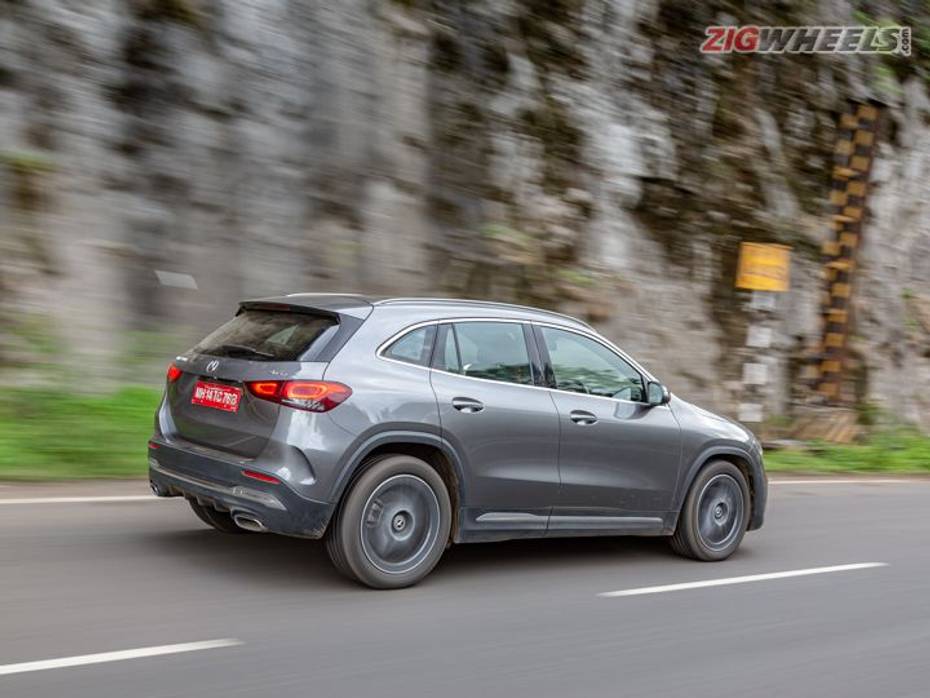 In its presence on the road, the way it looks and feels on the inside as well as the way it drives, it's a better looking, meatier package. A clinical German SUV that does what it's meant to do. So if you want to shoot for the bigger, flashier three-pointed stars then maybe landing on the GLA, as the first taste of German luxury, is a solid start.
Mercedes-Benz GLA Video Review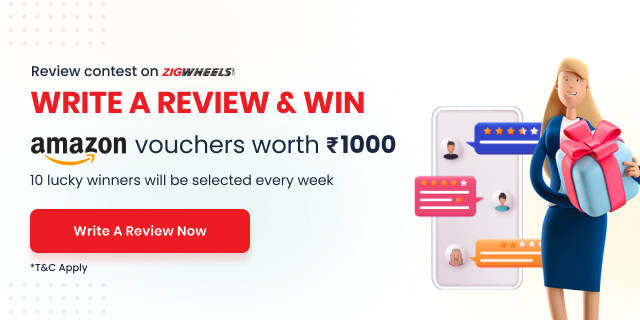 See what our community has to say!
NEW
India's largest automotive community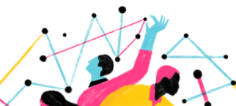 1 Other Things You Might Want To Do