Top 5 Disappointments Of 2018: Harrier 4WD, Renault Duster, Jimny And More
---
We could've done without these, honestly. Not like the Indian petrolhead has a lot to rejoice about in the first place!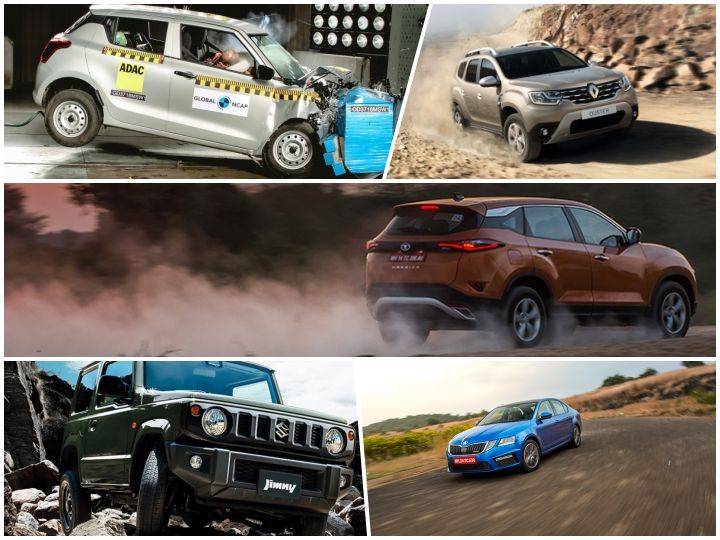 As we prepare to flip the page on the calendar and welcome the new year, it's time to pause, look back and reflect. 2018 has given us some solid reasons to cheer. In fact, we had just about enough to write a full article about it. But, let's face it, there ain't no sunshine without rain. Naturally, the year had a lot of moments that had us facepalm, bang our heads against the wall, yell in a fit of rage… you get the drift. Here are bits that made our hearts ache the most, in no particular order.
A Lovable Hatch Scores Poorly In A Crash Test - Swift Scores 2 Stars
While the third generation Swift had us waft about in glee at the start of the year, the crash test scores did come as a shocker. When the hatchback was tested by the Global-NCAP, the Swift scored a disappointing two out of five stars, with a total of 7.08 out of 17 points. What's worse is that the Swift's structure was rated as unstable. Notably, the Euro-spec version scored 3-star (standard) and 4-star (with safety pack) safety ratings in the far stringent Euro-NCAP crash test. Also, the Japanese-spec car scored a full 5-star rating in the JNCAP.
What makes this a tad more disappointing is that Maruti Suzuki got our hopes up when the Brezza scored four stars. All the internet experts claiming low weight equals less safety just got more fodder.
Where's the new Duster, Renault?
We first saw the all-new Duster back in September 2017 wearing a Dacia badge on the nose. Then, we got to witness Renault's version of the SUV in November. And, one would expect Renault to get the SUV to India almost immediately. Our expectations were high considering how the Duster almost single-handedly built brand Renault in India. Moreover, the new generation is based on the same abuse-friendly platform and is expected to carry forward existing engines.
2018 has been a bit of a lull year for Renault India in general. Save for the updated Kwid, the French automaker had nothing significant to offer to the market. Was this an opportunity missed? Will a launch in 2019 be too little too late for Renault? Let's hope not!
Want A Skoda Octavia RS? You CAN'T buy one!
Here's something that's bittersweet. Skoda's Octavia RS came, conquered, and sadly, LEFT. Within months of its launch, the go-fast version of the saloon was sold out. It's no surprise really. That 2.0-litre turbo-petrol had us feeling alive, the raspy exhaust note made us giggle and the sporty interior made us feel like a kid. We're bummed we can't buy one at the moment. It has also been taken off of Skoda India's website.
Hey Skoda, if you're reading this, we know you have the RS245. Since we've been good this year, how about you get us that next year? The Superb Sportline just isn't a consolation.
Tata's Land Rover-based SUV Is FWD
So much for all the #BornOfPedigree marketing jargon, eh? We got super excited when Tata told us the Harrier will be based on the Land Rover Discovery Sport's platform. We've gone mucking about in the Disco and we can confirm it doesn't really care if roads don't exist. The Harrier, well, it'd prefer if you weren't too adventurous. It's a front-wheel drive SUV, and while there's a 'Rough Road' mode on the 'Terrain Response', it obviously isn't as capable as it can be.
Update: The Tata Harrier has been launched at a very competitive price of Rs 12.69 lakh, ex-showroom Mumbai! All the details here.
That said, we completely understand why Tata has chosen not to offer 4WD. There simply isn't enough demand in the market to offer it. But four-wheel drive would've ensured the Harrier stands out (even more) from a crop of psuedo SUVs.
Kiss That Jimny Dream Goodbye!
We've never seen the ZigWheels team unanimously agree on something. When the spunky little Jimny broke cover earlier this year, most of us started saving up money. We knew it was THE thing to buy because it came across as the perfect blend of cool and capable.
Sadly, Maruti Suzuki has put a full stop to our daydreams of speccing our Jimnys with lift kits and flared fenders. At the Ciaz drive, Maruti Suzuki's R&D chief CV Raman confirmed that the small SUV isn't on the agenda for India. The reason? Not enough demand. C'mon Maruti, if there's one manufacturer that can afford to take a gamble on a product, it's you. We're licking this wound for now. Maybe they'll change their mind. Maybe.
What broke your petrol-powered heart this year? Got something to add? Let us know in the comments section below. See you folks in 2019!
Check Out:
BMW 3 Series 2019 Coming Soon: Spotted In India
Jimny Survive and Pickup Showcased
Add Your Comments