MMSC Volkswagen Vento Cup 2016 Gears Up For Round 3
---
The competition is neck and neck as the top three drivers are within 18 points of each other, making Round 3 a crucial one in this season.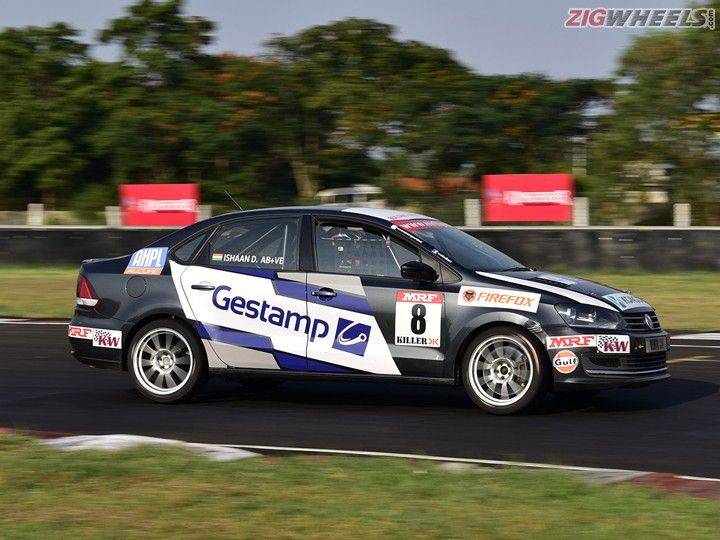 Volkswagen Motorsport India is all set for Round 3 of the MMSC Volkswagen Vento Cup 2016 which will be held at Madras Motor Race Track (MMRT). It is the second time in this season that the championship will be held at this track, from August 19-21. Round 3 of the MMSC Volkswagen Vento Cup 2016 has reached a stage full of excitement as the top three drivers are fighting with each other for top rank on the leader board. The final round of the championship will be held in October at Buddh International Circuit. After spending a good amount of time behind the wheel of the race-spec Ventos the drivers have gained significant track experience, making the competition boil down to a display of pure racing skill on the track.
Speaking on the upcoming race weekend, Sirish Vissa, head, Volkswagen Motorsport India, said: "Having passed the mid-way mark in the Vento Cup 2016 season, it is time for the drivers to showcase their learnings so far and improve further. The fight for the top honours is going to be intense from here on as we enter the crucial phase of the season." He further adds, "With the track having settled in after the resurfacing, we are expecting some good lap times from our race-prepped Vento Cup cars, especially since we have done a lot of testing and development of this year's car at this very circuit."
High temperatures are expected to be witnessed at the track this weekend, creating a more challenging scenario for the drivers. Also, the Madras Motor Race Track has been recently resurfaced with fresh tarmac which should offer drivers with more grip, allowing them to attack corners at higher speeds as compared to the previous round.
MMSC Volkswagen Vento Cup 2016 Points Table after Round 2:
| | | | |
| --- | --- | --- | --- |
| Sr. No. | Car Number | Name | Total Points |
| 1 | 8 | Ishaan Dodhiwala | 240 |
| 2 | 16 | Karminder Pal Singh | 228 |
| 3 | 11 | Keith Desouza | 222 |
| 4 | 18 | Niranjan Todkari | 182 |
| 5 | 5 | Jeet Jhabakh | 156 |
| 6 | 7 | Aditya Pawar | 142 |
| 7 | 9 | Sree Venkata Teja | 116 |
| 8 | 6 | Hatim Shabbir | 108 |
| 9 | 3 | Amit Mete | 106 |
| 10 | 10 | Arfath Mohammed | 102 |
| 11 | 17 | Arunshowry Vallabhaneni | 90 |
| 12 | 20 | Pradeep Rao | 86 |
| 13 | 1 | Rashad Khan | 74 |
| 14 | 12 | Gowdham Raj | 32 |
| 15 | 4 | Rajeev Srivastava | 26 |
| 16 | 14 | Eswar Bolisetti | 20 |
MMSC Volkswagen Vento Cup 2016 – Junior Drivers Points Table after Round 2:
| | | | |
| --- | --- | --- | --- |
| Sr. No. | Car Number | Name | Total Points |
| 1 | 5 | Jeet Jhabakh | 300 |
| 2 | 9 | Sree Venkata Teja | 202 |
| 3 | 6 | Hatim Shabbir | 200 |
| 4 | 17 | Arunshowry Vallabhaneni | 180 |
| 5 | 10 | Arfath Mohammed | 178 |
| 6 | 1 | Rashad Khan | 156 |
| 7 | 14 | Eswar Bolisetti | 60 |
Recommended Variant :
Vento 1.5 TDI Highline