Interview With Rajeev Mishra, CEO, UM Motorcycles India
---
We have a candid conversation with Rajeev Mishra, the bossman at UM Motorcycles, about the company's journey in India and what lies in store for us in the future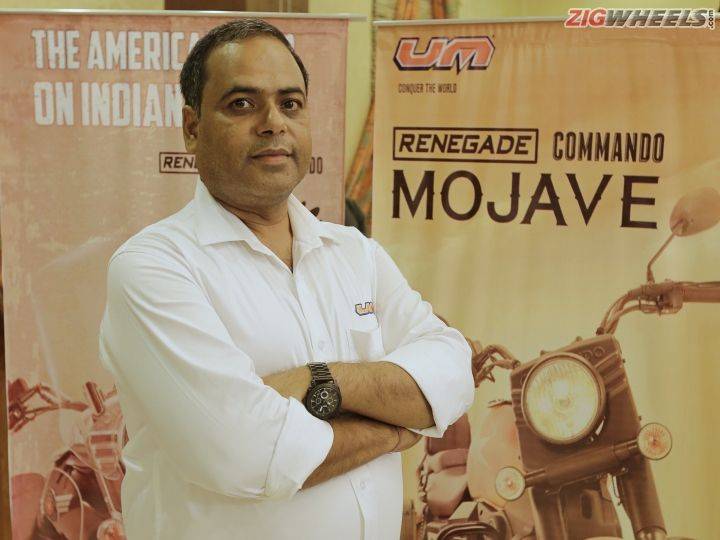 Arun Nadar - How has UM's journey been in India so far?
Rajeev Mishra - We started four years back and it has been tough because we took three years to develop the Renegade Commando here in India, laying particular stress on localisation, to make it more affordable for Indian consumers. So, it took a pretty long time for us to start the localisation process. But we can proudly say that today 70 per cent of the bike is localised and only 30 per cent would be imported from different parts of the world. The journey has been a little bumpy, as expected for any new comer in the market. Especially the Indian market, where you have many 'Indias' with different expectations and different products.

So, it did take a little time for us to catch up with consumer expectations but we have been constantly listening to them and the media to keep on improving our products. But now, we might as well say that our product has come a long way from what we had initially offered, within 3-6 months. We have sold close to 11,000 bikes in 7-8 months despite impediments like BS3 to BS4 transition, that took us and the industry by surprise. Then the GST transition, again, was a big setback because we are in Kashipur that was formerly an excise-free zone. That said, with these two bikes, we are looking forward to better sales in the future.

AN - In terms of localisation, you said it was only 70 per cent for now. Any plans of increasing that in the near future?
RM - Yes, our target is to entirely localise the products in a year's time. Out of the 30 per cent that needs to be imported, 28 per cent is comprised of the engine. 30 per cent is a lot and I think this makes more sense for us to localize. In accordance with the same, we are attempting to to put up one engine assembly plant in India as soon as possible. We are already working on that. And I think within next 12-18 months, we will start operations around Pune, Maharashtra.

AN - The Renegade Classic was showcased at the Auto Expo and 2017 is almost over. What caused the delay?
RM - When we launched two bikes, I don't think we were fully prepared. Moreover, our plant wasn't ready to take the load either. Hence, we allowed these two products to sink into the market and give the consumer more choices when they are ready for it. These two products have seen a very good demand. In fact, in the 3 initial months itself, we got more than 3,000 bookings which was very encouraging for us. This is what restrained us to these two products. Once the market was ready to take a few more options and our back end was also prepared to meet the demand, we launched them. Also Read - UM Renegade Classic And Renegade Commando Mojave First Ride Review

AN - For UM Motorcycles, will the focus always be on cruisers or are you looking at other segments as well?
RM - Cruisers will always be at the core for us. But we will try and innovate on something along the lines of a café racer or a scrambler maybe, but that's again very similar to cruisers. Though these products would be classified as café racers or scramblers while being in line with the cruiser family, they would feature an engine above 300cc. Whatever the product is, we will showcase it in the Auto Expo 2018 and launch it in next 6 months. We are also looking at developing a 400cc twin cylinder in the next 12-18 months and a lower capacity, close to 250cc engine as well. So that's how we are lined up. But currently we will remain in the cruiser segment only.

AN - Any plans of getting into the adventure bikes segment?
RM - Yes, we are working on it. The base adventure bike will be launching in the coming six months.
AN - Will that be a single-cylinder or a multi-cylinder engine?
RM - Unfortunately, I won't be able to disclose that.

AN - Could you elaborate on the displacement? Will it be a low displacement or a mid-displacement engine?
RM - It's a mid-displacement engine, bigger than 300cc. And it's going to be a real adventure bike. As of now, in India, in that segment we have the Triumph Tiger and the Honda Africa Twin both of which have high-displacement engines. In the 350cc segment, however, we only have the Royal Enfield Himalayan. It is a bit of an adventure bike but if you look at the tyres, the front suspension and the rear suspension, you know it's only a mild off-roader. We want to enter that exclusive off-road bike segment and offer two bikes, an off-roader and a dual purpose motorcycle. Also Read - UM Motorcycles To Launch Off-Road Motorcycle in 2018

AN - In terms of dealership network, what is its strength at present and what are your plans in the future?
RM - We have 70 dealers in 59 towns. Most of these cities are capital cities or tier 1 towns. Now we are moving to tier 2 towns, where demands are more than tier 1 and customers, being more aspirational, are wiling to experiment. They are looking for something new and different which can actually make them stand out. Earlier we used to go for whatever the neighbour has, but now people don't shy away from going for something that's different. And we, like other players, are trying to exploit the same. Moving forward, we want to have 100 dealerships up in the next six months.

AN - Among the towns that you are already present in, what is your biggest market?
RM - At present, south and west are doing pretty well with 65 per cent of our sales coming from the south and the west. South is one of the best markets for us. Bengaluru, Chennai, Cochin and Hyderabad make up 40 percent of our total market, while west comes in at second with Mumbai doing pretty well. North and east contribute to 25 per cent of our total sales because the populace there swear by brands rather than trying experimenting with something new. It will take some time for us to establish ourselves there. Yes, the south and the west have been very good markets for us. And even though we are very limited in the north and the east, we are growing steadily.

AN - What kind of age graph are you looking at for your customers? What age bracket would you say your customers belong to?
RM - Our bikes aren't focused at a specific age group, but if I have to put a finger on it, I'd say 20 to 50 years. We took a few of our customers to Ladakh where we had 20 year-olds riding alongside 55 year-olds. And this is what we are targeting at.