Dakar 2018 Stage 6 Results
by Saeed
January 12, 2018
Views : 2017
---
After stage 6, TVS Sherco rider Joan Pedrero stands 16th, while Hero Motorsport Team Rally riders Oriol Mena and CS Santosh stand 21st and 51st respectively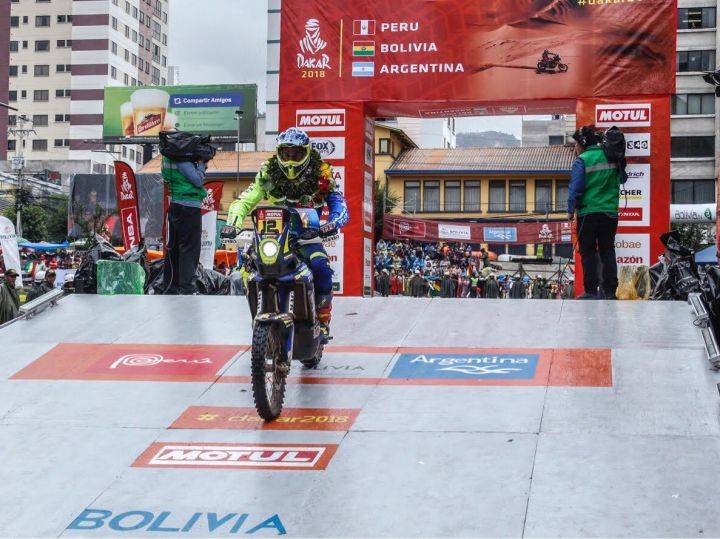 The Bolivian leg of the Dakar Rally is known for being a spoilsport in terms of the weather and climate. This year too was no different and the first part of stage 6 of the Dakar Rally from Arequipa to La Paz had to be cancelled owing to bad weather and foggy conditions.
Initially planned for 313km, the 6th stage had to be revised to a 194km timed section. Nevertheless, the riders still had to tackle everything from snow to freezing temperatures and rain at an altitude of 4800 metres.
Riders from the Hero MotoSport team decided to play it cool and ensure that they complete the Rally without accidents or injuries. Oriol Mena managed to continue his solid run to finish stage 6 at the 23rd spot. Overall, he now stands at the 21st place.
Speaking on the achievement, the rookie Oriol Mena, said, "Today was a difficult day due to rain so I decided to take it safely. I have my mind focussed on making to the finish line at Cordoba so I did not want to commit any mistakes just before the halfway mark. Today I decided to trade off safety for speed but it doesn't matter as there's still a long way to go into the rally. Now tomorrow we rest and the day after we start the party again!"
CS Santosh continued his resurgence despite a troubled ankle from an earlier crash and finished the stage at the 38th spot. In the overall rankings, he now stands 51st.
Speaking of his day, CS Santosh stated, "Bolivia has always been the turning point in Dakar. It was a really cold start in the morning and a very long liaison, and then it started to rain making things worse. We didn't have dust today so I knew it was my best chance to pass a few guys and I tried to make the most of the opportunity. Overall it was a good day and I brought the bike home. Now we rest for one day and then get ready for the final leg of the Dakar."
To summarize the first half of Dakar for team Hero, they had an excellent start with a couple of good stages from CS Santosh, followed by a couple of rough ones. Dakar rookie Mena also showcased commendable resilience, especially in the really tough stage 5.
On the other hand, TVS lone wolf Joan Pedrero stays 15th in the overall rankings, after finishing the stage in the 16th position.
Commenting on his performance in stage 6, Joan Pedrero said, "I am very happy to be back on track in Bolivian territory. I feel good and for me, the race starts now. I am going to attack as much as possible and make up some places. It was very difficult in Peru, but now we have returned to Bolivia and I will be able to give it my best!"
Aravind KP, who had to retire in stage 5 due to an injury is stable and undergoing medical treatment. "Post yesterday's crash, I am feeling better now after getting medical attention. I would like to thank all my fans and well-wishers for their love and support all through Dakar. The doctors in Lima have informed me that I will require surgery once back in India. So, I am focused on staying positive and recovering quickly so that I can get back on the bike quickly," he said.
After finishing stage 6 at the 2nd spot, Kevin Benavides of Honda Factory Racing stands 1st in the overall rankings. He is closely followed by Adrien Van Beveren of Yamaha Factory Racing at the 2nd spot. Matthias Walkner of RedBull KTM Factory Racing stands 3rd currently in overall rankings.
The competitors now get a much-deserved rest day today, to recover their knackered bodies and minds before the second leg of the rally kicks off. The next stage will be held in La Paz on January 13, for its 1st marathon stage of 425km to Uyuni. As per the regulations, the riders will not be able to receive any assistance from the crew during their overnight halt at Uyuni and will be on their own.