BMW M5 Launched At Rs 1.43 Crore At Auto Expo 2018
---
The new M5 employs a heavily revised version of the engine used in its predecessor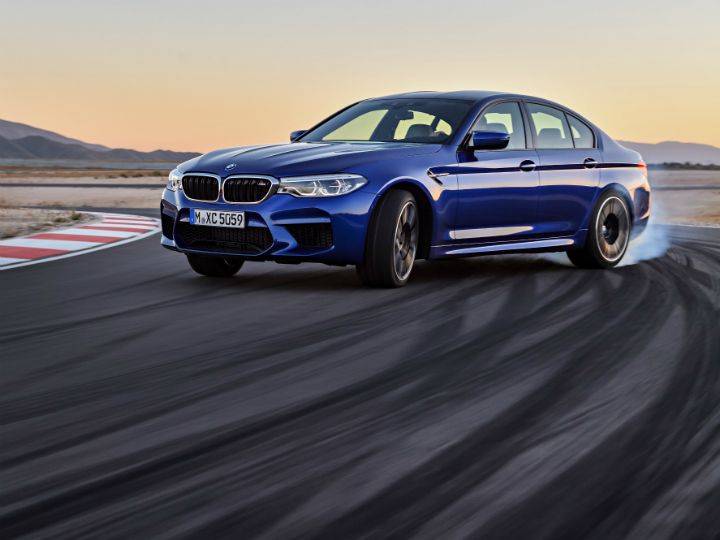 Here we are, some six months after the launch of the new 5-Series in India and the cherry on top has just been introduced at the Auto Expo 2018. Priced at Rs 1.43 crore (ex-showroom India), the new BMW M5 is the quickest M ever, with the major change being the integration of all-wheel-drive for the first time ever.
Before you scream "sacrilege", know that this M5 is currently the record holder for the longest drift ever - over 374km - courtesy the selectable rear-wheel drive mode. The new M5 uses a 4.4-litre, V8 engine that makes 600PS of power and 750Nm of torque. It is a heavily revised version of the engine used in the F10 M5 and changes include new turbochargers, indirect charge air cooling and increased fuel injection pressure. It also gets a map-controlled variable oil pump to ensure the motor gets its oil dose every time it needs it.
Of course, a BMW M is all about the figures, so here's a few for perspective. 0-100kmph is dealt within 3.4 seconds (quicker than an Aston Martin DB11 V12), while 0-200kmph takes 11.1 seconds. Keep the throttle pinned and you will make your way to a top whack of 305kmph. Transmission duties are handled by an 8-speed automatic gearbox that replaces the 7-speed DCT.
Inside, the M5 maintains its stance as a luxury performance sedan that can seat an excitable driver and three other passengers begging him to slow down (and a fourth, if you're okay with a squeeze). Here, we find the controls to alter the traction control modes (DSC on, MDM, DSC off) and the three xDrive modes (4WD, 4WD Sport and 2WD). Using the variable damper control, the suspension can also be tweaked to suit various driving conditions via the Comfort, Sport and Sport Plus modes. Even the engine map can be revised using the Efficient, Sport and Sport Plus modes.
But once you're possibly done fixing what isn't broken, mosey on over to the steering wheel and save your preset engine, transmission, suspension and M xDrive and DSC modes via the M1 and M2 buttons that'll remember everything for you.
Of course, like every other M car, this is a direct import and the new M5's arch-rival remains the Mercedes-AMG E63, which is yet to be launched in India. Your move Affalterbach!