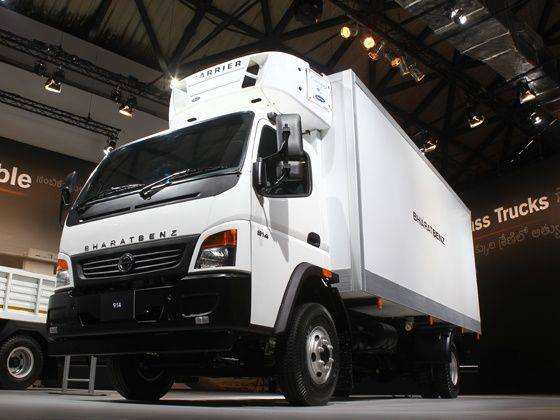 Since revealing its BharatBenz truck brand for the country's CV market last year, Mercedes-Benz surely hasn't surely held back its ambitious plans for this segment and our first glimpse of their "Made for India" CV was their Heavy Duty Truck (HDT), that was present before thousands gathered to witness the 2012 Auto Expo in Delhi.
With its India division now firmly in place with adequate financial and infrastructural support and technical expertise for the taking, Daimler has now unveiled a new range of trucks under its brand BharatBenz. Market launches are expected to begin in the 3rd quarter with the introduction of three models.
The truck giant has marked its arrival into India's growing CV market with a special premiere spanning six-days at the Hyderabad International Convention Centre, where future customers and brand partners like dealers & suppliers will experience the BharatBenz trucks for the very first time.
Speaking on the occasion, Mr. Marc Llistosella, CEO and Managing Director of DICV said, "Today is a proud moment for all of us at Daimler as we present the outcome of our hard work over the last years - the first range of BharatBenz trucks. BharatBenz, as a brand, stands for our commitment to India. It is the first time ever that Daimler has dedicated a brand entirely to one market. Also, with an overall investment of Rs. 4,400 crore, it is one of the biggest Greenfield investments outside Europe that Daimler has ever made."
The new range of BharatBenz trucks unveiled includes Light Duty Trucks (LDT) & Heavy Duty Trucks (HDT) in the 9, 12, 25, 31 and 49 tonnes category, featuring various usages and applications. The LDT, based on the Fuso Canter platform, features a four-cylinder engine in two variants of 142PS and 177PS. The HDT, based on the Mercedes-Benz Axor platform, features a six-cylinder engine in two variants of 234PS and 283PS.
Built for a variety of applications like construction, mixing and heavy duty logistics the rigid category of BharatBenz's CV offering for India offers intra-axle differential lock as a standard fitment and balancer type rear suspensions that gives more traction on loose ground. Also unique is the fact that engine driven applications (like Mixers) can directly be powered from the truck-engine, without having to add a separate engine for the application.
Having been tested for over 4.5 million kilometers on Daimler's specially designed test track these trucks have been re-engineered to suit Indian conditions, and with a 85% localized assembly right from the start of production, customers can benefit from owning a product with the reliability of the Daimler brand, while enjoying a more localized customer ownership experience
Reassuring its potential CV customer base looking to invest in its multi utility range of trucks for India, Mr. V.R.V. Sriprasad, Vice President, Marketing & Sales, After-sales, said, "Our trained sales force consults rather than mere sell the product and they will stay with the customer as their key contact over the whole lifecycle of the truck. This partnership approach also reflected in our 24/7 service, that includes roadside assistance for best service reach, interactive vehicle diagnostics and short turnaround time," he added.
The company's global financial arm Daimler Financial Services that recently set foot in India in support of its luxury passenger automobile subsidiary Mercedes-Benz, will now offer privileged financing solutions, insurance and service contracts to its BharatBenz customers. It has also tied up with three leading Indian banks – HDFC Bank, ICICI Bank and Sundaram Finance for added convenience and easy fund availability for its customers pan India.
From the looks of it Daimler's robust range of Light and Heavy Duty Trucks for India seem muscular enough to endure almost anything our Indian roads could possibly throw at them and irrespective of which of the five categories of trucks you opt for, the reliability and solid construction associated with the Daimler brand cannot possible be overlooked when standing beside one of these mammoth movers.
Looking at quickly establishing a wide spread sales dealership network across key industrial and business belts in the country, BharatBenz will sell and service its trucks over a network of 70 dealerships in the first phase. This will be extended to more than 100 dealerships by 2014.