Ather Energy + Ducati Diavel 1260 = A Kickass Electric Power Cruiser!
---
Sadly, these are just musings of an automotive designer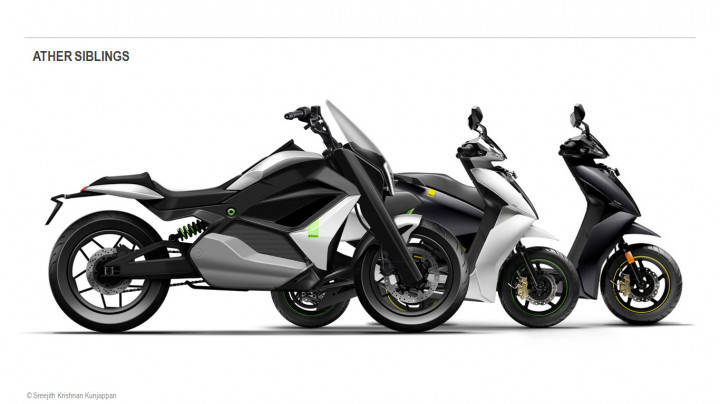 Even though it started out life building electric scooters, electric motorcycles have definitely been on Ather Energy's radar. The company has invested in a new facility and is likely to bring the bike in the next 3-4 years. One enthusiastic automotive designer, Sreejit Krishnan Kunjappan, has put his spin on what Ather's electric motorcycle would look like and it is rather enticing.

For starters, instead of going down the familiar naked or sportbike path, Sreejit has imagined an electric power cruiser. It looks like a love child of the Ather 450X and the Ducati Diavel 1260. In fact, his design inspiration for the Ather electric cruiser is the shark, which is sleek, long and ready to attack.
In certain sketches of his design, you will find the green trellis frame that is so prominent on the Ather scooters. Similarly, Ducati has also been one of the earliest manufacturers to make use of such a chassis for its motorcycles. The addition of a windshield does play well with the modern cruiser theme that Sreejit is going for.

While these may just be an enthusiast's vision, we do not think Ather will jump into this genre for its first electric bike. That said, the design has been appreciated by one of the leading members of the Ather Energy clan. Could we then see an electric cruiser from Ather in the next couple of years? Are you on board with the idea? Let us know.
Add Your Comments