Here's The Only 2019 Frankfurt Motor Show Cheat Sheet You'll Ever Need
by Saeed
Sep 10, 2019
Views : 10040
---
Auto shows as massive as Frankfurt can be a bit overwhelming. Which is why we've collated all our 2019 coverage into this handy page for you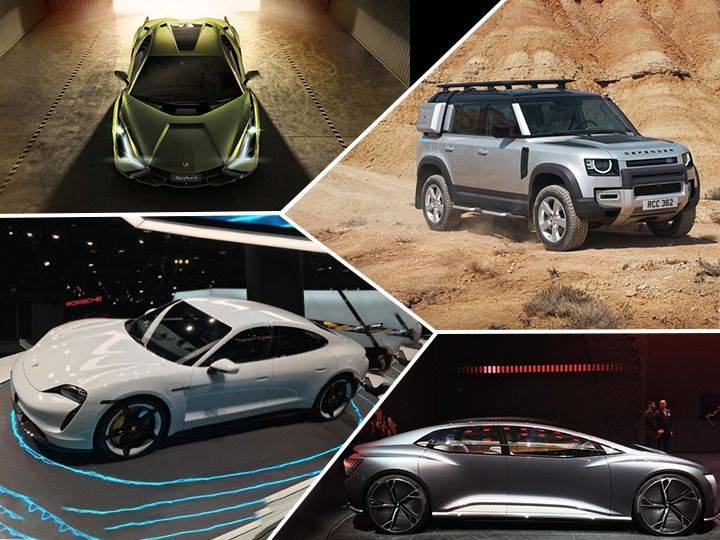 The 2019 Frankfurt Motor Show, one of the most important automotive events in any calendar year, is in full swing at, well, Frankfurt. From Audi to Zenvo and almost everyone in between, all auto manufacturers worth their salt are out in full force, displaying their wares to a rapt audience of enthusiasts, journalists and industry stalwarts. Their offerings will span the gamut, from flashy concepts whose sole intention is to draw astonished crowds to production-ready vehicles slated to hit showrooms across the globe soon.
Put it all together and Frankfurt 2019 will give us a clear glimpse of where the automotive industry is headed in the near future. We are standing on the cusp of a major overhaul, with the good ol' internal combustion engine on its way out, to be soon supplanted by a raft of alternative energy solutions --- solutions that may not sound as exciting but will undoubtedly be kinder to this planet we call home.
As always, wading through all this deluge of new unveils and launches can be a bit overwhelming. We know many don't have the time or inclination to catch up on every update from Frankfurt, which is why we've collated this handy guide to bring everything together in one place. Peruse through this list which we will keep updating regularly. And when you find that one new unveil that catches your fancy, head to the given link for a better look.
Hyundai i10 N Line Could Be The Ideal Hot Hatch For India

Recently, Hyundai revealed the Euro-spec i10 that looks a tad sportier than the Grand i10 Nios. But what it didn't have were sporty engines. Hyundai has now addressed that by revealing the i10 N Line with a more powerful turbo-petrol heart. Apart from that, the small hatchback comes with a host of cosmetic updates that makes its look more sportier. Will the India-spec Grand i10 Nios get the same N Line treatment? We hope so.
New Audi RS7 Sportback Combines Beauty With Brawn!

Audi kickstarted its 2019 Frankfurt Motor Show onslaught with a bang by unveiling the gorgeous new RS7 Sportback just ahead of the start of the show. With plenty of cosmetic enhancements and around 600PS of power, the RS7 Sportback combines beauty with brawn almost effortlessly. Equipped with a 4.0-litre V8 motor coupled to a 48V hybrid setup, the new RS7 Sportback is a 4-door coupe which can do 0-100 in just 3.6 seconds!
The Quintessential British 4x4 Reborn As The New Defender!

The Brits have finally unveiled the 2020 Defender after a dreary long wait. What's new? The boxy SUV now fuses old-school charm with a dash of future. Two body styles are on offer: 3-door Defender 90 and the 5-door Defender 110. Powertrain options consists of two diesel and two petrol engines while a plug-in hybrid is on its way!
Volkswagen Kicks Off Its EV Era With The ID.3 At Frankfurt

Volkswagen is all set to leave its past image and dieselgate behind with the unveil of the ID.3 hatchback. It is the first model to come out of VW's ID range and will be the first EV to utilise VW's modular MEB platform. The new EV hatchback comes with a host of battery options, trim options and plenty of modern gizmos on offer.
Volkswagen Gets A Reboot With New Branding!

Just moments before the ID.3 reveal, Volkswagen debuted a new branding strategy as part of its reboot plan. The new logo is a two-dimensional design to have better integration on digital platforms with resemblances to its predecessor. The changeover will kick off starting with the unveiling of the new logo at the VW Group's company headquarters in Wolfsburg. It is a part of VW's 2025+ e-mobility and digitisation strategy.
The Mercedes-Benz Vision EQS Concept Gives A Sneak Peak Into An All-Electric S-Class

After a long period of teasers and spy shots, Mercedes-Benz has finally unleashed its next EV chapter with the reveal of the all-electric Vision EQS. It is essentially what an electric S-Class would look like. As you'd expect, the new concept is jam packed inside out with futuristic tech.
The Hyundai 45 EV Is Retro Yet Futuristic At The Same Time

Hyundai has taken the wraps off its latest all-electric concept, the 45 EV, that not only showcases the carmaker's future technology but also harks back to the Pony Coupe Concept from 45 years ago. Featuring a handful of tech that forecasts Hyundai's dig into electrification, automation technology and design, the 45 Concept is just stunning from whichever angle you look at it.
Next-gen Jaguar XJ Will Be An All-electric Luxo-barge!

Yes, the next generation of Jaguar's flagship luxo-barge will go electric. At the 2019 Frankfurt Motor Show, Jaguar Land Rover's CEO Ralf Speth confirmed that the new XJ will get an all-electric powerplant to take on the likes of the Tesla Model S and the upcoming Mercedes EQS. The carmaker also showed a sneak peek of what the upcoming model would look like.
Hyundai's Veloster N ETCR Goes Bonkers With All-electric Rear-wheel Drive!

Hyundai has decided to join the Frankfurt Motor Show's EV party with the reveal of the all-electric Veloster N ETCR racecar. It is the first electric racecar from Hyundai and will compete in the Electric Touring Cars Championship in 2020. One of the main highlights of the Veloster is its mid-mounted single electric motor that will power the rear wheels. This makes its a completely different animal to the front-wheel drive ICE N Touring Car race car.
The ID.4 Will Be VW's Next All-electric Crossover

With Volkswagen kicking off its all-electric charge with its new branding and the ID.3 EV hatchback unveil, the German carmaker has given us a sneak peek into its next model in the ID range. The new model, called the ID.4, was spotted in a camouflaged avatar on display at Volkswagen's stall at Frankfurt. It is expected to be based on the ID. Crozz and share a host of tech with the ID.3.
The BMW Concept 4 Is A Grille That Comes With A Car Attached

Making its debut at the Frankfurt Motor Show, the BMW Concept 4 is a futuristic-looking coupe which is hidden behind the massive twin kidney grille up front. The otherwise beautiful concept gives us a glimpse into the future of BMW coupes, which may or may not come with the gargantuan grille.
Audi AI:Trail Quattro Gets 4 Drones Instead Of Headlights

Audi has unveiled the AI:Trail Quattro concept that has teleported its way from some other galaxy in the distant future. This odd-looking lunar rover is powered by electricity and can take on some serious terrain. It's so ahead of the game that it ditches conventional headlights for rotorless drones.
BMW X6 Vantablack Teaches Us Definition Of Black

There is no other colour out there darker than black. But as some philosophers will tell you, all colours aren't exactly what they appear at first glance. In between are various shades, some much much darker. That's exactly what we're looking at here. Displayed at the ongoing Frankfurt Motor Show, the BMW X6 Vantablack has managed to beat all shades of black that's come before it on any car ever.
2019 Frankfurt Motor Show Preview

These are all the notable cars that are putting up a show at the ongoing 68th Frankfurt Motor Show. The all-electric Taycan, radical looking Lamborghini Sian and the 2020 Defender are some of the major highlights while there is also another whole bunch of cars and space-age concepts that we are looking forward to.
Of course, there are a few outliers from the show. This year the list includes Aston Martin, Citroen, Dacia, Ferrari, Abarth, Alfa Romeo, Fiat ,Jeep, GM's Chevrolet, Mazda, Mitsubishi, Nissan, Peugeot, Rolls Royce, Subaru, Suzuki, Toyota and Volvo. So if you have been wondering where our coverage of these brands are, that's the reason.
Add Your Comments