2019 Frankfurt Motor Show Preview
Sep 10, 2019
Views : 6375
---
Here are all the cars that are expected to put up a show: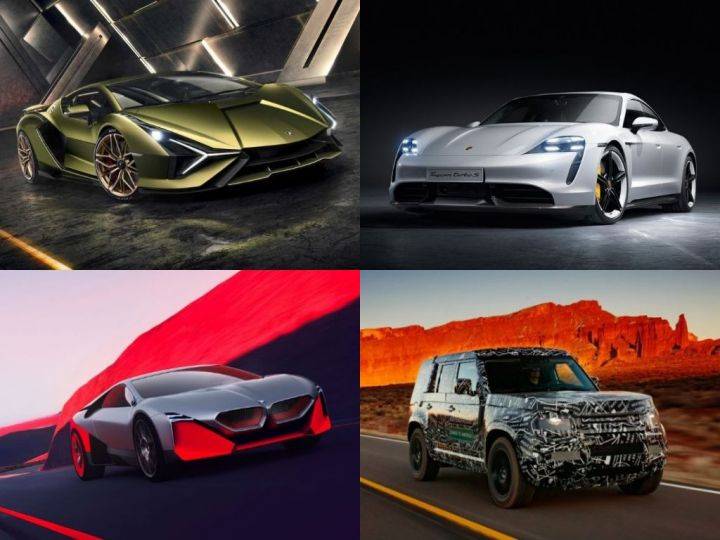 The 68th installment of the Frankfurt Motor Show will kick-start today and we're here to bring you the full coverage of the grandeur as it unfolds. As with every year, various manufacturers focus on different auto shows and hence, these are the ones who have refrained from participating in the Frankfurt Motor Show this year: Aston Martin, Citroen, Dacia, Ferrari, Abarth, Alfa Romeo, Fiat ,Jeep, GM's Chevrolet, Mazda, Mitsubishi, Nissan, Peugeot, Rolls Royce, Subaru, Suzuki, Toyota and Volvo. Quite a substantial chunk of manufacturers there. But, on a positive note, here is what you should be really looking forward to.
Land Rover
Defender

The Defender might as well be the most hotly-anticipated SUV of recent times, thanks to its celebrated cult status. The SUV will finally drop its camouflage and will come in three body styles and a plethora of engine options Thanks to James Bond, we also know how the SUV will look like prior to its grand debut.

Lamborghini
Sian

The title for Lamborghini's fastest and most powerful car is now held by the Hybrid Sian hypercar. It fuses an old-school V12 with a cutting-edge supercapacitor-powered electric motor to produce a whopping 819PS. Oh, and it looks wedgy and radical enough to classify as a raging bull. Frankfurt will witness the latest Lamborghini in its full glory though we already know a whole lot about it.
Porsche
Taycan

Porsche has gone green in style with the Taycan, available in Turbo and Turbo S trims. Headline figures include 751PS and 0-100 time of 2.6 seconds! The all-electric sedan also provides a maximum range of 450km while also sporting a cabin that screams sci-fi. More details here.

BMW
Vision M Concept


The BMW Vision M Concept will give us a sneak peak of the company's near future. A 600PS petrol-hybrid drivetrain can be expected which also helps in a 0-100kmph time of 3.0 seconds. What's more? It gets facial recognition to unlock the gullwing doors. Beat that, Tesla.
2020 BMW 4 Series

The coupe iteration of the 3 Series is long due and will be unveiled at the Frankfurt Motor Show. It is expected to feature a larger kidney grille while carrying over the powertrains from the 3 Series. The much-awaited M3/M4 is also expected to follow.

Mini
Mini Cooper SE

Being the brand's first-ever all-electric offering, the Cooper SE has a lot riding on its shoulders. 184PS of power and 270Nm of torque from a 32.6kWH battery pack with a range of 270km are the numbers, while it also gets fast-charging setup capable of charging its batteries to 80 per cent in just 35 minutes.

Honda
e electric car

This cute little Honda e was revealed recently. It gets a water-cooled 35.5 kWh battery that can charge to 80 percent in 30 minutes. The electric motor can be had in two states of tune -- 136PS and 154PS -- with a claimed range of 220km. Public will witness the car for the first time at Frankfurt while bookings have begun in the UK, Germany, France and Norway.

Volkswagen
Volkswagen will get a badge makeover that will be unveiled at Frankfurt Motor Show. Also new is a sound logo which will be the voice behind advertisements and promotions in the future.
ID 3

VW's first all-electric car based on the MEB platform promises a range of 550km with a super quick 30-minute charge time for 260km. It comes standard with an 8-year warranty/160,000km warranty while deliveries are expected to begin this year.
T-Roc Cabriolet

The weird and wacky T-Roc is not something we are looking forward to, but if you are, it comes with a soft-top that takes around 9 seconds to retract. A 1.0-litre 3-cylinder unit making 115PS or a 1.5-litre 4-cylinder motor which is good for 150PS will be on offer.

2020 Golf

The Golf is one of the most popular cars out of Wolfsburg and can be credited with kindling the idea of a hot-hatch. The eight generation Golf will heavily rely on electric power and is expected to be a looker. Furthermore, it will also be the first car to carry the new Volkswagen logo.

Mercedes-Benz
EQV

A long-range electric van that can do 400km on a single while cocooning eight occupants is what the EQV is. It produces 200PS from an 100kWh battery pack that can be charged to 80 per cent in an hour.
Next-gen GLA

The jacked up A-Class is expected to come packed with a 1.3-litre turbocharged petrol engine along with 1.5-litre and 2.0-litre diesel engines. It was also spied testing a couple of times.
GLE Coupe

The GLE is quite honestly a big brute with a soft side. Being an oddball, its styling is bound to split opinions. The 350d and 400d variants make use of an inline-six 3.0-litre diesel while the GLE 53 4MATIC+ gets an inline-six 3.0-litre petrol engine good for 435PS and 520Nm. More details here.
GLB

Merc's answer to the Audi Q4, BMW X2 and Volvo XC40 comes as as full-size 7-seater which borrows styling cues from its bigger brothers. Engine options include a 1.3-litre petrol, 2.0-litre turbocharged petrol or a 2.0-litre diesel engine with 4MATIC. It also gets a GLB 35 AMG version with 306PS of power.
EQS


As the name hints, the EQS is an all-electric sean the size of an S-class sedan. It will join the EQC and EQV in the German brand's lineup.
Audi
RS6 Avant

The ultimate sleeper wagon is back with more flair and firepower to do what it's best at - shame supercars. Packing 600PS of power, 800Nm of torque and a limited top speed of 250kmph, it really is the ideal soccer mommy
Audi AI: Trail Quattro

An electric off-roader might not sound like the sharpest tool in the shed but Audi seems to be clever about this one from the teaser images. A concept version is expected to be showcased at Frankfurt while the near future will witness a production-spec version.
RS Q3

The sportier version of the Q3 will put out 400PS from a 2.5-litre turbocharged engine rivalling the GLB 35 AMG. Spied in various parts of Europe, we will finally get to see the car in the flesh without any camouflage.
Audi RS Q8

If the RS Q3 is too tame for you, the RS Q8 with the Lamborghini Urus' 4.0-litre twin turbo V8 good for 600PS might just cut it. When launched, the red-hot RS Q8 will be the fastest SUV out of Ingolstadt.
Apart from this, Audi is also expected to showcase the upcoming A5/S5 Facelift, A4 Facelift, and smoking hot RS7.
Hyundai
New 45 EV Concept

This is what happens when you mix the 70's with the future. Hyundai's retro concept featuring a boxy design and a fastback body is expected and will most probably be powered by electricity.
Hyundai i30 N Project C

The i30 N went under the knife and gained some top-shelf parts from Hyundai's motorsport division, resulting in the i30N Project C. Race-spec alloy wheels, carbon fibre-reinforced plastic components and 270PS of power are the highlights, while it is limited to just 600 units.

Electric Racer Concept

Hyundai Motorsport will unveil the electric racecar that was teased through a video. The race car is expected to carry on Hyundai's recent motorsport know-hows. All technical details are still under wraps.

Skoda
2020 Octavia

The new Octavia will feature revamped styling, with the most noticeable change being the new and larger front grille. International markets also get a 48V mild-hybrid option paired with a 1.5-litre TSI petrol engine. We can expect the sedan in India by the first quarter of 2020.
Add Your Comments