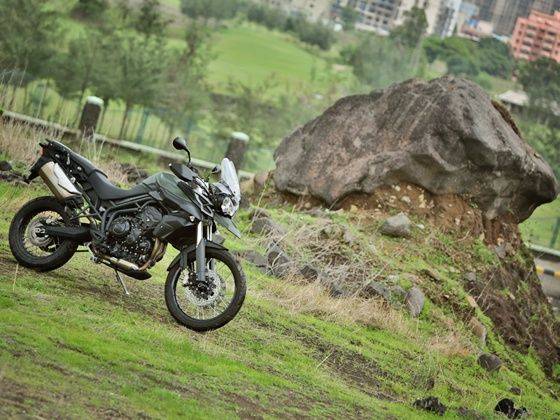 I'm taking on a whole new adventure with my side kick – the new Triumph Tiger 800XC. Or is it the other way round? Either ways, the plan is to kick some serious dirt, hit some severe trails and cause splashes while riding through water logged ditches. It's just another day to office during monsoons.
The name Tiger isn't new for the iconic British motorcycle manufacturer, but none of the older Triumph Tigers have been as hungry for adventure as the new Triumph Tiger 800XC. And boy does it grab eyeballs.
The 800XC is unlike any other bike plying on the roads. This allows me instant gratification - gives me instant celeb status with its great styling. Our test bike looks lovely in the matt khaki green hue, along with its beak-like front mudguard, dual head lights, and a small wind screen which appears as if the Triumph Tiger is ready to take on any kind of adventure.
Ergonomics is ideal for long hours of touring, or day long trail riding, or both in our case. The wide and adjustable handlebar, position of the rubber-less footpeg and large supportive seat creates an upright but comfortable riding position.
Rear seats are extremely comfortable too, with plenty of room and a pair of chunky grab-rails and well positioned footrests. But one ends up scraping the oversized grab-rails with the riding boots everytime the rider alights the lofty bike. There's decent underseat storage and plenty of useful tools in the toolkit. Plus the seat height can be raised further by 20mm (Oh God No!) if needed, without any tools.
Equipment-wise the Triumph Tiger 800XC comes with very basic clocks compared to other modern bikes. It gets a digital speedometer with trip meter, gear position indicator, fuel gauge and service indicator, along with an analogue tachometer. Other features include a coded key immobiliser for security and a high output alternator to power optional accessories like spotlights or electrically heated grips in case you plan a trip up North.
The heart of the 800XC is a liquid cooled, 799cc in-line Triple which shares some bits with the Triumph Street Triple's 675cc motor, we tested a few weeks ago. With increased cubic capacity, the Triumph Tiger 800XC pumps out a healthy 95PS peak power at 9,300rpm and a max torque of 79Nm produced at 7,850rpm. One can immediately recognise the very likeable three-cylinder nature, while the animated growl from the pipes gives the Tiger an interesting character. The power comes in smooth strides without being snappy, and this idiot proof nature makes it great option for newbies too. The motor comes paired with a six-speed gearbox with a tough clutch and light lever action, making it ideal for long touring hauls and occasional jaunts, over broken roads.
The bike has been designed for those who don't like to stop where the road ends. It's a well thought tourer with plenty of inbuilt hooks to strap luggage on, a sturdy rear rack to mount a box on, and rugged hand protectors. For an average built Indian, like yours truly, it's a tad too tall with 845mm saddle height, and at 215kg heavy for hardcore off-roading. Moreover, if you seek more serious off-road riding then you'll need to replace the standard 21-inch front and 17-inch rear on-and-off-road hybrid tyres.
To test the limit of the Triumph Tiger 800XC we rode to the outskirts of Mumbai, crossing the highway, over twisty roads less travelled. Soon the roads ended and we carved our own tracks; thankfully the spoked wheels helped in cushioning the rough terrain. It's a well balanced bike and is more than capable to take a fair amount of beating. Triumph's tubular trellis frame is all-steel, heavy and takes the knocks on the chin without cringing, and the dual sided swingarm is made up of light weight aluminium which helps in mass centralisation.
The large front wheels tackled holes and ridges pretty well, while the raised front mudguard ensures none of the mud and grime clogged in between. With over 8-inches of travel, the beefy 45mm upside down Showa front forks absorb most of the hits and ditches. A multi-link single monoshock at the back, does a good job of soaking all the road bumps, and is adjustable for both preload and rebound. While the more than adequate ground clearance and a factory fitted sump-guard lets the Tiger crawl, climb or pounce on gravest of paths.
Braking duties are carried out by dual discs in front with twin piston callipers, and a single disc with sole piston for the rear wheel. ABS comes as is standard but if you intentionally want to lock up a wheel while off-roading then you have the option to switch it off.
Thankfully, the Tiger is not all about going off-roads and can be quite exciting even on tarmac. It feels planted and holds the lines without protest, around corners. Since it is tall and heavy, one needs to put in a little extra effort to pin it down for a turn. But it never feels top heavy, despite the high riding position, mainly because of the excellent seat design and deep tank design scoops, which holds deeper in to the bike.
For those who might think that an 800 is not enough for highway jaunts, Triumph also has a bigger option in the shape of the 137PS, 1215cc Triumph Tiger Explorer. But trust me power from the 'smaller' Triumph Tiger 800XC is more than adequate even on the fastest Indian highway roads, as it sprints to 100kmph in a jiffy and across 180kmph.
The inline Triple is designed to deliver dollops of torque right through the powerband, which does compromise some of the top-end. But on a bike like this you rarely would need to. During my day long ride I predominantly use the terrific mid-range which allows me to pull hard even from low revs. The seamless flow of torque comes handy for overtaking without the need to work the gearbox. This is also great for low-speed trail riding, especially when there is a need to claw out of a tricky off-road situation.
Finally the price. In Mumbai the Triumph Tiger 800XC will set you back by Rs 13.70 lakh (on road)making it a couple of lakhs cheaper than its sole rival, the Suzuki V Storm and cost Rs 6 lakh less than the bigger Triumph Tiger Explorer. For the price the 800XC gives you distinct looks, a beautiful motor, enough power and great touring ability. Add to it the premium brand appeal of Triumph and you get a deal few would turn down.