Tata Tigor XZ Petrol: Fleet Introduction
---
The stylish compact sedan from Tata is ideal for in-city commuting. That is, if you like your driving relaxed and easy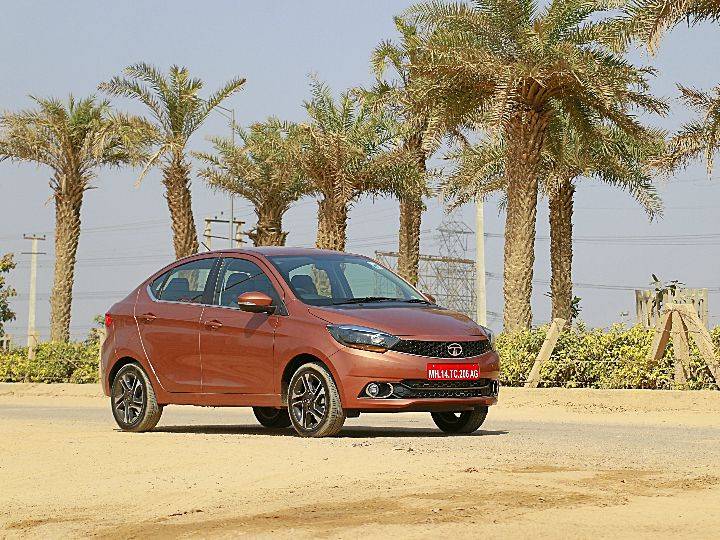 The Tata Tigor has replaced the Zest AMT as my daily driver and there are a couple of things about this compact sedan that have instantly caught my fancy. First off, it looks way better than the Zest. I like how the Tigor gets appreciative glances as I pull into the driveway of my housing society. I guess it's got to do with those smoked projector headlamps, 15-inch 'diamond-cut' alloys and the sloping roofline that beautifully integrates with the boot to make the Tigor look like a more expensive sedan. The cabin also has a feel-good vibe (though not as high on style or quality as the Tigor's exterior) and in the XZ trim, comes loaded with features.


Oh, and with a 419-litre boot, I haven't had to request passengers to hold extra luggage or bags on their laps. There's also a handy boot release button on the centre console that lets me quickly open the boot for security checks at mall parkings without having to bend down to release a lever.

Having driven the car for over a month, mostly on my office commutes, I'm a more patient man now. The Tigor teaches you to stay within speed limits and not try and cut through the slow-moving traffic...because, well, that isn't its biggest strength. Don't get me wrong. The 3-cylinder, 1.2-litre petrol engine has plenty of pep to keep the car moving forward with just the lightest dabs of the throttle. The Tigor will happily potter about at 20-40kmph in city but it's not a car that likes being rushed. Quick overtakes require planning and room.

The latter is a problem especially if you are driving in a city like Pune where roads are narrow and vehicles tend to bunch up behind one another. If you are stuck behind any of the slow coaches, take a deep breath, turn on the automatic climate control and the fantastic 8-speaker Harman infotainment system and join the crawl.



The ConnectNext system pairs up with my phone instantly every single time (unlike in the Zest, where it often required manual interventions). The touchscreen system has a slight lag, but I barely use it and manage the controls with the steering-mounted buttons. The 5-inch display also relays feed from the rear parking camera though night-time resolution is grainy and reminiscent of cam footage from the Blair Witch Project.

The odo on the Tigor has just crossed the 7500km mark, which means it's due for its third service now. The Tigor demands a service every six months, which is a bit too frequent. Nevertheless, that gives me a chance to get the gearbox checked. It feels a bit notchy sometimes, especially when you are attempting to slot the stick into 1st gear. Hopefully, the servicing will sort out this niggle.

Date acquired: September 2017
Total km till date: 7597km
Fuel efficiency: 14.8kmpl

Cheers: Dollops of style, Premium features, Large boot
Sneers: Notchy gearbox, Lacklustre performance