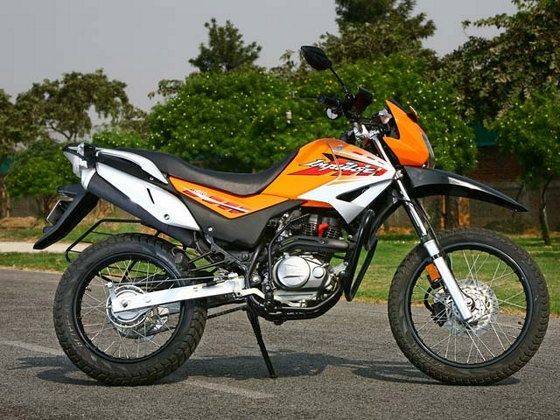 At first I didn't know what to say, especially as news began filtering through from London, where Hero MotoCorp had a high profile debut. Among many things, the firm, now shed of its Honda partnership tag, was actually getting ready to usher in a brand new Honda-designed and developed motorcycle on its own! Adding to the myriad confusion was also the fact that the new named entity was pitching itself into an altogether new segment of the Indian bike market which not many had wanted to get into. Especially not after the ill-fated Kawasaki-Bajaj SX100 Enduro of the early 1990s! However, that was then and much has happened to motorcycling in India over the last two decades to warrant a motorcycle which ideally should have been popping out of every decent bike maker's product portfolio!
Say hello to the Hero Impulse which is based totally on the Brazilian market Honda Bros. However, here in India, it is the Impulse for all wannabe biking Heroes who want to feel that a bike with go-anywhere capability is what will make them rise in esteem. I say this with nary a snide thought or such because this is a very canny move from Hero MotoCorp and one which it had debated and debated, going by the need to upgrade its existing customer base more at home on 100cc Splendors and 125cc Passion Plus. The ability to give them a mellow upgrade while taking them higher in their self esteem was always something which spoke volumes whenever the firm did consumer research and that is how the Impulse has turned out. Before I give you my rationale on this, let's go straight in and dive to the bare bones of this spanking new motorcycle.
I have always maintained that dual purpose on-/off-road motorcycles are the SUVs of the two-wheeled world. And while some may accuse me of stretching this line of thought a tad too much, let me also quantify that over 99 per cent of Scorpios sold in the country feature rear-wheel drive only! As such the visual aspect dominates the senses and this is the bedrock on which Hero MotoCorp rests its case for the Impulse. It has the looks, the stance and the structure and this is most welcome. Starting out with a single downtube frame which is splayed into two bottom tubes running underneath the engine, this unit is made of carefully selected high tensile steel tubing to allow rigidity and strength where it matters the most – at the steering head stock and also at the swingarm mount pivot plus at the top mount for the monoshock.
Given the application of being a go-anywhere machine (within reason, of course), it had to have long travel front forks and here we have special Munjal-Showa units with a shade over 180mm of suspension travel. At the rear there is a direct monoshock unit, which is a nitrogen-charged Showa made in Japan acting in conjunction with a rectangular-section swingarm which runs a 17-inch wheel shod with a 110/90x17-60P tyre. Up front the Impulse makes do with a 19-inch wheel around which is wrapped a 90/90x19-52P tyre. Overall the balance as well as the stance of the bike are pretty solid yet neutral given its 1360mm wheelbase and a saddle height of 835mm. Given that weight transfer as well as rider placement is so crucial on an on-/off-road machine when driven in anger, the Impulse also seems to have catered to that with MX-style seat, tank and tail panels along with chunky grabrails at the rear for the pillion to clutch on. The upswept seat which rides up and over the rear of the fuel tank is nicely padded. And should there be someone who literally decides that his life depends on jumping speed-breakers and such, the seat unit is his silent angel protecting vital parts of his anatomy!
Jokes aside, this is exactly as it should be given the design evolution of on-/off-road motorcycles and the Hero Impulse is living manifestation of this aspect. The tall, flat handlebars complement the saddle and the footpeg placements to give an upright yet very comfortable riding position. Unlike a cruiser with kicked out front suspension and a seat forward riding the sofa cushion type of perch, that on an on-/off-road motorcycle is far easier and controllable, not to mention it delivers quick steering to help make change of direction an easy chore. The Impulse is all-proactive on this count and it shows in the way it rides, glides, swoops and smothers, be it on hard tarmac or loose gravelly surfaces. Even in easy riding mode, if having stepped off from a Splendor or Passion and on to the Impulse, riders can adapt very easily and therein lies the first hint of Hero MotoCorp's method to prop up its on-/off-road madness. One of the key allies in making the Splendor/Passion rider comfortable is the tyre design which is not just of a big block rectangular tread pattern but one where the big blocks are carved out on a fine arc section, which gives traction on tarmac even when the bike is leaned over while having enough block grooves to help tractor through mud and gravel. This I feel is the step in the right direction and Hero MotoCorp must be given its due for thinking this over and working with Ceat to develop the right type of rubber on such a new genre of motorcycle.
Mind you, this is also a bike where the Splendor / Passion user will be delighted to take to thanks to the simple reason of a strong reliable and mellow 149.2cc single- cylinder motor derived from the same engine family which does duty in so many Hero Honda, oops now make that Hero MotoCorp machines displacing 150cc – Hunk, CBZ, Achiever, etc. Much of the internals of this engine are proven bits and this robust unit with a five-speed gearbox has enough oomph to make the regular commuter dash everyday seem like a joy ride. Of course, rabble rousers will find this bike a sissy and not in sync with its visual make-up but then it was never Hero MotoCorp's intention to make a KTM rival. Rather it echoes Honda's all-round please-all refined offering ethos considering that there are millions of Splendor / Passion riders ripe to move up and more importantly stay within the Hero MotoCorp umbrella.
I had the opportunity to swing a leg over the well-crafted saddle and ride the Impulse for well over a couple of hours. I came back first a little bit downcast because the bike was way too refined, silent and purred its way when buzzing through the gearbox and with light controls that made me think as if this wouldn't do for the next supercross event. However, when riding back through traffic, one got the absolute essence of this machine which is a genuinely nice and easy-to-use commuter with even better ability to point and head into, a very stable and solid approach to ride and handling, good steering geometry with light controls making for the ease of carving through traffic, fine brakes, good grip and overall a smile playing on the face all throughout. Hey, I know I must be getting old but heck, when one has to do the traffic carve-up day in and day out, I think they better do it on an Impulse because they'll come smelling of roses after every outing on it.
So there you have it, a first ride on an altogether new type of motorcycle and even though it might not have the urge I crave for, it would be ideal for the Hero MotoCorp millions and that's exactly where this machine is headed. Everyone knows that Bajaj Auto is going to unleash a handful of KTM on-/off-roaders on to the Indian market as well but they will be for the evolved rabble rousers. Trouble is, for the rabble rousing brigade, I see great opportunity for bikes like the Impulse at the bottom of the pyramid and it wouldn't be out of place to see pure Impulse rivals from Bajaj Auto and the others as well! On the flip side, the onus then would be on Hero MotoCorp to rise to the challenge and build a firebreathing on-/off-roader to help fuel the rabble rousers' latent desire for performance.
No worries on any count, for it always stands for a leader to steer the market and also to help upgrade users. So whether the Impulse moves millions or forces thousands to ask for more, the on-/off-road era is finally on its way here in India.
PS: The Impulse will be launched just before Diwali, according to Hero MotoCorp and expect it to sport a reasonable premium over the likes of other 150cc bikes from within its portfolio.