Hero Impulse 223cc Review
May 6, 2015
Views : 125459
---
No this isn't a factory offering but the outcome of persistent demand from a lot of existing Impulse owners. This is the Hero Impulse with the 223cc Hero Karizma engine transplant. For more on the Hero Impulse, pictures, specifications and prices, visit ZigWheels.com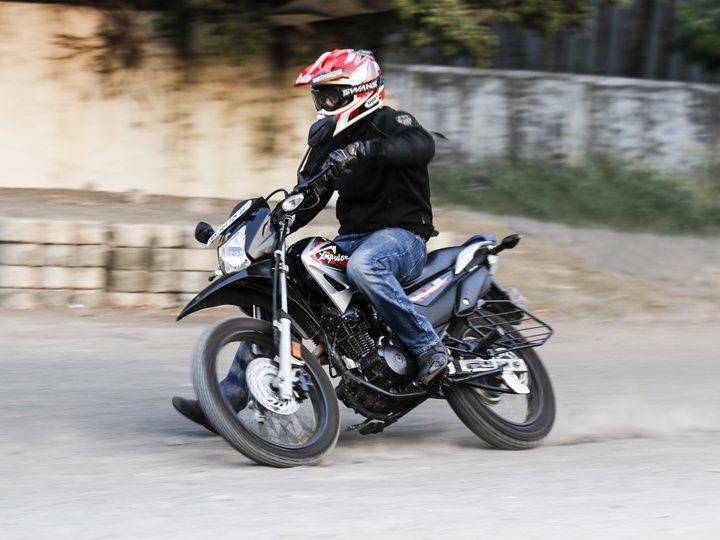 Now this isn't the first time we are featuring the Hero Impulse with the larger 223cc engine from its sibling the Hero Karizma at ZigWheels. We tried such an attempt way back in 2012. And back then even though we loved the extra 'go' the Karizma engine offered, we thought it needed better brakes, a fork brace and better fuelling. The only other thing we didn't like was the weight bias of this hybrid motorcycle; the Impulse is beautifully balanced but with the heavier engine, the Karizma-Impulse had lost its poise...somewhat.
So, what has changed this time round? Well for starters, unlike the previous bike which was a one-off creation borne out of a lot of trial and error, this one is being offered by one of Hero's own dealerships. And this isn't a one-off either. So it comes with some peace of mind. All one needs to do is arrive at Fortpoint Hero's dealership in Mumbai with an Impulse, leave it for a couple of days, pay up Rs 40,000 and walk away with a torquier, more fun to ride Impulse! And Fortpoint Hero will also give you a year's warranty.

What is also comforting about taking this dealership route for the 223cc Impulse is that Chinmay Bafna, proprietor of Fortpoint, is an Impulse fan and the entire R&D before arriving at his setup was done on his own bike. Then there's Kobad Buchia, a passionate, motorcycle loving Parsi, also in charge of Fortpoint's service end. He is the engineering mind behind this idea, and if you had a look at what he has managed to do with his own Impulse, you'd put down the money right away. But, before we get carried away, let's find out how the new Hero Impulse 223cc rides...

Now for Rs 40,000 you don't just get an engine swap. The Karizma engine to be used is first fully refurbished to almost new-like, and bits like the ignition, the intake and the exhaust too are finely tuned and chosen to deliver a seamless, almost factory like setup. And one can feel it the moment you start riding it. The bike looks absolutely stock barring the bigger engine sitting in the cradle chassis and for this particular bike, a newly made one-piece exhaust system (the exhaust isn't part of the deal and has to be bought separately, though). But get it running, and it doesn't feel anything like the Impulse.

But, of course, it has its share of negatives. So let's get that out of the way first. The Karizma-Impulse just isn't as refined, quiet or vibe-free as the stock bike. And the reason for that is that the 223cc engine wasn't designed for this frame. So, no matter what you do, this is one compromise you have to live with. The other set of negatives are a continuation from our first ride in 2012. So, the Fortpoint Karizma-Impulse too doesn't get beefed up brakes or forks, but fuelling is surely better.

And it makes this Hero Impulse an absolute hoot to ride in the city. Compared to the original, the ride-ability has improved significantly, especially in the mid range. Just whack open the throttle and watch the revs rise without hesitation or laziness. Standing starts are dispatched in significantly lesser time. But it's the ease of overtaking that makes the Karizma-Impulse such a joy and stress free ride, both during daily commute or out on the highway. It's also brilliant at corner exits thanks to higher torque at lower revs and when tackling inclines. And on dirt because you have more torque, it's easier to get out sticky situations compared to the stock bike.

This transplant then, isn't exactly logical because one loses out on two truly endearing aspects of the stock Impulse - smoothness and spot on weight distribution. Not to forget, the ride quality which thanks to the extra weight of the Karizma engine is a little stiffer too; it is as if you were running some preload at the front. So why should you do it? Simply, because it is more fun! More power. More torque. Equals more fun. Then be it commuting, touring or tackling dirt, it works everywhere. Like we said, it's not a logical decision, but one I am willing to take for sure.