BMW 520i: First Drive Review
---
Is the 2.0-litre petrol motor good enough for the 5 Series?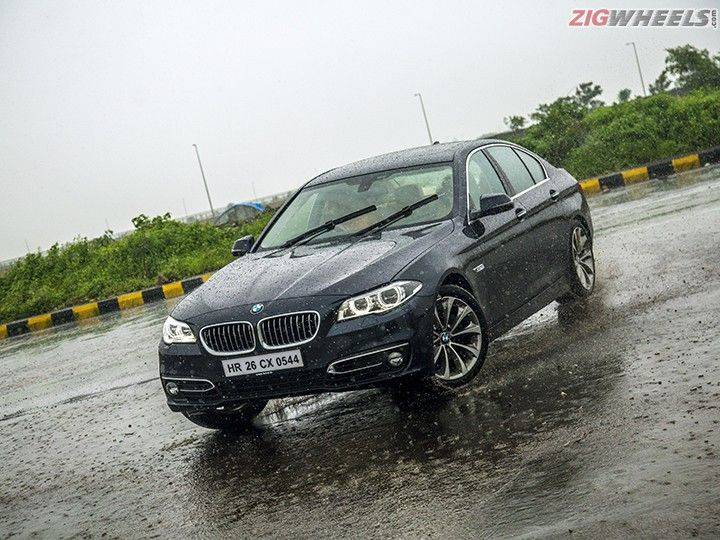 I find five star hotels to be a bit eerily silent. The staff speaks in a hushed voice, the elevator music has harps and chords and the long corridors echo nothing but, uh, nothing. It's the kind of place where you think twice about crunching down on the masala papad you really want, but opt for a much quieter bruschetta instead. Oh, and to mention, their menus are an interesting interpretation of our food, for instance, 'baingan ka bharta' becomes smoky aubergine cooked in gravy and bhajiyas become assorted vegetable fritters.

And most the cars their patrons drive in are, well, eerily silent too. Like the BMW 5 Series here. It talks in a low tone, ensures you feel right at home ensconced in its luxury. And, just like the hotel, it forces you to up your game. For a sedan that's been around for over half a decade, it is slightly surprising that the 5 Series manages to look in tune with the times. I'll admit, I wasn't a big fan of the design of the F10 5 Series (hail E34!), but, it has grown on me. More importantly, the design has aged gracefully, and refuses to look dated yet. The recipe has remained unchanged over the years, save for a few nips and tucks here and there. It has all items on the 'fifty lakh rupee sedan design essentials' checklist. And it's the proportions that are my absolute favourite. A long-ish bonnet, clean roofline and sizeable boot. Classic three-box, well executed. Well done, BMW.

The insides are nice and welcoming, especially in this shade of beige. However, unlike the exterior, the design of the interiors is getting long in the tooth. It is functional, well-built, and just works without a hiccup every single time, but it does feel dated and nearly identical to every other BMW. You do get a laundry list of features though. Plush leather upholstery, electric seats for the driver and co-driver, an electric sunroof and a 600W Harman Kardon audio system are all standard on the 520i's Luxury Line trim (incidentally, the only trim on offer). You also get an LCD screen as your instrument cluster and a 10.2-inch screen paired with BMW's iDrive that handles everything including audio, calls, navigation and also doubles up as a screen for the reverse camera.

Although the car is wide enough to seat three in the rear bench, the huge transmission tunnel robs space. We'd stick to four people and some luggage - of which the boot can swallow copious amounts. Complaints? Well, there aren't enough usable cubby holes. The large central glovebox will swallow most things, but it isn't something that is easily (or quickly) accessible. What's more, the dash layout feels cluttered and even unnecessary at times and takes away from the otherwise minimalist cabin theme. It's about time BMW moved on to a cleaner layout with a central touchscreen.

You might have read about how Tushar thinks the 2.0-litre motor is a nice fit in the 3 Series. I had my reservations about what it could do in the 5 Series though. The engine runs the exact same tune, pumping out 184PS and 270Nm, and is mated to the same 8-speed ZF gearbox. What's more, the younger 3 Series also gets a Sport+ mode, whereas this one has to make do with just Sport, in addition to Eco Pro and Comfort. But then, the whole point of the 520i is to lounge and relax. Like I said before, it is eerily silent. You'd be forgiven if you reached for the start-stop button when the car was on. Even on the move, there's practically nothing you hear from the engine, or the exhaust. It is only when you keep the turbo-petrol motor on the boil, does it let out a nice, throaty rasp. Else, it is as silent as the kid who just got punished in class.

The engine also impresses with its performance, despite being in the same state of tune as the 3 Series, in a bigger, heavier car. Acceleration is linear and you never get shoved into your seat. In case you like you speeding endeavours with a hint of drama and a bucket load of torque, you might want to look away and towards the 530d instead. This one wafts, doesn't sprint. You do feel the pull getting stronger once you're past the 3000rpm mark, and, if you're in Sport, it will hold the gear right up to the redline. That said, I enjoyed puttering about calmly in Comfort mode the most. Although the 520i is genuinely quick enough to hit questionable speeds, it doesn't egg you on to do so. It is happier cruising calmly, and invites you to do just that.

Ride quality is what I would call 'mature'. It's a no non-sense affair as the 520i goes about gobbling up potholes. A few deep ones will unsettle the cabin, though. Unlike the diesel 530d which feels evidently stiffer, the 520i is softly sprung – which means everyday commutes are that one bit more relaxed. But the softness doesn't affect the 520i's stability at high speeds though, and the car stays planted at triple digit speeds. And in case you were wondering, ground clearance is barely an issue. Show it some winding tarmac, and it seems more than willing to attack too. The steering is precise, feedback is ample and despite being a big sedan, you always know where the wheels are, and more importantly what they're up to. You do miss Sport+ mode here, where the traction control lets you have a bit of fun.

Summing up then, the BMW 520i is easy to drive in city, has enough grunt for a motorway sprint and has enough space to seat four full-sized adults very comfortably. The only fly in the ointment will have to be the price. At Rs 54 lakh (ex-showroom India), the petrol engined 5 Series is significantly more expensive than its immediate rivals. If it was priced lower, it would not only go toe-to-toe with the opposition but also make a stronger case for itself against its own sibling, the 520d that costs exactly the same.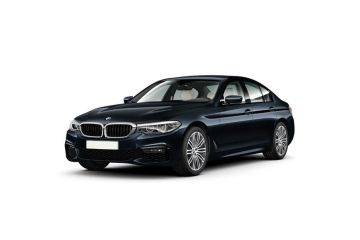 Rs. 59.30 lakh Onwards
Ex-showroom, Delhi
Contact Dealer
View On Road Price
BMW 5 Series Alternatives