The Art Of Racing: Part One
Jul 26, 2017
Views : 13872
---
Learning the dark art of racing in a 205PS Ameo Cup racecar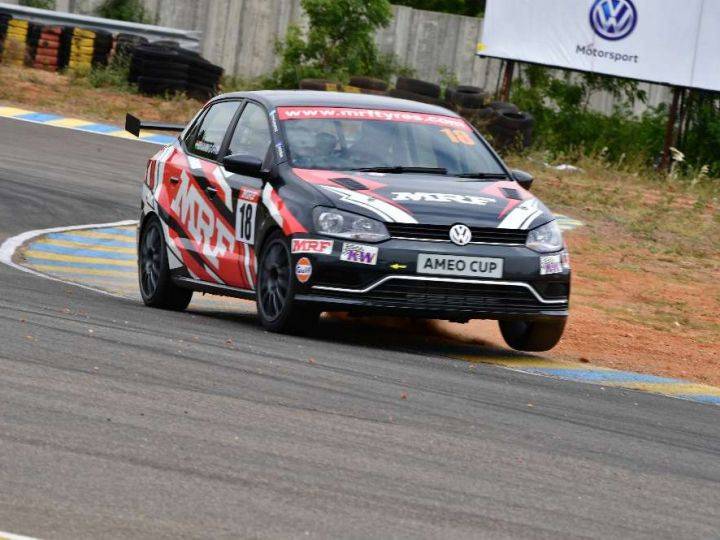 Words by Benjamin Gracias/ Photography courtesy VW Motorsport
It all started with a phone call.
"We would like you to race in the first round of the Ameo Cup." followed by, "You will need to get two competition licences from the FMSCI."
What followed was a haze of scurrying around, getting the requisite forms and medical licence done, until I was on an early morning flight to Coimbatore, filled with anxiety and apprehension. This would be my very first time driving a race car, and I was supposed to race along with other experienced competitors. David vs Goliath? More like Barney vs Godzilla.

The pitlane was bustling with activity, filled with drivers, mechanics and racecars and amidst them stood Sirish Vissa, a tall and affable gent, also the head of Volkswagen Motorsport. To race a car, you need to understand it and who better to talk to than Sirish, who has been through the whole process right from approving the blueprints of the race car to watching his cars race for the first time.

The car:
The Ameo Cup car is completely different from your road-going VW Ameo. The process starts at the plant itself where a welded Ameo bodyshell is taken off the production line and all panel joints get a double seam weld for extra rigidity. Thereafter it is all bespoke parts like KW adjustable dampers, Eibach springs and lightweight 17-inch racing wheels shod with specially developed MRF racing slick tyres. The front 334mm discs from the Golf GTI get new racing brake pads while the rear gets large 232mm discs, and a large carbon wing adds 50kg of downforce at 120kmph!

A 1.8-litre GTI engine was shoehorned into the Ameo's tiny engine bay along with a new 6-speed sequential race gearbox. The 1798cc turbocharged petrol engine gets a Motec standalone race ECU and race-tuned exhaust. With a bit of fettling, it makes 205PS at 6100rpm and 320Nm of torque between 3200rpm and 4600rpm. Sirish says they can extract around 330PS from this motor!

As we are talking Sirish receives the news that during testing, they have managed a 1.8.900 second lap time on the Kari race circuit. Faster than ITC touring cars that manage 1min 9sec here. I am about to race the fastest saloon cup car in the country. Gulp!

A peek inside the racecar reveals a single race-spec OMP bucket seat ensconced inside an FIA-spec roll cage. The centre console is an array of large buttons that are easy to reach from the driver's seat. There is no gear shift lever. Instead, placed ahead is the actuator that changes gears based on inputs received from the paddle shifters. The gearbox will not allow you to shift down if the revs are too high, in the interest of preserving the gears.

Vishal Kamble is my race mechanic for the weekend and helps me fit into the car. While the bucket seat is not adjustable, the steering can be adjusted for rake and reach. Vishal helps me get my race harness clamped to the helmet. I am strapped into the seat belt which is clamped so tight I can barely breathe. That is done to save you from being thrown around as your body receives large doses of G-forces from all sides during the race.

Start-up is a three-step process. When that's done, to get the car moving, you have to press the clutch, press the right-side pedal behind the steering wheel and set off. The clutch is present only for getting the car to move from standstill and getting it to stop without stalling.

Fighting with it:
The first session, I commit all the mistakes a noob can which include, braking early, shifting gears early, not carrying enough speed into corners, and the granddaddy of them all, spinning out in corners. My lap time by the end of session one is a hilarious 1.18.00 minutes. Back to the drawing board then.

Sirish patiently listens to my feedback then suggests I shift gears when the shift lights blink in blue the first time, something I never saw during the whole practice. Then there is the matter of braking as late as possible. At the main straight, I was starting to brake just after the 150 brake marker but Sirish tells me that I can start to brake after the 100 marker and as late as my courage allows me to.
The next session, I go in hunting for that elusive blue shift point. Turns out it is hidden at a lofty place just shy of the rev limiter. As I begin to trust the brakes, I realise they are phenomenal. One more thing I learned is that the Ameo Cup Car is more stable at speed and tends to oversteer at low speeds, which was the reason for me to spin out. This session turned out to be a fruitful one with my best lap turning out to be 1.12.800 minutes. I was over the moon.

The Cup car has one more trick up its sleeve. The Motec ECU records data which is downloaded by the race engineers after each session. This is then printed in the form of a graph which compares it against the best lap time. The graph shows engine rpm, throttle position, brake pressure, gear position, steering angle and car speed on your fastest lap. Turns out I was still braking early and wasn't using most of my throttle.
I did manage to squeeze in a taxi ride with Karthik, VW Motorsport's lead test driver, and that was a real eye opener. In between the immense G-forces racking the body, I tried to memorise his lines, shift points and braking points. Time to prepare for tomorrow's practice and qualifying. And a massage.

Practice:
Practice laps turn out to be frustrating. The lap times seemed to have dropped down to 1.14 minutes and if I try to corner harder, the front end seems to be losing grip and my car displays a tendency to understeer at the slightest provocation. Braking late too had the race ABS kicking in early, resulting in me going off the track a couple of times. A discussion with the engineers brought forth that my style of driving was hard on the front tyres so they seemed to have worn out over the course of last three sessions.

Now, a competitor gets four fresh tyres fitted on the car at the start of the weekend, in addition to two extra tyres. Tyre strategy plays a major role in how your weekend goes. Sirish suggested that since it is the front tyres that have worn out and the rear tyres do not have to deal with that much stress, I should get my rear tyres fitted at the front and fit the two fresh tyres at the back.

Next is qualifying and I have just one objective: Do not come last.
To read more about how Benjamin's first ever race went, click here.
Recommended Variant :
Ameo 1.5 TDI Comfortline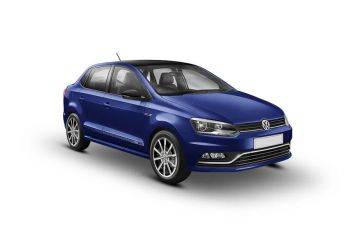 Rs. 5.94 lakh Onwards
Ex-showroom, Delhi
View December Offers
View On Road Price
Volkswagen Ameo Alternatives