Would You Rather: Buy A New Honda Africa Twin CRF1100L DCT Or An Used Audi Q5?
May 28, 2020
Views : 3327
---
Both come with rugged looks, have the hardware to take you off road and most importantly, have character. Question is, should you choose two wheels or four?
[Update: Honda has commenced deliveries of the new 2020 Africa Twin Adventure Sport. Know more details here.]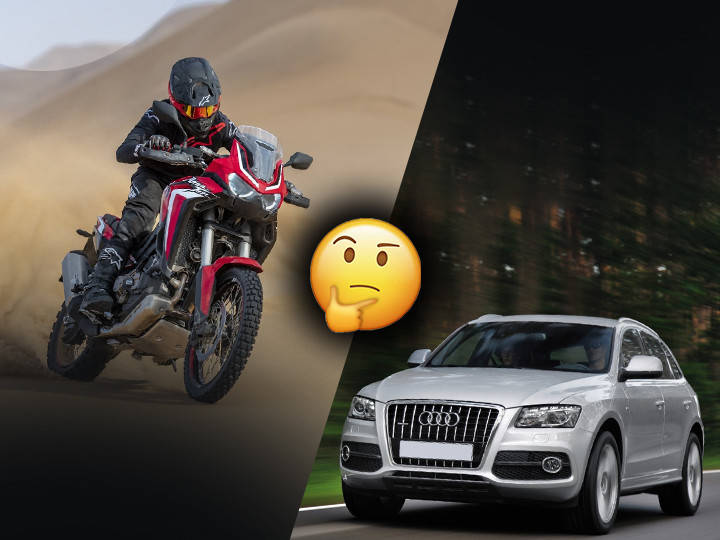 In our first episode of 'Would You Rather' series, we pitched a new Kawasaki Ninja against an used E60 BMW 530i. Both are known for their ability to put a smile on your face when pushed to the limit.
Now, though, we see a shift in taste towards vehicles that sit high off the ground and can take you places. Exploring uncharted territories -- sounds tempting, right? So, in this episode, we decided to pit a new Honda Africa Twin DCT against an used 2012 Audi Q5. Both cost roughly around Rs 16 lakh and are equipped with all the mettle needed for your adventure. The question is, which one should you go for?
The Mechanicals:

Let's start with the motorcycle. We've got an immensely capable adventure tourer, in its latest avatar, from the house of Honda. The new Africa Twin features a larger 1084cc that develops 102PS and 105Nm and comes paired with a 6-speed manual gearbox (finally) as well as the DCT. That said, I'd prefer the DCT due to one main reason: it prevents engine stalling. It is extremely useful while tackling tough terrain as you just need to concentrate and twist the throttle accordingly. This also makes riding through the city easier and eventually, it feels like you're riding a large Activa. However, the purist can opt for a manual, something you can't do on the Audi Q5.

The Audi Q5, on the other hand, came with two diesel engine options -- a 170PS 2.0-litre TDI and a 240PS 3.0-litre TDI V6-- and a 208PS 2.0-litre turbo-petrol motor. All three variants came with Audi's Quattro all-wheel drive system and a differential that's capable of taking you down the unbeaten path. Also, the Q5 is capable of munching miles on open roads with little stress.

Our pick would be the 2.0-litre TDI as it outsold almost all variants and has enough poke for daily use. Though it doesn't have the outright punch of the 3.0-litre TDI, this motor offers a good balance of performance, efficiency and reliability. Spares availability shouldn't be an issue either as the VW Group had the 2.0-litre TDI in India till March 2020.
Bang For Buck:

The latest iteration of the Honda Africa Twin features a new TFT touch display through which you can control almost all features of the bike. It comes with 6-axis IMU-based rider aids, selectable torque control, wheelie control and rear wheel lift control. It also features a 'G' mode which improves the low-end response and delays upshifts.

On the other hand, the Q5 gets Audi's Quattro all-wheel drive system - that works in tandem with traction control and an electric differential - that delivers power to the wheel which has the most amount of grip, to help you crawl out of any sticky situation. It also comes with drive modes which alter various parameters of the SUV. So you can choose to have it sip fuel frugally for those city drives or set it to Sport and have fun on open roads. And as with any luxury car, it came loaded with features like projector headlamps with LED DRLs, Audi's MMI infotainment system, a sunroof, cruise control, powered front seats and a Bang & Olufsen audio system.

However, if you want a vehicle with the latest technology, the Africa Twin goes a step ahead with its updated TFT colour touchscreen which comes with Apple CarPlay; cruise control, riding modes with individual control for various parameters, height-adjustable windscreen as well as an electronic ride-adjustable suspension.
Looking The Part:

One thing is for sure: Both models won't be lost in a crowded parking lot. Audi's simple designs have stood the test of time and the older Q5 continues to look classy even today. It also looks more SUV-like than its successor, which seems to have shunned carbs to cut flab. Even the interior looks modern and came packed with technology back in the day.

Honda, on the other hand, has also played their game safe with the CRF1100L. The twin circular headlamps, though familiar, looks more aggressive and angrier than before. Also complementing its looks is its lean profile and aggressively styled half fairing.The imposing USD fork, tall windscreen and the large 21-inch front wheel makes it look battle-ready for any terrain.
Between The Two...

So which one should you pick? This is a relatively tough answer on our end. If you've 16 lakh rupees and need a comfortable family tourer, then there's no doubt: The Audi Q5 should be your pick. But for those who like to explore on two wheels and want a Dakar-winning bike for company, the Africa Twin is the bike to choose.
...What Would The Author Choose?

I'd pick a new Africa Twin over the Q5. Though I'm a car person, two wheels move my soul and there's no perfect motorcycle for me than the Africa Twin DCT. The DCT gearbox makes off-roading easier and it's also an able touring bike. In case of any unfortunate repairs, fixing an Africa Twin would be lighter in my wallet compared to an old German car. Further, the added peace of mind of a spanking new bike, a fresh warranty package and the tough-as-nails Honda reliability seals the deal for me.
Add Your Comments