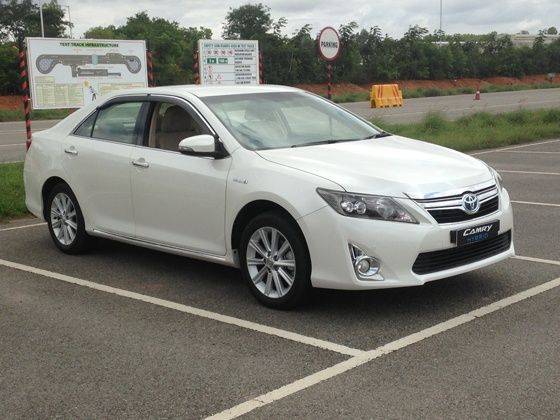 Think hybrid and the first thing that comes to one's mind is the Toyota Prius. Without doubt, the Prius has been the most popular hybrid powered car in the world. And now Toyota has gone ahead and plonked a hybrid powertrain in the recently launched new Camry as well. Why the Camry you ask? For starters, the new Camry comes across as a fantastic car offering loads of technology, comfort and reliability and checks most boxes for anyone thinking about a large sedan and now with a hybrid system it's just as green and efficient.
On the outside, the Camry Hybrid looks pretty similar to its petrol sibling with only the slightly redesigned chrome grille (exclusive for the hybrid) and 10-spoke alloys differentiating it. The Camry received a major design update last year and we can pretty much vouch for the fact that it is one of the most handsome sedans in its class.
Opening the wide doors reveals the familiar cavernous insides, which not only look good but feel good as well. The dash sees a change with the inclusion of the Optitron Combimeter which gives out a lot more information than your average speedo-console. A fantastic feature that makes the Camry stand apart is that the rear seats come with power recline as well and this apart from the driver and the co-passenger seats being 8-way power adjustable. This Camry definitely knows how to pamper.
The meat of the matter though lies beneath the hood. The petrol motor retains the same 2494 cc displacement but varies in many ways. The engine output now lies at 160PS and torque at 213Nm (compared to the 181PS and 233Nm from the petrol only engine). But the hybrid also gets added boost from the electric motor which pushes out an additional 143PS and 270Nm right from the word go. Toyota calls it the Hybrid Synergy Drive system and it is pretty much regarded as the benchmark when it comes to hybrids.
It's pretty loaded as well when it comes to safety and convenience with Triple-zone climate control, power reclining rear seats, power sunshades at the rear, 2-DIN touch screen DVD system coupled with airbags, ABS, vehicle stability control and then some. The combination of luxury and economy never looked better. Keep watching this space for a comprehensive drive report coming up soon.